9-8-2003
2-14-2003
10-24-2003
-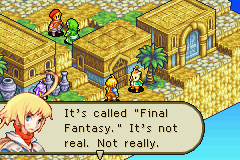 Four friends happen upon a book called the Gan Grimoire, at an old bookstore. This enchanted book transforms their world they know, into a world of fantasy. In this new world, things are perfect. Donned is no longer sickly, and able to walk. Mewt's mother is alive, and he is able to be with her. Only one, Marche realizes the world is not real, and sets out to try and bring back the world they know. He must find and face the Totema, that hold the "dream world" together, and return to the real Ivalice with his friends.
Final Fantasy Tactics Advance was released to the GBA in 2003, to great critical success. This is perhaps one of the best games to come out on any handheld from Square. The range of reviews was anywhere from 9/10 (EGN, IGN), a 33/40 from Famitsu, and a 4/5 from X-Play. And the great reviews were well deserved.
First of all the graphics are beautiful. There is color abound. Everything is simply alive with beauty. The sprites are done well in this title, and given great coloring and appeal. The same is said for the enemy sprites as well. I have not seen such a vividly colored Final Fantasy title since Mystic Quest.
The game visuals are stunning for a GBA title. This is simply as good as it would get, without going to one of the major platforms. The continuity of the visuals is also well done. The final cut scene is as well done and detailed as the very first one. Not too often is this seen in a game, let alone a hand held game.
The battlefields are similar to Tactics, in the fact you are playing on the same type of 3-D isometric fields. But the battles are simpler than its predecessor, and you no longer have to "wait your turn" Actions are done immediately. This made for faster battling, and leveling up. And trust me you will have to do some of that. It is not a Tactics or Final fantasy title without a few hours of leveling up.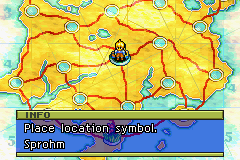 The music is a classical type theme, and is beautiful to listen to. Being rendered to a midi format, you are not getting the full experience of the music on the GBA. However, several albums for the game have made releases, and the sound is just wonderful to listen to. Almost like going to a hall, and experiencing great classical music by a live orchestra.
The job system makes its return in Tactics Advance as well. Each job has a new sprite rendering, and it is easy to distinguish which job your character has at the time. This was a great improvement over Tactics, which some jobs did look similar. It is easy to get the hang of, and is not overly daunting. I think I enjoyed this system better than that of Tactics.
There is a new additional feature of the battles called the "Law System" Basically there are judges present in every battle. At the beginning of the battle, they will set laws that forbid certain weapons, items, elemental spells, or status changes from being used. If you use one of the forbidden commands, you are given a red or yellow card. If you do it twice, or kill someone with a forbidden command, you are jailed. To balance the forbidden sets, certain commands will yield Judge Points (JP). This can be used for combo's, or summoning Totema into battle. As the game advances you will gain the ability to add your own laws, as well as cast Anti-laws that nullify current Judge Laws. This was indeed a very interesting way of playing the game. It makes the player focus more on strategy, rather than focusing on their best attacks to defeat the hoards coming at you.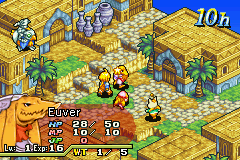 The only sliding with Tactics Advance was the menu. This has more complicated options for this and that, than it really needs. It fails to detail character stats and their needed equipment clearly, and can get very frustrating at times. If this was not the case, this game could have easily been flawless.
That said, it is a awesome title from the world of Ivalice, and makes for a great title, even after 5 years. If you have not played Tactics Advance, you are missing out on one of the best Final Fantasy titles to ever hit hand held platforms.
Basically...GO GET IT!!!