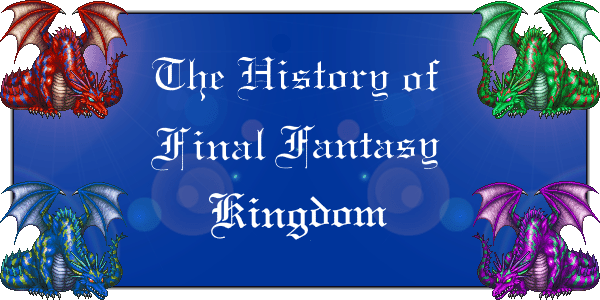 There is a great deal of history both within, and outside of Final Fantasy Kingdom, that has lead to its creation. My name is John, otherwise known as Bahamut's Kingdom. I can say the history of Final Fantasy Kingdom actually begins some 17 years ago, in a pawn shop on 43rd and Northern Ave, in Phoenix, Arizona. We had finally gotten a Nintendo for Christmas from our mother. We were good at frequenting the pawn shop for movies, CD's (got my first CD player that year) and now we were going to take a look at some games for the NES. I remember I got Faxanadu, Mother got Tetris, and my sister Jami got a game called Final Fantasy.
We were eager to play our games, and things were well. A few days later, I was watching, as my sister was getting frustrated. She could not find her way out of the sea you begin in. She was confused as all git, and there was no such thing as internet to find what to do. I asked to see if I could figure it out, and she agreed. I think that was basically the end for her as far as Final Fantasy was concerned. For me, it was the very beginning of everything. I finished that game about a month later. Yea, that seems like a very long time for the younger people who now play the games, but for the time, that was one difficult game. Shortly after that, Mother brought me home a game called Castlevania. (But that is a story for later on.) I was hooked on games from then on out.
My first love though has always been drawing and animation. I have had the greatest desire my entire life to be an animator for Walt Disney Co. I also had a great knack with music. I played trumpet in school, and for most of my time, I sat first chair. Art, music, animation…the making of video games. But who knew? I certainly did not see this coming. I was hooked on Disney, and that was it.
In 1994, I bought my first and only Super Nintendo. I still have it to this day, and in working condition. I found Final Fantasy: Mystic Quest. It was fun, and all that, but I was really looking for something like the other Final Fantasy I had. It was a chance shot at my Aunt's house, that I saw what was known at the time as Final Fantasy II. I wanted this game badly. There were cool effects, great music, huge monsters, and what I found to be called summons. It would be almost two years, before I could finally own this game.
In 1995, I moved to Tulsa, Oklahoma. I took up a job there and thus continued my gaming, as well as getting my fill of Disney movies in a yearly rotation. I found Final Fantasy II in a rental store, along with Final Fantasy III one day, and got them. Well, I took one look at III, and thought it was crappy as heck. I played II for over 15 hours, before I passed out the first time. I had it completed in two days of solid game play. I was hooked. I had to have this game! As for that other title…I just simply forgot about it. A year went by, and I found it at a swap meet. As I was buying it, the guy placed Final Fantasy III in front of me, and said, if you like II, I guarantee you will love this one. I told him I tried it, but I hated the whole machine things you were walking in. He told me to give it another try. Well, I got it too, (Wow, back when I could blow my entire check, and not worry about bills.) After playing II relentlessly for three weeks, I decided to get III, and give it another try. I played III from 1996, until late 1997. It has to be the best of the best, as far as Final Fantasy goes. Just everything about it was fantastic. I think it was there, my affinity for Final Fantasy was solidified. From VII forward is just history. I got my younger sister hooked on Final Fantasy with VII. From then on, there was a new title purchased for her, with the book to go with it. I filled in the book with all the information I knew from playing, and would send them to her. But there would always be the call:
"John, in Final Fantasy ___, how do you do ___?"
I would reply: "Jess, did you read the book?"
"I don't know where it is right now." Or "I did, but I still can't do it."
This of course continued up through XII. Well, I would sometimes get frustrated, and sometimes I would just find it funny. With the advent of the computer, I was finally able to play the one Final Fantasy I had missed out on. In the later half of 2005, I found an emulated translated version of the actual Final Fantasy III. I was having a little bit of difficulty figuring out where to go, and of course I thought to go to the internet. I searched site after site, but even those that claimed to be the ultimate Final Fantasy source was missing several titles. III was one of them. I was just getting pissed off, and my friend Joe called. I talked to him, and was trying hard not to sound angry, but well, he asked what was wrong, and I told him I could not believe sites would claim to be the biggest source of this and that, or cover all titles, when they were missing one of the main titles in the series. He just laughed and responded with "John, why are you getting pissed. You can't do anything about it, so deal with it. I mean if it is that big a deal, why don't you build a website?" Uh huh...
Three days later, on December 4, 2005 I created the first pages for Final Fantasy Kingdom. It was really interesting to get all these things going. I of course began out of line with VII and VIII on a free-web website. It was all great, until I exceeded the 20MB of disk space. I was frustrated, and thus began scouring the internet for something that would give me more than 20 lousy MB of space. If I had only done a couple pages, and some videos and exceeded the limit, I needed more...enter the contract with Free Yellow.
Not only did I get the MB to begin, they had basically the same editior I was used to working with. I was excited. I began in ernist to create pages. At this time, they explained I would need to have my own domain name, if I wanted to remove the "Freeyellow" part of the URL. So on December 19, 2005 I registered for Final Fantasy Kingdom. And thus it has been that name ever since.
I achieved my very first affiliate notlong after in the form of Video Game Sprites. Being so small, and having really nothing, I was shocked that the website owner Jaqueline, was not only willing to affiliate with me, but even allowed me to use the sprites she had on her website. Her generosity has now coupled into my site, where I allow people to save the images in my site for their use. (Game related only of course :D) And so I began working on Final Fantasy.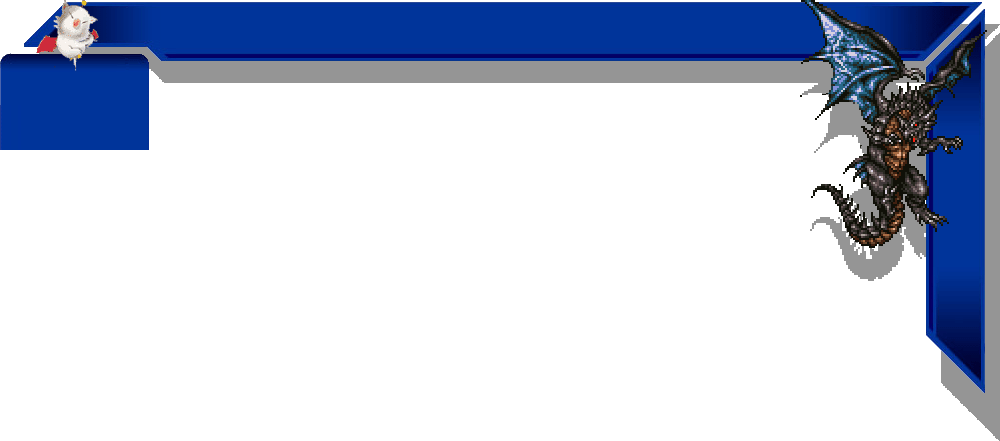 Within a day or so, I achieved my first banner. For me it was amazing at first. But for some reason I kept looking at other places, while gathering material. And their sites just looked amazing in comparrison. But for now it was ok. But I knew at some point I wanted my site that great. As I neared completion of I, II, with additions in IV, VI, VII, VIII, and IX disaster struck.
On the 20th of April, 2006, my website was invaded by a virus, that wiped most everything completely out. I had to begin all over again. I had to reload all the pictures, and do all the pages again. Now it is simple, as all of the pages are stored and saved on my pc. But at the time, I was using a website editor. And the pages were gone. So I began again to get everything done. It was frustrating, and I almost stopped doing it all together. But with a little encouragement from friends and family, I began again to work. This time I was going to improve it. I was going to make it different, with every title having a unique color scheme and appearance. At this time I was also experimenting with the new Myspace I just got, and was beginning to understand and practice HTML coding.
Between May 2nd, and June 3 2006, I completed Final Fantasy I-IV. Something I could not believe I had accomplished. I was amazed, even though it still looked a little...well...crappy. The images on a editor do not work how you would like them, as you cannot adjust their size outside of small medium and large. It was frustrating, because it was affecting the tables and the way they looked. But that had to wait for a little bit. I was about to move to a different location. And it would be some time before I could work on my website again.
On June 7, 2006 I moved to my childhood home of Camp Verde, Az. I then proceeded to settle in, get going on my job, and Get the internet back. I also was getting frustrated with the whole image thing. MS Paint sucks all the way around. So one day I was talking to my friend Cody about it, and he gave me his copy of Photoshop. Now suddenly I had something where I could virtually go anywhere artistically. Couple this with the HTML coding I was learning, and you get Final Fantasy V. Released on August 31, 2006, Final Fantasy V was perhaps the best looking of all of the titles done before. Not only was it a sharper look, but there was better sizing of the images, and everything was more uniform. I was excited, and immediately began goofing around with the previous 4 titles, while pushing head first into Final Fantasy VI.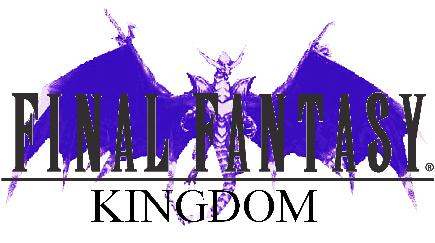 On September 3, 2006, I sent in my new logo design for Final Fantasy Kingdom. It took some time, but on September 11, 2006 I got the ok to register and trademark the use of the Final fantasy Kingdom Logo, with permission. In the email, they stated they were very pleasedwith the work on my site, and were very shocked and honored that I would ask permission to use their game images. So on September 11, 2006, Final Fantasy Kingdom got its first official logo. A massive milestone in the site, and I was never more happy than that moment.
Between September and January 2006/2007, I managed to open and complete VI, VII, and VIII. It seemed like a great place to breathe and take it all in, but success personally was about to get a shattering wake up call.
In January 2007, I got the most hateful of emails. In this email I was actually accused of merging different websites together to make one site. Basically I was stealing each titles site and putting them together. What was the reason for this little accusation? Well, at the time, each title was colored and font colored with two colors persisting to their individual logo's. I thought it a very unique way of doing the website, and really liked it...until that email. So in frustration yet again, I went back. I decided on a color scheme that would best suit the website as a whole, and began working. The main site color would become a deep blue (The same deep blue found in most old Final Fantasy intro screens), and a grey color for the text. This has become so successful, that it has remained to this day. And by April 2007, Final Fantasy I-V had been completed. I also decided to work on the Advance titles in the series. At this time, it seemed the original look was a little...well dull. So we decided to go with a different look. Thus Final Fantasy Kingdom came into phase II.



With the look of the new website, I got reinvigerated to work again on it. I was pleased with the banner. I began taking into account that other sites also covered different Squaresoft games. I was also looking myself into other series. And thus after the New banner for Final Fantasy Kingdom, I created the possible banners for those titles.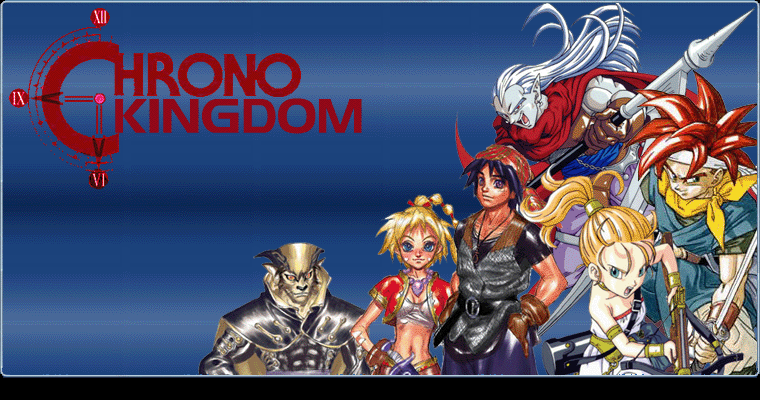 Of course it would litterally be years before a couple of them were completed, but I certainly showed I had my sites set on more than Just Final Fantasy. I was definitely on a growing spurt, and it was made evident very quickly. But time comes to rest,a nd that happens to website creators as well. Between April and August of 2007, nothing was added to Final Fantasy Kingdom. That being said, there certainly was a lot going on and being created. I was working hard on the FF for Advance series, as well as creating what became the first page to Kingdom Hearts. (That page exists now in the site. It is the summons page for the original Kingdom Hearts) But the constraints of a roommate made it more difficult than not to work on the site. If I was on my pc, I was ignoring him in his way of thinking. So I did my best not to do this. And it cost me a lot of coverage time.
But like all roommates they do finally leave. I began work on redoing Final Fantasy VI, and completing the Advance version of the same title. On August 30, 2007 I not only opened both, but I was the first website in the internet to show all of the new enemy/boss sprites for VI Advance. I was definitely proud of that aspect. One of these very little sites out there and I was the first. Heh hard work and dedication pay off.
In September I moved into my now current residence. It had now a large office, where I could do my work completely in a more relaxing place. And the work being done was astranomical. From September to the second anniversary of Final Fantasy Kingdom, I completed all of the advance games, including new area maps, PS1 versions of Final Fantasy I and II, VII got its overhaul completed, as well as the Compilation of VII being added. I introduced a History page (Yes the one you are looking at), and many little details in between. But in mid December, I created what has become the standard logo for Final Fantasy Kingdom.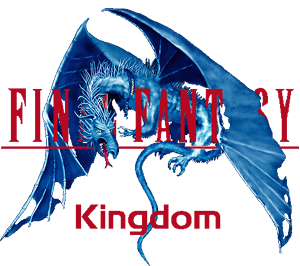 On December 19, 2007 I created THE Final Fantasy Kingdom logo. It took about 6 hours to complete and get perfected. It was a marvel to behold when I finished it. I even then thought to myself that it certainly would change, since it was about a year of having the other one before I decided to change it...and here we are 4 years later with the same logo. It has become a symbol of Final Fantasy Kingdom and is recognized all over the internet. That is one of those high points you do nto forget about. I also instilled the J.L. Inc. at this time as well. This is the company I made, that holds copyright on anything I crete for my website, and any other substantial sites I make for others.
In the following month of January 2008, I completed the entire overhaul of the website. I was astonished with the work that had been done to that point. Not only did Final Fantasy VIII get done, but as far as I know, I am the only website which gives complete coverage of the Bestiary stats. Though there is a small amount of enemies, each of them boasts 10 levels of stats, stolen, and dropped items. I was also very excited because Jaqueline from Video Game Sprites gave me a PS1 emulator. With this, I was able to capture my own images for the title. I then set out to use this in Final Fantasy IX as well. (In the future I would revisit Final Fantasy VII with the emulator). Within the next four months, the site saw great expansions. Not only did IX get quite a bit of the information placed in, but X, X-2, XI, XII, and XIII opened, Final Fantasy I+II Dawn of Souls was completed (Thus completing the first entire section of games), and Crisis Core began recieving information for the title. And by June I had completed an addition 20 pages for these different titles. And when I went on vacation, I decided it was time to diverse.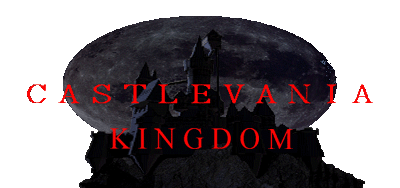 while on vacation, I began playing Casltevania on the pc. I suddenly found myself collecting the screens, and doing all the sprite ripping. When I got home, I had completed 3 titles, and went for the fourth. Once I had everything for Symphony of the Night, it was time to add Castlevania Kingdom to the website. It became my first stand alone title covered on June 30, 2008. It was regarded by the fans at first as a complete departure from Final Fantasy, and they were a little upset with me. But I was not going to take it down. I enjoyed the series, and thought it a great one to cover. Now, of course, it seems quite common to have it within the Kingdom. Go figure.
Once it was complete, I was to leave it alone for almost 7 months. But that was not to say work did not progress at breakneck speed. In the month of July, I completed several pages for Crisis Core and others, but in August, I created a lot more. Not only were the sections for XI, Versus XIII Type-0 (Agito) XIII, Tactics, Tactics Advance, Tactics A-2, Crystal Chronicles, Ring of Fates, Crystal Bearers, My Life as a King, The Spirits Within, Legend of the Crystal, Unlimited, and Dissidia were opened. I began working through Tactics, and XII in the same time as I was capturing my own images for Final Fantasy VII. By the end of the month, I had done more than I had in a very long time, but this was of course the beginning of the straying out of Final Fantasy.

On September 13, 2008 I opened the Super Mario Kingdom to the public. This is the most popular game series in the world. It seemed only fitting that I did cover it. Though I was not fond of the Mario series past the SNES era, I totally loved the games before it. So I covered Mario 1, 2, 3, and World. I also did it, because there was very few, if any, Mario coverage sites out there. They were very simple to do, and I loved playing the games. So they came into being on the website. I continued working through some unfinished pages on Tactics, but within the final week of the month, I was playing a different game, and this game led to the third separate Kingdom. One that to others did not make sense when I released it, but to me made perfect sense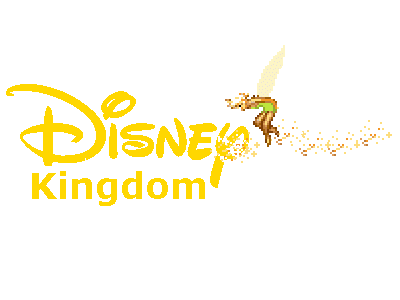 On September 23, 2008 I opened the Disney Kingdom with The Lion King. This title is by and far one of the most beautiful and more difficult games I played. Not to mention I love the Lion King. It was not well received by the fans of Final Fantasy Kingdom until about 4 months later. But we will get to that. To me it was a great escape from Final Fantasy, as well as into something I was fond of...the Disney animated feature. As the year came to an end, I had been busy getting things fixed, and doing a little image cleaning, and pages were being completed all over the place. In November, I asked for a increase in my MB space, since I was coming close to the 500 I was being allowed. Without even a cent extra my MB went from 500 to 50,000. Now my site is almost completely unlimited on how much can be put in. But in the face of good, comes bad. December 3, 2008 I quite by accident, learned that there was a limit on pages within the site builder. 600 to be exact. Basically the entire year of trying to get everythin under one roof just collapsed. So I had to decidewhether or not to find a different way of doing this. And it was then my editor explained that page storage with them is unlimited, but I had to write and keep my own pages, loading them in with a FTP client. Once I understood all of that, I set out to remodel the look all over again. It began with Castlevania.



On January 25, 2009, I opened the new look, that has been the look ever since. I began it with Castlevania, since Castlevania was much smaller at the time than Final Fantasy. I opened four titles (Aria of Sorrow, Dawn of Sorrow, Circle of the Moon, and Harmony of Dissonance) alog with it. And while this was happening, I was very near completing my newest additon to Final Fantasy Kingdom



On February 9, 2009 I opened Kingdom Hearts to the public. Suddenly everyone finally got the connection to the Disney Kingdom. It also boasted the new look, that since it opened a few weeks earlier with Castlevania, was getting a stellar response. This month saw the first time my website got hit over 100,000 times wihtin the month. It was nothing short of fantastic for me to see that massive jump from just 65,000 the month before. There was a absolute feeling of accomplishment with the new look, and suddenly I was on par with the rest of the internet world. Work was going in ernist to get Final Fantasy up to par with the desired look. But it was an undertaking in itself. By mid April of 2009, I had managed to completely update my site to what it is now. and it was at that time, that I went to full work on a singular title for the firstt ime in almost a full year.
Final Fantasy XII was completed on May 5, 2009. It was a massive undertaking, one of which I actually enjoyed doing. I was hitting off on everything then. Filling in pages for the upcoming Dissidia, X, X-2, and Kingdom Hearts all got pages completed between June and late July. In August it was time to bring out another stand alone in the Final Fantasy Kingdom universe.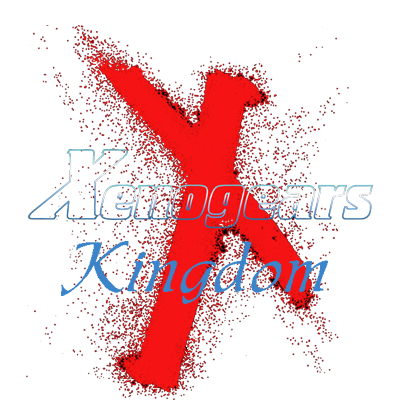 Xenogears joined the website on August 18, 2009. This game has been held with a caring place wihtin my heart. It is certainly one fo those games that is just RPG perfection. And I felt it should have a honored spot amongst its Square-Enix brethren. It was met with such a successful welcome from the visitors, that I just could not believe it. I was now certain it was time for the next step away...and as the month wound down, I began working on it. But sadly it would not com into fruition until almost a full year and a half later. Something came into effect of Final Fantasy Kingdom, nearly halting all work for the next year and a half.
September 5, 2009 I was arrested for allowing a co-worker of mine to ride on top of my car from the store, to the bank after we closed. Though I said no initially two times, I gave in thinking nothing could happen in the little over a block it was. I had not entered into the thought that it was in fact Labor Day Weekend. I then lost my job, and of course the internet. Though my friend Joe brought me a lap top with wireless, it was too difficult to work on the site from there. Not to mention my copy of Photoshop did not work on Windows 7. I was kind of sunk. No work was done, until after my accident left me home for two weeks on December 28, 2009. In those two weeks, I managed up 99% of what is covered in Dissidia now. In march 2010, I was finally able to get Final Fantasy XIII, and did some of the work for it. But my lacking desire of the game, made it almost completely impossible to get into it. But fate stepped in, and gave me a game to work on.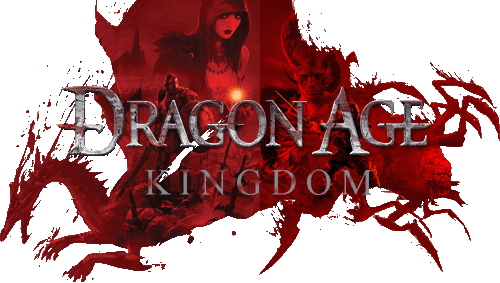 Dragon Age Kingdom was began in early August of 2010, and has remained in slow progress through till today. Though nothing was being added to the site, I felt I was doing something by at least working on it. I still had to transfer files on disk back and forth to use Photoshop, and that was creating more of a headache than I wanted to deal with. Slowly but surely, the innitial excitement of doing the game fizzled out, and I was left to just let it rest again. But time was coming to get back into business again. On October 30, I opened Birth By Sleep in its completed mode. I then opened Pinocchio the following week. Though it was great to see two games come in, it was time for something more on a grand scale.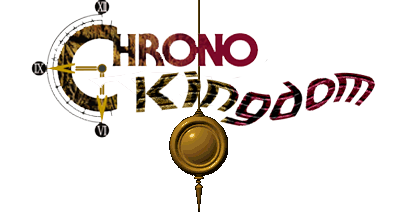 On December 4, 2010 I opened Chrono Kingdom to the public. This site had actually began when I completed Xenogears almost a full year and a half earlier. It was great to see that kind of work going back into the website. Especially from a lap top that did not feature the things I needed for my website. I was glad to see it come finally, as this pretty well ended most of the Square games I wanted to cover outside of Final Fantasy. Oh there are others I have looked at, but for now I have focuses elsewhere. I also greatly enjoyed playing the two titles, more than some of the others I have dealt with recently. And once Chrono was done, I took on my next project. Final Fantasy PSP was released to coincide with its 5th anniversary. Though the new dungeon has yet to be added, everything else was completed. This was done on the heels of a joint game that my friend was making (Now gone defunct) called Eternity. This created the 7th stand alone game or series covered in Final Fantasy Kingdom. And within a few weeks, the game had opened several pages, and I had begun working on the game itself. After that, I continued tinkering with Dragon Age, and this and that. My new roommate provided Internet that was not stolen, and I was able to get everything combined between the two computers, and get things back on the desktop where they belonged. I was glad to have 100% access back to the internet, Photoshop, and my website loading all in one. And it has certainly shown.
On July 4, 2011 I opened Ducktales to the general public, marking the first in a long series of openings. From July until September I have opened Gargoyles for the Disney Kingdom, as well as Haunted Castle, Vampire Killer, Adventure, Belmont's Revenge, Rondo of Blood, Lament of Innocence, 68000, Bloodlines, Legend, and 64 were added to Castlevania. In addition maps for several of the games were ripped and added. I even finally got around to overhauling Mario Kingdom, so it would fit wiht the design of the rest of the website. Not too bad for two months of work. July 2011 also became the first month my site hit 1,000,000 hits/month, and has maintained that stature in August, and looks to be the same in September. Also in September, the first set of entries into Final Fantasy were made since XIII in March of 2010. XIII-2, Dissidia 012, My Life as a Darklord, Echoes of Time, and After Years got their debut in Final Fantasy Kingdom.
Is there any sign of slow down? No. I have not stopped throughout the entire time Final Fantasy has been around. It might seem like things are not getting added in certain points, but that is not to say that I am not working on something behind the scenes. Right now I have contracted my first website design for a clothing shop here in the valley I live in. This with another person interested in me making a site for them. I am proud of the accomplishments Final Fantasy Kingdom has achieved. And I know that it will continue to grow and expand, as long as I have the ownership of it. But before I go, I want to send a huge and heart-felt thank you to the visitors and fans of Final Fantasy Kingdom. You are the reason I continue my work on the website. And without you, I would not be here. My Thanks.
Sincerely
John M