5-12-2008
3-25-2008
5-20-2008
-
Some time in the future of the Chronicles...
King Leo has been left ruler of his kingdom. The realm has been lost to the poisonous mist called Miasma, and Leo has taken it upon himself to revive his once beautiful kingdom. He is then given the special power of Architek from the great crystal to complete his task. Leo pays for research from all over to find new items, weapons and armor for his army to purchase. He then sends them out into the world to purge it of the evil that infests it.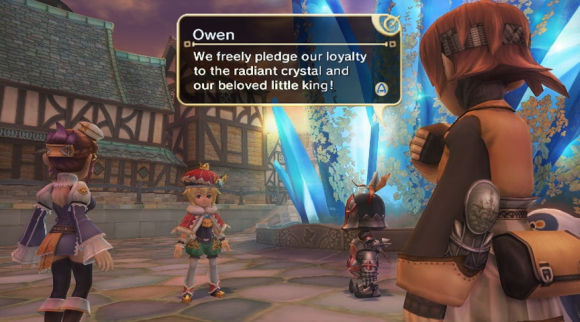 My life as a King is the first title from Square-Enix to be released on the WiiWare system. The cost of the game is 1500 Wii points, and requires 287 blocks of the Wii's internal memory top hold. Released in America in May, 2008, My Life as a King has seen very favorable reviews. It is certainly different game from the rest of the series.
In this title, you play a king, rather than a hero. To my knowledge, you see no battles in this game. Rather you are sending your troops out to battle, without leaving the comfort of your kingdom. This is a unique twist not seen in a Final Fantasy title yet. It is more like a Sim City game or something of that nature. Through the power of the crystal, you can place homes and building, that will draw in people. To continue the building of the kingdom, the crystal needs "Elementite". This is found in the dungeons and caves surrounding the kingdom. But rather than going after this yourself, as done in other games, you send out citizens to get it. These adventure seeking citizens are paid from taxes collected from the citizens, to go and get the Elementite, and thus build a larger kingdom. You are able to keep track of these quests, by reading bulletin boards in town, or talking to the penguin Palov. I have yet to be able to play this game, but it seems like this would be a blast to play, let alone a fantastic diversion from the large epic tales of other Final Fantasy titles.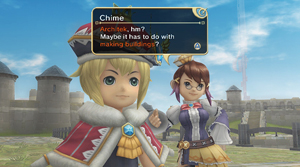 Graphics found in My Life as a King are in one word...stunning! This is some of the best graphics I have seen on the Wii. The character sprites are beautiful, with kind of a soft palette, rather than the bold colors of other Crystal Chronicle titles. The detail found within the characters, buildings, and backdrops are exquisite. There is a lot of detail poured into this game, that rivals most others.
The music is beautiful, and lives up to the Final Fantasy legacy of scoring games. The music is quiet, and very melodic. They seem to have set the rustic feel of Crystal Chronicles aside for this title, and given it a softer approach. This to me makes better sense, since you actually do not go outside of your town, and thus no battles are engaged.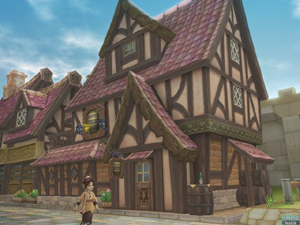 Square-Enix wanted to be one of the first companies on Nintendo's WiiWare, to attract more people to My Life as a King. It was different from other Final Fantasy titles, and they knew from experience, that different is not always good. But they were in for a nice shock. With the release of the game, the reviews were generally very favorable for the game. IGN reviewed the Japanese version and was impressed with the quality and expansiveness of the game. They were quoted as saying "It was a good start" to the WiiWare.N-Europe gave it a 8/10, citing that it was worth its weight in points, and surprisingly deep. Yahoo Games stated that "My Life as a King was harder to quit than Crack Cocaine".
Certainly this game is going to draw quite a fan base. This different direction of game play from Square-Enix is certain to be a great one. There has already been a web browser side game called "Final Fantasy Crystal Chronicles: My Life as a King - Everyone's Kingdom" that allows you to play the citizens, that encourage the growth of the kingdom. Personally, I cannot wait to get a hold of this title, and try it out. I guarantee this is going to be a fun game.