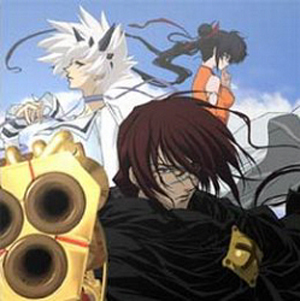 Ai and Yu Hayakawa's parents are kidnapped. They go out in search of them, and find themselves in the mysterious world of Wonderland. They discover that their parents are being held in this alternate dimension by Earl Tyrant. He has managed to brainwash them into doing his bidding. He uses them to nurish himself, and the entity Chaos. His goal is to devour worlds outside of Wonderland, and rule the universe in Chaos.
It is now up to Ai, Yu, and a host of friends they meet to stop him, before he can see his plans succeed, and rescue their parents.
I sometimes wonder why Final Fantasy never really succeeded in film, until the release of Advent Children. The OVA's "Legend of the Crystal", and "Last Order: Final Fantasy VII" were disapointments, and The Spirits Within almost ended the entire show for Squaresoft. Though pretty good in their own rights, it is not what a company thinks of something that makes it successful, it is the fans. And sadly Final Fantasy Unlimited is a let down too.
Released initially in 2001, it was supposed to be a 52 weekly episode run. (Two seasons) But it was met with poor reception, and thus the show was cut short, and alot of final episodes are crammed with more than the main story of that episode.
First the major disapointment for most is that there is nothing to do with Final Fantasy at all. There are the usual references to the game series it takes after of course. The inventor is named Cid, there is moogles, cactuars, Chocobo's, and familiar summons. The train that takes the children to Wonderland is called Doomtrain as well. But this is all there is in similarity.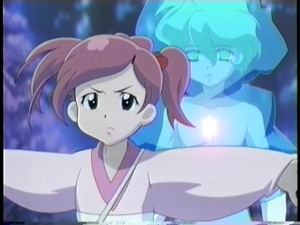 The story revolves around two twins who's parents parents have been kidnapped. They rush off to find them, and get transpoted to the world of Wonderland. Here they meet a host of different people and try and stop the bad guy Earl Tyrant. Beginning to end, basically. It seems like a pretty descent plot to build on, but there really was no bulding happening. I would say this show was directed in simplicity aimed at much, much younger people than those who were playing the games.
The animation was "alright" at best. Outside of a few CG sceens added here and there, there seemed to be no major effort in making this top notch anime. It is in no way bad looking anime, but seriously with the level of animation in 2001, this leaves a whole lot to be desired. The first time I watched it, I thought it had originally come out sometime in the ealy-mid 90's. There is a bit of sleekness with the slim lines design of Kaze and the villains of the story. But the other charactes seem very flat. The kids in the series look extremely generic, and unrealistic.
The music found in Unlimited is actually very well done. It is not what you would expect from a Final Fantasy title, but it is pleasing to listen to, and is not so loud as to get in the way of the story. It backdrops the scenes with great finess. I find the music to actually almost be the high point of when I watch the series.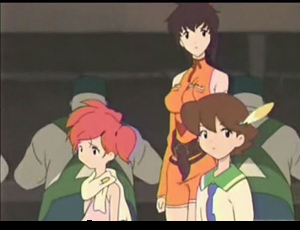 With Final Fantasy being the forefront of epic stories, and unforgettable gaming moments that yank your emotions in twenty different directions, (Cloud's farewell to Aerith still gets the tears flowing 11 years later) you would think that the medium of anime/animation would be the perfect place to open up a whole new world of emotions and epic story. But sadly Final Fantasy Unlimited is not the one to do so. I cannot give this a great rating. The animation side of my talent finds Unlimited to be a severe let down. The story is good for younger people, but not for fans of the series. the character voices are not well done, and just do not match the characters. The acceptions being the two main characters. If I was to rate this out of 10, I would give it a 5. This is of course my own opinion. You should check it out for yourself. You might find it far better than I did.