10-20-2007
4-26-2007
2-15-2008
-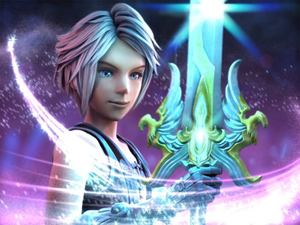 Thousands of years ago, a man named Feolthanos was the chief of the Aegyl when they occupied Ivalice. Feolthanos took a Viera as a wife and began a family, and their descendants are the Feol Viera. He revolted against the Occuria and took the Aegyl to Lemurés, using the Auraliths to create a barrier around Lemurés and to keep the Occuria out while trapping the Aegyl there. It was maintained until about a year ago when a massive amount of Mist from the Sun-Cryst was released on Ivalice.
Feolthanos left the Cache of Glabados and a book as a gift for his family (who didn't have wings), in the hopes that one day they would use them to come to him in Lemurés. The Cache is actually three shards of Auracite which each serve as a beacon to call the Galbana, an airship built by Feolthanos that picks up the one who finds the Cache and bring them to Lemurés.
One year after defeating Vayne Solidor, Vaan and Penelo are running the skies as Sky Pirates. They chance upon the Cache of Glabados. He and Penelo are transported to the sky continent, where they are asked to assist the Lemures in keeping their home from being destroyed by other Sky Pirates. Vaan and Penelo are about to embark on a struggle to prevent an entire race from being destroyed.
Final fantasy XII: Revenant Wings is the first title announced for the Ivalice Alliance series. This included Tactics: War of the Lions, and Tactics A2. Released in 2007, it garnered mostly positive reviews from critics. Famitsu gave it a 32/40, X-Play gave it a 4/5, and IGN gave it a 8.3/10, as well as naming it DS game of the month for November 2007.
The game is actually pretty easy to play, and the involvment of the Stylus is used greatly for the game. You almost do not have to even hit any of the buttons to execute any commands. It is similar to XII, in the fact that gambits are used to execute commands, but you only have one gambit/character in RW. This was most likely due to the limitations of the DS, or to make the game a bit more simpiler than XII.
Summons also make a prominent appearance in RW. There is a total of 50 summons in the game, more than any other title to date. The mesh of summons includes those found in XII, as well as returning favorites such as Shiva, Ifrit, Odin, and Diablos. These Espers are formed into 6 different elements, that are categorized into 3 groups: Flying, Melee, and Ranged. Finally this is also categorized into 3 different ranks. Each rank being more powerful and expensive to summon. This might seem overly complex at first, but once you get the hang of it, you will have no problem using these summons at all.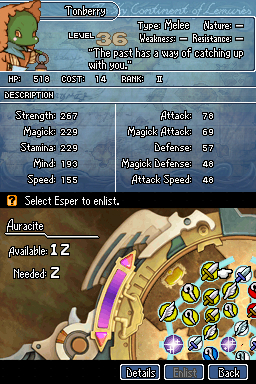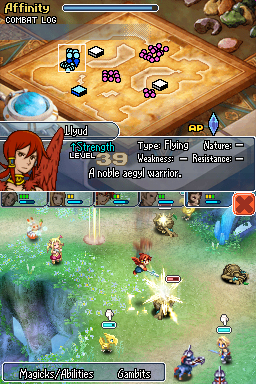 The grapghics for RW are great. I was kind of hoping for a bit more, but it is good for the DS, considering the graphical beauty of Final Fantasy III released just about a year prior. But for a sprite based game, it is very colorful and has great tones to set the moods well. The cutscenes are superb, considering the console. They are almost par with any large console out right now.
The story was solid, and kept you as involved with RW, as XII did. But this is not a true sequel to XII. It is more or less a different story, with similar elements and the same locations throughout Ivalice. There was also the additions of neew areas, such as the floating continent of Lemures, and the Glabados Ruins. With a great plotline, and story flow, this game was easy to get into, and became very addictive.
The m usic was composed by Hitoshi Sakimoto, and joined by Kenichiro Fukui. It contains mostly scores from Final Fantasy XII, with some new scoores snuck into the game. Though a smaller console, the difference in the sound of the music was hardly noticable by many. (I noticed, only because my PS2 is hooked into surround, and the DS is not)
Overall, this is a great title for the DS. This, and Tactics A2 show that Square is placing more effort into their hand held games. The titles are far better than any released on previous hand helds, and hold up well against most major console titles. It is hard to recommend which of the two titles you should play first. If you got the $$$, I would suggest getting both of them. You will not be dissapointed.