10-28-2003
5-16-2002
PC
9-27-2004
-
Final Fantasy XI is Square's first MMORPG. Released in 2003 to America, it has gone on to be a very successful online gaming experience.
Final Fantasy XI is also the first MMORPG to go cross platforms. It has subsiquently been released on the PS2, Xbox, and the Xbox 360, as well as the PC. The Xbox 360 does not require an Xbox Live Gold account either. This is what made it a great purchase for a lot of people.
Final Fantasy XI also has no region, or system specific servers, thus enabling the communication of many different cultures, who were playing the game. This was something not seen very much in the world of MMORPG's, and has made the game far more accessible than that of oher titles.
There is a total of 32 public game worlds. Each having a host of servers, that can handle 15-20,000 players. The servers themselves are fondly named after iconic summons of Final Fantasy, such as Ifrit, Diablos, Shiva, and others.
Players have the ability to move between the servers, rather than being limited to a certain one. But for some reason, people createt a new character for a different server, then they can swap items and equipment between their two characters.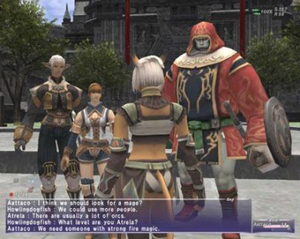 The interface for the game is also fairly simple. If you are using the PC, you will be in the use of the keyboard and mouse. If these items are accessible, they can also be used on the Xbox systems and the PS2. For those who are not a keyboard/mouse lover, (like myself) Square even set it up for use with a controller. Basically they were out to hit every type of player out there.
There is a "Heads Up Display", that consists of a log window, menu, and a few game information elements. The "Log Window" at the bottom displays the messages placed by the system, battles, and other players. Players are given the ability to choose what gets placed in the Log Window, with filters that are set up for it. Square also allows for players to converse back and forth via text message, while playing the game online.
Basically there is just too much good stuff in this game. Technicallities aside, let's take a look at the game itself.
First off, the graphics for the game are very good. (This was going to say awesome...that was until I saw the graphics for XIII.) But for a MMORPG, they are still stunning. The backgrounds, scenery, and sprites are full of detail, and richly colored. The scenes were vast, in an almost epic style. This gave it more depth, than that of any previous title in the series.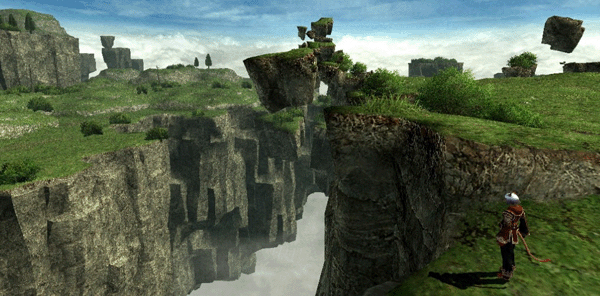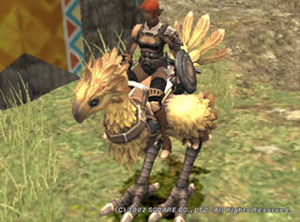 The Job Classes made their return in XI. There is a total of 20 different Jobs to choose from in XI, ranging from a warrior, Summoner, and Blue Mage, to a Bard, Dancer, Dark Knight, and Thief. There is also the introduction of two new Jobs not seen in previous titles, in the form of Puppet Master and Corsair. With the vast amounts of Jobs, it is difficult to get bored with characters. You are able to change jobs any time you wish by visiting your Mog House, or rental house. You can also combine jobs with a support job, once you reach level 18. This gives you the ability to learn additional skills, and try out a host of skill combinations. The support job though, will be at half the level of your main job. So if you are a level 50 Warrior, and wish to have a secondary job as a White Mage, it will only be at level 25.
And there are a great many Side Quests, and Mini Games found in XI. The most popular seems to be the racing, and breeding of Chocobo's. (Why does this not surprise anyone??) There is also a synthesis system, similar to that found in Kingdom Hearts, where players can combine items aquired in their battles. The new items vary on the items used, as well as the quality of the item. Also the players level is factored into the new item created.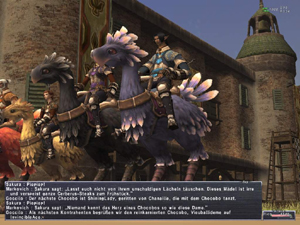 Gil is the currency of XI, as it has been since VII. There was a great many things to keep the currency from going into overload, or people hoarding it. Things such as taxes, transportation, storage, and other minor things were used to remove Gil to prevent inflation. However in early 2006, Square-Enix discovered a group of players found a way to generate game currency, and exchange it for real currency. This drove the prices of everything in the game way up. Square-Enix permanently banned 700 accounts, and 300 billion Gil was removed from the game. Square has since regularly banned accounts for violating the terms of service. This has kept the in-game economy from sky rocketing. The auction house has subsiquently been shut down due to this.
The critacal reaction to the game was mixed, with more favorable reviews than not. Most of the negative criticism came when it was released. Being released after the Japanese version was well underway, Americans were going up with experienced players, who had finished a majority of the quests. To counter this, Square added additional servers to spread the more experienced players out. Famitsu ranked the game 38/40, noting that it was one of the most welcoming MMORPG, despite the cumbersome initial regestration and set up. IGN said it was well done, but unoriginal. GameSpot gave a good review, but was disapointed in several areas, including the lack of PVP (Player VS Player) aspects.
Despite the bits of negative criticism, Final Fantasy XI has gone on to win several awards, and spawned 4 expansion packs, and several written pieces. In the world of MMORPG, Final Fantasy XI is certainly one of the best seen in the world. It has done what few others have, and continues to gain popularity even five years later. This is certainly a great game to play. And with the wide range of platforms, there is no one that cannot give it a try.