Cocoon.....Now Grand Pulse....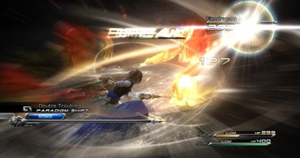 Three years after the events in Final Fantasy XIII, Lightning has gone missing, and Snow is nowhere to be found. In a rebuilding world, Serah notices that something is amiss. After a fortuitous encounter with a mysterious man named Noel, the two set off to find Lightning.
Lightning, sensing there was something not right with their new found peace, went searching for a way to free Vanille and Fang. She has found herself in some alternate dimension, where she is about to meet her match.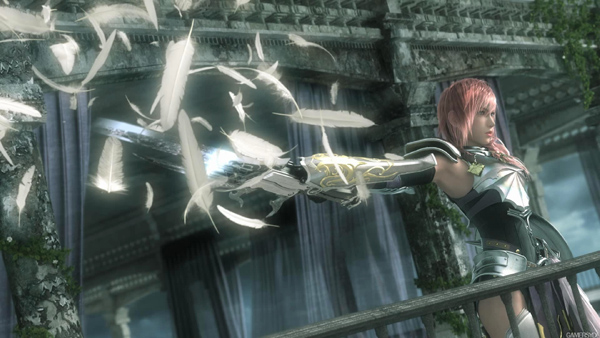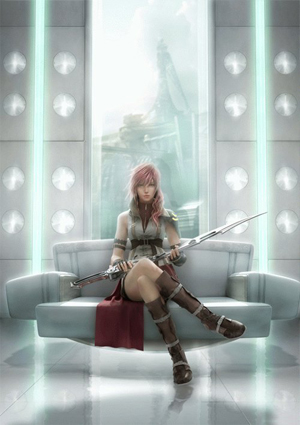 Square-Enix first hinted about the squel to Final Fantasy XIII when the creators said they would make one, if the fans wanted it. They had enough cut from the first title to make an entire game with it. (Perhaps the cut out stuff could have helped the first one more) Later in 2010, in an interview from the Final Fantasy XIII Ultimania Omega, Motomu Toriyama stated having the idea to make a story where Lightning "ends up happy in the end." Well that would be nice, since the ending was kind of wtf...and there was little to really truly celebrate.
And even an autographed postcard was personally sent by Tetsuya Nomura to members of the Japanese Square Enix Members community, with an artwork of Lightning and a message saying "She must not be forgotten." Of course, by early to mid 2011, it was announced there was going to be a direct sequel in the form of Final Fantasy XIII-2.
Now there is little known about XIII-2, though a whole lot more known than that of Versus-XIII...wonder when that will actually come out. Anyways, before you go up in arms at having to deal with yet another XIII, let us get a little bit into this preview of a review.
So far as we are told, this title will be a more polished version of XIII. If what has been read is true, then the creators actually took the time to listen to our complaints. ABOUT TIME!
One of the biggest things that has been stated about XIII-2 is it has been changed from a linear game, into a more exploration friendly game with places to see, climb over, go around, explore, people to talk to...just simply put...MORE ROOM! There are far more vast areas within the map, similar to that of say XII vs XIII. There is little if any linear maps, where you are limited to a singular path. This of course was the first thing to catch my attention. Love the ability to explore areas that are bigger than a tunnel. And apparently we will not be missing out in this depot.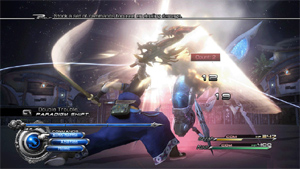 Gameplay...it has slightly changed, and also changed for the better. Final Fantasy XIII-2 utilizes the "Command Synergy Battle" and "Paradigm Shift" systems from its predecessor. That said, the enemies are no longer visible in the field. XIII-2 takes a step back to the FFX and before games, in having random encounters with unseen enemies. Some people might not like this little backtrack, but give me a moment.
"A game play element called the Mog Clock has been added, where the player must attack monsters on the field before the time's up to get the upper hand in the fight. When the player attacks a monster, the screen lights up and the scene switches to a battlefield, marking the start of a battle. NPCs (such as the remnant PSICOM operatives) will fight monsters that appear in the field to weaken them before a fight. Though the player still controls one out of a three-member party, some monsters can be used as party members. Players can customize a monster's stats via leveling up and even equip them with accessories to further boost their powers. As a bonus, the weather or Climate Type in an area will affect battles, and at times, guest characters will join the party."(Final Fantasy WIki) Watching the battle trailer for this game, it was pretty darn sharp and amazing to see the battling go on. I was certainly impressed with it. I think this will topple the hold button down and win theory of XIII. This is definitely bringing back the formula of old school FF with multiple ways to work through the battle. (Now if only they decided to put the ATTACK command on every Paradigm.
Another neat addition, not often seen since Chrono Trigger is the main quest can be played multiple times. But unlike the fore-mentioned masterpiece, director Motomu Toriyama is looking for an alternate means of achieving this besides the "New Game+" feature. The game will also have multiple endings. This creating a similar feel as the difference between X and X-2. One builds on the other to bring about a different outcome. I do not know what all that really meant factually, but it sounds like in general the replay will be huge!
Will Final Fantasy XIII-2 save the tarnished reputation of XIII. It is still a little early to tell. But from what I have seen so far, it is certainly bringing the series back to its roots...where it belongs.