Final Fantasy Kingdom


Compilation of VII

Finest Fantasy For Advance

Sequels

Fabula Novis Crystallis

Tactics

Crystal Chronicles

Film / OVA / Anime

Spin-Offs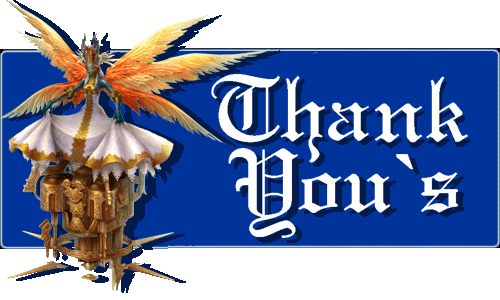 Here is where i give the greatly deserved credit to those who have aided in the creation
of Final Fantasy Kingdom. Also view my affiliates below. There you will not only find those who have assisted in building the site, but also have joined the Final Fantasy Kingdom family.
First and foremost, a thank you should go to Square-Enix. Without their creation of one of the leading game series in the world, Final Fantasy Kingdom would not exist.
A very special thank you goes to jaqueline at Video Game Sprites. I not only thank her for her generous donation of the old school game sprites, and for having simply a fantastic site for sprites...but I thank her for being a great person, and a friend. She is simply a wonderful person.
A thank you should be placed here for my friend, who managed to get better images of enemies and such for Final Fantasy III. Without his help, the ones I got from my emulated game would have been very poor quality. He asked that I keep his name off of here, so I will call him by his nick...Thank you jerryfar.
A very special thank you goes to my dear friend Cody. Last week he gave me a copy of Photo shop, and this has drastically changed the way the entire site looks. Without this tool, the images, and now even the new kingdom header, would not be possible. Thank you so much Cody.

POKE!!
A thank you goes to both my sisters: Jami, and Jessica. Together they got the images for the weapons, armor, and the bestiary for VII. They had gotten them off Jessi's copy of the international version of the game. Without those, I do not think Final Fantasy VII would be as great as it is.
Though it was not intentionally ripped from Caves of Narshe, I would like to credit them with the Idea of linking the NES, and PS1 versions of Final Fantasy together in each separate page. Originally I had planned to place the two sites in the kingdom, but the PS1 version in a separate sub-site, as has been done with the ADVANCE versions of IV, V, and VI. But When I got the idea to place links between them in the main site, I had no idea that it had already been done. I found this out a few weeks later. So to Caves of Narshe, I would like to give credit for the NES and PS1 linking of Final Fantasy, as well as the future linkings of Final Fantasy II.
Another credit should be given to my friend Jaqueline, for giving me a awesome PS1 emulator, which has enabled me to recapture far better images for Final Fantasy VIII, VII, and IX. My hats off to you Jaqueline!