12-1-1988
1-14-1987
9-26-1988
-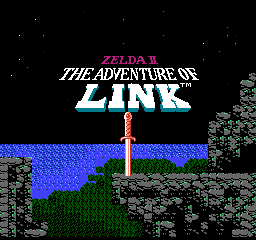 Within a year, and even before the first title could be released in the USA, Legend of Zelda II: The Adventure of Link was released in Japan. Rahter than a simple rehashing of the original game, Nintendo took this bad boy in a completely different direction. It created what was to become the first to successfully create a action-orientated RPG mixture of a game. And it was successful enough that many other titles soon followed suit.
The graphics are somewhat of a mish mash for me, but they are still pretty descent. The overview map looks kind of, well, aweful. The colors are very muted, and Link is just ungodly blah. Throw in some black enemy sprites to run into for combat, and it is just kind of dead. That being said, the side view used in the majority of the game, the sprites are nice and large and the game is fairly colorful. The enemy and boss sprites are large and pretty cool. The dungeons and towns are pretty well done, and have a great deal of detail to them. Overall the graphics are well done for an NES game, that is fresh off the heels of its older sibling.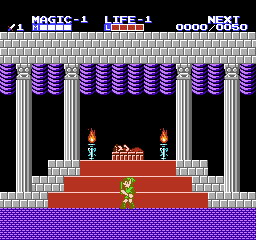 The gameplay found in Zelda II is leaps ahead of most at the time (And even present). There is no blamming shotty controls for your dying ovre and over and over again. Link will fire spells, attack, and jump exactly when you tell him to.
The introduction of magic was an added plus for the game as well. This gave Link more options of fighting, as well as fighting at a distance.
And a new addition with Zelda II is the leveling up. You can increase you HP, MP, and attack up to level 8 with the battles you do. There are of course containers in the world that will also increase your MP/HP.
And if this was not enough achievement in the gameplay, you are given sword moves that you learn through the game. Not only are they vital in getting further in the game, they allow you more types of attacks to defeat the enemies. Overall the role playing aspects of this game such as gaining levels and casting spells combine seamlessly with the action and combat aspects, making this game a pioneer action RPG.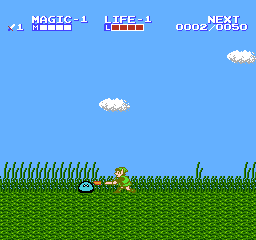 And there is challenge a plenty with this title too. It provides difficulty for anyone who is looking for it.
Though it did not sell as well as the original, it certainly is a fantastic game. Certainly one of the bench marks of the series. Definitely one to try and get a hold of. You will not be disapointed.