4-13-1992
11-21-1991
9-24-1992
-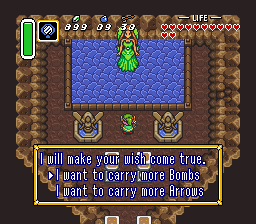 If there was a Zelda that earned the "Legend" name, A Link to the Past is the one. Released on the SNES in 1992, it quickly rose to the top seller list, and is considered one of the greatest SNES titles along the lines of Final Fantasy IV/VI, and Chrono Trigger. It also brought back in the core Zelda fans that might have been put off by the Adventures of Link. This went back to the original concept, and yet brought it to a whole new level. And now some 20+ years later, it still shows in the popularity of this title.
Let's get to that all important graphics first. Totally updated. Both the previous titles are simply blown out of our stratosphere with this game. The lighting found within Link to the Past is some of the greatest I have seen in a SNES title. Light comes through cracks in the wall, shadows from trees overhead, and even your magic creates realistic lighting. I was just blown away by the sheer beauty of the color and lighting. Enemies are brightly colored and done in such a way as to let you know whether to attack or cast spells. Water movement, thunder and lightning effects, I mean this was awesome eye candy all over the place. Everything moved fluidly, and there was little to no errors of any kind to be found. More like none actually.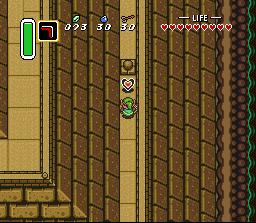 And then there is the gameplay portion...just almost perfection. Everything goes in an even flow. Items and weapons found are useful throughout the entire game, not just the dungeon you find them in. And there is little need of trying to figure out what it is you are supposed to do next. This just catapults it above most other games, and certainly above its older siblings. And mixed perfectly into this RPG/Action game, there are plenty of puzzles to solve that will test your knowledge as well. (Yeah where did Prince of Persia get that idea from...)
And that Action/RPG finally finally has a main importance. There are battles galore, while allowing the exploration to take you literally almost anywhere in the map. Exploration allowance is just right. I love it! The game is not completely impossible, nor will it make you suffer for a wrong choice either. Puzzle solving, maximum use of items, spells, exploration, action, adventure...You got Link to the Past.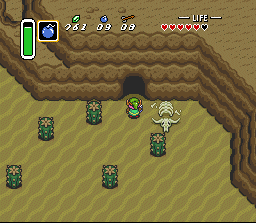 And sound...oh wow sound. The sound effects of this game are just amazing! Every item sounds different, and more to the point, don't feel repetitive. trees rustling, the thunder on Death Peak, I mean there is sounds for everything.
And The music is just beyond compare. It is this title that brings the Zelda musical score to the heights that people know of now. The Dark World music is some of my most favorite scoring in the SNES line of games. And this is the Zelda theme that shines above most all others. Link to the Past is the beginning of the Epic them music for the series.
Of all the Zelda games I have played in the last 25 years or so, this title still remains my favorite to return to. It is as near perfect to Zelda, I think, as you can possibly get. And the reviews and praise show that. It was one of the best selling games on the SNES system, and holds a prominent place in their list of masterpieces. It is always placed on the top tier of fan favorite lists, and continues to bring in new people who find it more than fun despite its age. If you have not gotten a hold of this title. Get it and try it out. If not on the SNES, then it can be found on the GBA and the Wii Virtual Console. You will find you will love this game too.