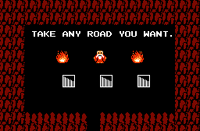 Warp Points
Once you acquire the Power Bracelet, you will then be able to access Hyrules secret Warp Points. These are great ways to travel across the map, without having to hoof it the entire way. There are four locations that are joined together, all run by the old man.
Below is the location maps, as well as directions on where each stairwell will take you.

All the left choices will lead you counter-clockwise around the set of maps.
All of the center choices will take you across diagonally.
All right choices will take you clockwise around the set of maps.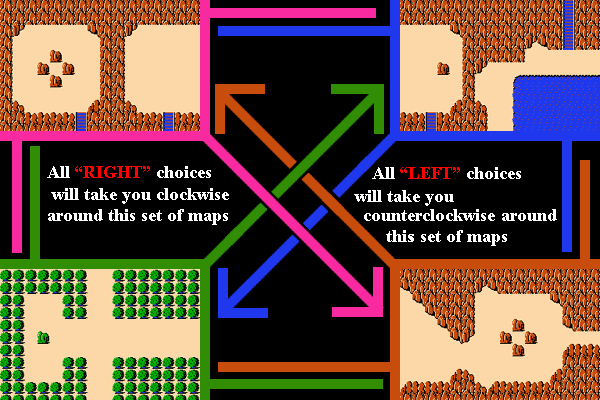 Fairy Ponds
Fairies live in Hyrule, around their magical ponds. Though most were taken prisoner by Ganon so they could not lend aid, two have managed to remain free. Their ponds are on either side of Hyrule. The Western pond is one screen East of the hidden Level 7 Dungeon, and the other is one screen north of the bottom left warp map (seen above). Each time you
visit, the fairy will replenish any and all lost health. Be sure to visit them any time you are in need of aid.
| | |
| --- | --- |
| | Hidden Heart Containers |
Of course you know that at the end of every dungeon in Hyrule, there is a Heart Container. This is the item that will extend your life by an entire heart. What so few people actually realize, is there is a total of 5 Heart Containers hidden in Hyrule as well. These are key to victory in later stages, as you are granted more life.
5 different Hearts, have 5 different locations, and usually need a specific item to gain access. Below are the map spots where those priceless items can be found. (Note the top right and middle picture are a entire place for one Heart Container. Requires the raft to sail to the dungeon looking place to the north.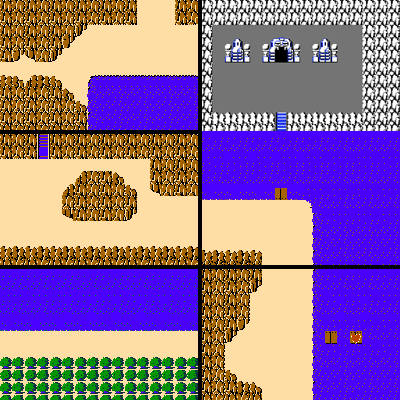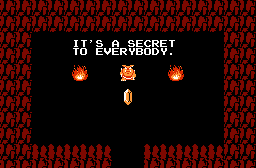 Rupy Give Away
A lot of Ganon's lacky's are not happy with Ganon. They have set themselves in hidden locations, and will give money away to the one who finds them. This of course is you. These guys are scattered throughout Hyrule, and have to be found using Bombs, Cadles, or cunning. The give away is set to three amounts: 10, 30, and 100 Rupies. If you can get 2 of the 100 and a 30, you immediately have enough for the Blue Ring. And this is something you will want to have as soon as you can get it. The rest helps out greatly in getting things like bombs and arrows restocked. Below is the maps for each of the three different Rupy amounts.
| | | |
| --- | --- | --- |
| | 10 Rupies | |
| | | |
| --- | --- | --- |
| | 30 Rupies | |
| | | |
| --- | --- | --- |
| | 100 Rupies | |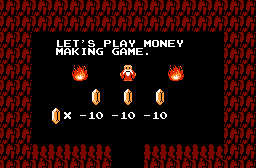 Hyrule Gambling
There is gambling everywhere now a days. Even Hyrule does not mind setting stakes and having some fun. When you find a gambling cave, you offer the money up that is asked (10 Rupies). Pick one of the three options you see, and what it turns into is what you gain or lose. You can win/lose anywhere from 10-50 Rupies at a time. So unless you feel very very lucky, or have the money to spare...this might not be such a wonderful idea.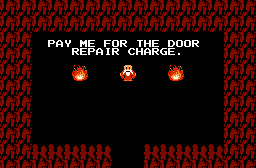 Charge by the Door
In some of these places you uncover thinking it is something great, you will get a big shock. The Old Man in these caves will charge you 20 Rupies for damaging his door. And you will have to pay for it too. Since there is no real way of knowing where these places are, I have provided their locations below. It is best to avoid these miserable misers all together. That being said...wouldn't you expect someone to pay for the damage done to your home?