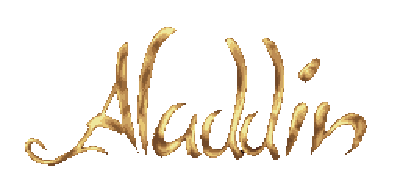 Characters

Aladdin
Aladdin was born a street rat. He and his pal Abu have always had to scrape by to survive. It was by chance that he runs into the princess, and falls in love with her. His one wish is to be with her always, and with the help of his new friend Genie, he might just get that wish. But not before he puts an end to the evil scheming of Jafar.

Abu
Abu is Aladdin's ever faithful friend and companion. They have been together through the best and the worst. Now Abu tries desperately to help Aladdin get to the palace, and stop Jafar from taking over.
Abu has always been drawn to treasure. He cannot help himself, when it comes to those precious things that sparkle. It lands him in hot water at times.

Genie
Aladdin sought the mysterious lamp, at the behest of a old peddler that was locked in the dungeon with him. Little did he know this was in fact Jafar trying to get the lamp.
When he gave the lamp over to Jafar, he was betrayed, and thrown into the cave. The ever sly Abu was quick to steal back the lamp, and Aladdin awoke Genie. And now Genie wants to help his new friend in any way he can.

Carpet
Aladdin stumbles upon Carpet, while searching for the lamp. Carpet helps Aladdin escape the firey cave, when Abu touches the forbidden treasure. Carpet also provides Aladdin and jasmine with the magical ride through the heavens, where the two fall in love.

Iago
Iago is Jafar's trusted henchman. Almost more intelligent that his master, Iago seems to always come up with the best ways to get Jafar to the top. He does everything he can to help stop Aladdin from saving the princess, and destroying Jafar.

Jafar
Jafar is the Royal Viser to the Sultan. He has a great thurst for power, and it turns him to evil. He plots to overthrow the Sultan, and take the kingdom by force. He seeks out the lamp, to help achieve his goals. It will take great skills and cunning to stop Jafar, and all his vile schemes.