9-12-1989
1-26-1990
12-14-1990
-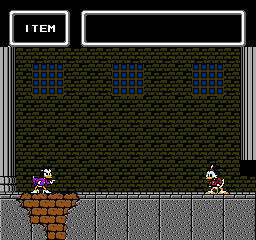 The search for the worlds great treasures is on! Scrooge, the worlds wealthiest duck, along with the rest of the gang has set out to discover the fabled treasures of the world. Along the way he is going to run into several enemies, familiar and new. Will he be able to gain the treasures before his rivals Magica Despell and Flintheart Glomgold take them for themselves? Or will the forces of evil finally get the upper hand on this millionaire duck? Only you can decide!
Ducktails is perhaps one of the most popular of all Disney's cartoon line-up. It was a smash hit when it premiered, and holds a great following to this day. It is no surprise that the success of Ducktails would spawn a game for everyone to play.
Ducktales game is in fact a wonderful romp through several levels, in search of what Scrooge loves the most...treasure and wealth! The story is simple, similar to that of the cartoon. Nothing overly difficult to get around. The characters are world known, so there was no need to spend any time developing any type of back story. You get to just jump right into the game itself.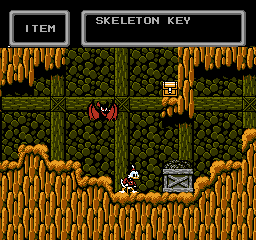 The graphics are wonderful for the time of release, however there were a few other titles that had better. But in reality, this is based on a cartoon. And the character graphics do not disappoint. They are very close to the animated characters they depict. The backgrounds are bright, and well colored. The enemies and characters are all fluid in movement, and not too choppy.
The music is simplistic, but considering it is a NES title, this is not a surprise. It does retain the music found in the show, and gives the player a sense of being in the cartoon, rather than a game.
Though it is a very simple game to play, even on the difficulty setting, you can do it over and over, enjoying each time. It is Ducktales, and that is just fun in itself. As with most of the Disney games released in this time, if you are looking for a challenging game...look elsewhere. If you are looking for a downright enjoyable title, this is certainly a wonderful one for the NES era of Disney games. And if you are a fan of Ducktales, you have got to go get this game!