The Little Mermaid was released for the NES in 1991. It is a side scrolling platform game, where you are in control of Ariel, as she tries to stop Ursula from taking over the oceans.
With the hype that followed the smash hit "Little Mermaid" in 1989, it was no wonder it was novelized for a video game. This was the first (known to me) game based on one of Disney's animated features. But for some reason it does not follow the film version, but rather could be placed in the last 1/2 of the movie. It is supposedly taking place after Ariel tells Eric she is a mermaid, before they get married. But she discovers that Ursula has taken control of the oceans, and she goes off to defeat her. In the final battle with Ursula, she holds the crown and trident, just as she did in her final battle of the film. So it could be said this is a alternate view of how the movie ends.
Graphically, Little Mermaid is pretty ok, for the year it was released. There is little things such as air bubbles floating around, that make the game a bit more like you are actually in the water. A oddity of the sprites is Ariel has purple hair in game, while her hair is red in the cut scenes. But otherwise the character/enemy sprites were not given a great deal of detail. The only really good sprite in the entire game is the final Ursula. There was a lot of good detail in this enemy sprite, that kind of makes you wish the rest of the game looked that awesome.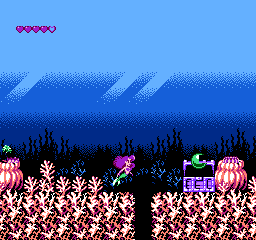 The game play itself was very linear, and very easy. This was truly a child's game. For a veteran player, I would give it an hour and 1/2 tops. It is not something I would have suggested going out and buying for your teens.
The music was not very well done either. It is not anything like the later games from Disney, nor is it similar to the films award winning score. It sounds almost like it was done on a single keyboard, with no real music intended. That said, it is a bit on the catchy side, and does not seem to be a distraction from the game.
Overall, this game is cute...but not too much more than that. It is pretty ok the first time through, but afterwards, it just is too easy to beat. Still, it is a classic Disney title, and as far as I know, the first to be based on a animated feature. This would be a great collectors piece for those who love The Little Mermaid.