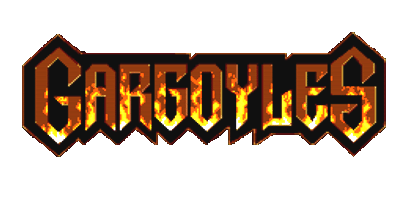 Characters
Goliath
Goliath is the leader of a clan of gargoyles from Castle Wyvern, Scotland in 995 A.D. He was betrayed by the humans he trusted and protected. Most of his clan was destroyed when the Captain of the Guard and Demona made a deal to allow the vikings to sack the castle during the day. Now he and his remaining clan live in New York City in 1994. Rather than just protecting the castle as they once did, they have chosen to protect the entire city. It is here he has met his truest human friend, and love Elisa Maza. She has become the gargoyles main human ally in their strange new world, and has grown very fond of Goliath as well.
Goliath is the main character of Gargoyles. He is out to stop the use of the Eye of Odin through the various stages of the game.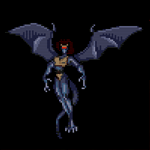 Demona
Demona, once Goliath's Angel of the Night, and the second in command, made a deal with the Captain of the Guard to have the vikings attack and take the humans during the day. Then the Gargoyles could claim an empty castle. Placing little trust in humans, Demona fled to the shore below the castle cliff before dawn. when she awoke to find her clan destroyed, her hatred of humans intensified. Her guilt and hate made her a vile evil person, and anyone who got in her way felt her wrath. She briefly had a time where she once again trusted humans with Macbeth, but even that was short lived. It did, however, grant her immortality. She now lives in 1994, and is still poised to destroy all of mankind.
Demona is the arch nemesis of Gargoyles. She somehow possesses the Eye of Odin, and must be stopped by Goliath.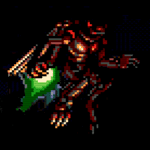 Zanatos' Robot
Zanatos is the person responsible for awakening the clan, after the stone sleep spell was placed on them. After trying to manipulate them into doing what he wanted, he decided they were no longer of use to him. He created with Demona a Steel Clan of gargoyle robots to "replace" the living ones. Though they were defeated, he has since created more. He then created an exoskeleton robot for himself. With this he could stand claw to claw with the mighty Goliath. Forever a thorn in the Gargoyles side, Zanatos never tried to destroy them. He thought it a waste. Eventually, when Goliath and the others saved his son Alexander, Zanatos reformed his ways, and re-instated the clan to their ancestral home.
Zanatos' Robot is a formidable boss Goliath must get passed, in order to continue his quest to get the Eye of Odin from the hands of evil in the new world.