Final Fantasy VIII Deep Sea Research Center



After you get the Ragnarok on Disk 3, you can begin hunting for the Research Facility. It will not show up anywhere on your map. In fact it does take a bit of looking to find it. The research center is in the southwestern tip of the world map. You can find it using the Garden, but you have to land on it to get inside.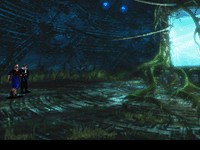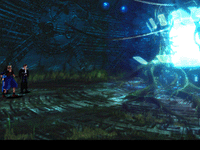 There are actually two parts of the Research Center. The top floor, and the underwater lab. When you first enter the room, you will see a strange, blue tube to the left. It will randomly glow brightly, as shown in the pictures. When it is glowing, you need to stop moving. If you move while it is glowing, you will be forced into a fight with a Ruby Dragon. These fights can be fierce. Ruby can easily wipe your party out with its Breath attack. To make things a little easier, I would suggest setting someone with the Tonberry King's LV Down ability. Dropping Ruby Dragon's levels eliminates the Breath attack, and makes fighting a whole lot easier.
When you finally reach the light, a voice will begin asking questions. After every question, right or wrong answer, you have to fight another Ruby Dragon. Below is the questions, and the answers you want to give.

Boss fight: Bahamut
In comparison to previous titles, this fight with Bahamut is pretty easy. The lord of the dragons is a powerful physical attacker. Be sure to either cast Blind, or junction 100 Blinds to someone's weapon. This will disable over half of his attacks. You will really only have to worry about Bahamut's "Mega Flare" attack. This is a devastating attack for party's with low levels. When Mega Flare is used, have everyone draw Curaga to heal themselves. As with most my strategies, Squall should have Lionheart, and be in HP critical. This makes it real easy to get the limit breaks going. One or two shots of Lionheart, and Bahamut will be beaten. Use your GF's if you have a high compatibility with them, but Pandemona and Quezicotl do no damage to him. Bahamut is also immune to the Earth attack of Brothers.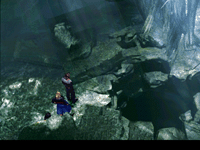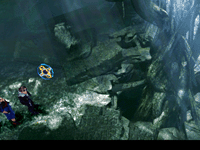 Once you defeat Bahamut, an opening appears where the core once was. If you try to go down, you will find that you cannot. What you need to do is return to the Ragnarok, and enter the conference room. I do not know why you have to, but once you do you will be able to continue. When you enter the facility again, you will find that a bit has changed. There is now a save point, and a large wire to climb down. Save the game, and head into the Underwater facility.
If you felt that fighting Bahamut was extremely difficult, you might want to wait on this area. In the Underwater Facility, not only is there the second most challenging boss in the game, but the nastiest of enemies all over the place. Enc Half, and Enc None do not work in this area either(Did you really think Square was going to be that nice???). You have to fight through the hordes of encounters to get to the bottom. To prepare for the long haul, you should get a few things first.
Tonberry King's Level Down ability is a must, as is Recover and Revive from Leviathan and Alexander. There are plenty of Ruby Dragons, as well as other difficult enemies. With the Level Down, you can take their bites out of commission. You should also junction 100 Blinds to someone's weapon. This will help out greatly with Iron Giants and Grendels.
The Recover and Revive should be on different people, and not on Squall. Be sure to have plenty of Full-Life, Curaga, and Phoenix Downs...you will need them.
Once you feel you are ready, it is time to head down. Inside the Underwater Facility, you will notice you are in a round room with air locks. When you activate the terminal, you will find you have 20 RSP (Reserve Steam Pressure) to unlock the floors. There are two ways you can go about this, and still get to the bottom. One requires Zell to be in your party, and the other is if Zell is not in the party (Bet you know which way I went:D).
Without Zell

1st Floor

2nd Floor

3rd Floor


Units used: 4

Units used: 2

Units used: 1

4th Floor

5th Floor

6th Floor


Units used: 1

Units used: 1

Units used: 4
With Zell

1st Floor

2nd Floor

3rd Floor


Units used: 4

Units used: 1

Units used: 1

4th Floor

5th Floor

6th Floor


Units used: 1

Units used: 1

Instead of using any units, let Zell open it for free.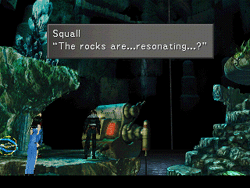 In either case the doors will open, and you can go in. This is where things get really ugly. Random encounters happen about every 1-2 steps. In the top left corner, you can find a hidden save point with the Move-Find ability. You definitely want to save here. Just continue down slowly, and work your way through the sea of enemies. You will eventually get to the bottom of the excavation site. Here you will find a room with a hidden save point. Before you activate the switch, use the Move-Find ability, and save your game. When you activate the final panel, the pressure goes into overload, and you find out way the site was abandoned.
Preparations for battle

There are some things you should do to get ready for this fight. If you have been following the battle preparations thus far, you know you need the Lionheart Sword, and plenty of Full-Life, and Curaga spells. It would not hurt to have the the other two players ultimate weapons, but it is no where near necessary. You will want to refine your Gilgamesh Card, and get 10 Holy Wars. It would not hurt to refine the Angelo Card, and get 100 Elixirs. If you do not have the Gilgamesh Card, (Refer to the CC Members quest to get the Gilgamesh card) you should get it. Having a set of Holy Wars will go a whole lot easier.

Set up

I use Zell and Rinoa as my other two players, and have certain set-ups for them.
Squall - Squall has the Item, Magic, and Draw command, and his Lionheart weapon . You can drop the GF command, since you will be using Items and his Limit Breaks. He should also have Initiative set up too. This way he can be the first attacker, and set up Holy War right off the bat.
Zell - Zell should have Item, Draw, and the GF ability. This way, if Ultima gets a hit in before you use another holy War, you can use a Phoenix Down. If you are lucky, Squall will get hit, and you will not have to restore his HP.
Rinoa - She should be set up with Magic, GF, and Draw abilities. She can serve as the medic, if you run out of Holy Wars, and or get hit between the Holy Wars.
Between Zell and Rinoa, whoever has the best compatibility with Doomtrain should be junctioned with it. If Jumbo Cactuar is high enough in levels, this should be Zell's main attack. Bahamut is the one I use for Rinoa.
Go to your item menu, and move the Holy Wars to the top of the list, followed by Phoenix Down, and Elixir. If it helps, set your cursor to memory. This way, you can hit your GF's right off the bat. With everything set up, hit the switch and prepare for battle.
Boss fight: Ultima Weapon
In the first round, have Squall use a Holy War, before Ultima gets to attack. Then have the player without Doomtrain draw Eden, and the other summon Doomtrain. DO NOT BOOST DOOMTRAIN! Doomtrain heals Ultima Weapon, but it does cast Vit-0. This will make your attacks do far more damage. In the next rounds have Squall unload limit breaks, Zell summon Jumbo Cactuar, and Rinoa call on Bahamut. When the Holy Wars wear off, (Your characters become solid) have Squall or Zell use another Holy War. Be careful between Holy Wars. Ultima has a one-hit kill, and can wipe people out fast. Use your Holy War to protect those alive, then revive the fallen one(s). After they are revived, use another Holy War for them. If you are really lucky, Squall will get his Lionheart a few times. This will end the battle in short order. If you feel lucky, draw and stock up on Ultima spells.
For defeating this giant, you will get the Eden Card, and a Ultima Stone.
Congratulations on defeating Ultima Weapon. But there is still one other weapon out there....
Once you defeat Ultima Weapon, you are finished with the Facility. Heading out will be a breeze. The endless encounters have been taken out of the area. You will not have any for the trip out. Save here at the bottom, and restore any hurting GF's, and party members. Good job! You just completed what I think is the hardest area in the game!