Final Fantasy VIII Misc. Quests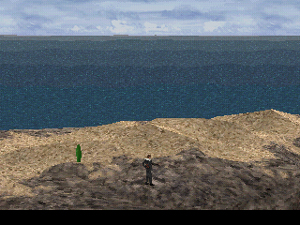 Cactuar Island
On the eastern side of the southern continent, you will undoubtedly come across a small island with a green thing popping up from time to time. This is Cactuar Island, home of the Cactuars. These are the most evasive enemies in the entire game. You can really only get a strike, if your hit is 255. Basically, only Squall can hit them without aid from spells. Each defeated Cactuar is worth a whopping 20 AP. This can easily get those harder abilities you were wanting to get. Just place Initiative on Squall, and you are garonteed at least 20 AP, almost every fight.
Be sure not to run into the green object, until you are prepared for it. This is Jumbo Cactuar, a Cactuar that is so old, it has grown to mammoth proportions. There are a few things to get, before you face the lord of the thorns.
Revive and Recover are imperative in this fight. However, neither should be junctioned to Squall. You will need him performing Limit Breaks, with his Lion Heart Sword. Everyone should have either magic or item commands to revive fallen party members. Make sure Doomtrain is able to be summoned for Vit-0. This will make things a great deal easier. My set up is as follows:
Squall- has HP in critical, to perform limit breaks repeatedly, Magic, and Item command.
Rinoa has leviathan, to utilize Jumbo Cactuar's weakness to water. Her compatibility to Leviathan should be as close to 100% as possible. She should be set up with Recover, Magic, and Item. You will not be attacking with Rinoa, so the Attack command is not necessary.
With Zell, I give him Revive, Magic, and Item. Zell should have as many Water spells as can be had, so he can add extra damage when not healing. Both Rinoa and Zell have the Item command to give squall Phoenix Downs. This will keep his HP in yellow, allowing for quicker limit breaks. Make sure you have a solid supply (Preferably 100) of Phoenix Down, Full-Life, and Life.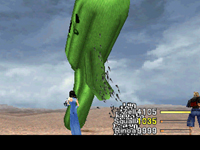 At the beginning of the fight, summon Doomtrain. Then Squall should use his limit breaks, Rinoa should summon Leviathan, and Zell should use revive on Rinoa/Phoenix Down on Squall. Jumbo Cactuar randomly counters with 10,000 Needles. This attack does 10,000 Pt's damage to whoever gets hit. Just simply bring them back, and keep fighting. His other attacks are not too much to worry about. If Zell or Rinoa get really low in HP, Have Rinoa use Recover, then continue with Leviathan. When near death, a message may appear saying Jumbo Cactuar is hesitating.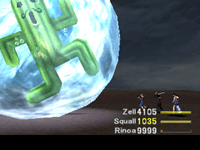 This means it is getting ready to run away. Kill it quickly. Have Rinoa summon Leviathan, and Squall follow with his limit break. With any luck he will perform Lion Heart, or you might get another turn. If Jumbo Cactuar flees, you will have to go through the fight again.
Once you defeat Jumbo Cactuar, you will get the ability to summon it into battle. It is one of the better GF's, since it has a non-elemental attack, and cannot be deflected or damage reduced.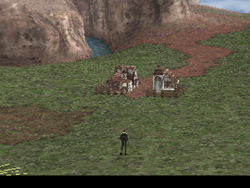 Shattered vase of Winhill
Once you have been to Winhill as Laguna, return to the mansion there as Squall. A person inside will ask if you can help locate the missing pieces of their vase. These pieces are scattered throughout Winhill, in several different locations:
In the mansion, you will find the first piece in the suit of armor.
Inspect the flowers in the foreground of the old woman's house for the next piece.
At the Chicobo crossing, catch a Chicobo for this piece. If you do not get the piece, keep trying.
There are a few steps involved with the final one. Visit Raine's old house, speak to the woman upstairs, until she mentions the aroma of flowers. Go downstairs, and inspect the flowers in the lower right corner. When Raine's ghost appears behind the bar, speak to her. The ghost will then turn into a cat. Inspect the cat, and you will get the final piece.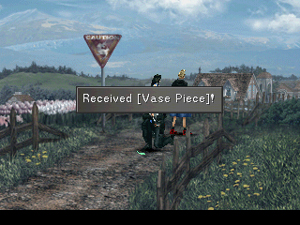 Once you have the four pieces, return to the mansion. Hand them to the person, and he will give you a Holy Stone. This doesn't seem like a whole lot huh? Well, there is a couple of more items to get here. Return to the Chocobo crossing, and try to catch a few more Chicobo's. You can get a Phoenix Pinion, and a Gyshal Green for your efforts. The Phoenix Pinion summons the GF Phoenix. This Semi-GF can revive KO'ed party members. Once summoned with the Pinion, Phoenix will randomly appear, when someone is KO'ed. This makes the trip to Winhill a bit better.
Just remember, once the mother Chocobo appears, you cannot catch anymore Chicobo's.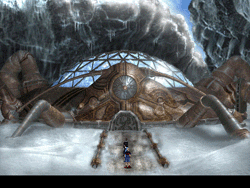 Shumi Village
You will find the Shumi Village on the extreme northwest island. Here, you will meet a race of peaceful Shumi. (NORG was the only real meanie here) As you explore the town, you will come across a Shumi that is wanting to make a statue. He will ask if you can help him find five stones. Agree to help, and begin your search.
Blue Stone
This is actually right there next to the statue. Pretty easy huh??
Wind Stone
This one is located on the ground, to the left of the hotel. If you inspect it, Squall will notice a breeze coming from it.
Life Stone
Vegetation is life in this instance. If you look through the roots of the tree to the right of the Elder's house, you will find the stone.
Shadow Stone
The furthest from the shop is the Shadow Stone. You will need to go all the wat back to the surface. Once there, inspect where the shadows merge to the right. Here you will find the Shadow Stone.


Water Stone
You might be tempted to search the water, where the frog is. A good guess, but you will find that you are wrong. This stone is actually located in the Artisan's house. He is using it to wash his dishes. Ask him about it, and he will relinquish it to you.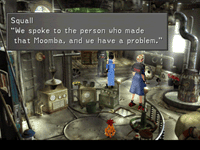 Once you have retrieved all five stones, return to the elder. He will give you a Phoenix Pinion for a souvenir. Yep... that is all you get. Now, before you go off pissed that you just wasted your time, there is a bit more to do.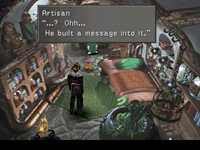 Leave the village, then return. Go to the workshop, and speak with the Elder's attendant. It would seem he is not interested in helping with the statue. Speak with the Elder, and you will find that the attendant wants to travel the world with Laguna. The Elder believes that the attendant will make a fine Elder some day, but he knows that if he becomes one, he can never leave the village. He will ask that you talk to the Moomba outside. When you speak to the Moomba, follow it back to the workshop. The Moomba will talk to the attendant. Once the conversation is complete, return again to the Elder. He will ask you to find more help building the statue. Return once again to the attendant, and speak to him. He will suggest asking the Artisan to help with the statue. Go next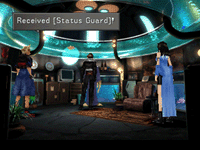 Door, and speak to the artisan. And that is all there is to do here...NOT!
You will find that the Artisan does not want to help either. (Tired of this yet?) Return to the Elder, and he will ask that you find a way to get the Artisan to help out.

This requires a bit of traveling. Go to the Grease Monkey's home in FH. He will tell you about the Moomba doll he has, and ask you to take it with you. Return to the Artisan's house, and present him with the doll. After a small conversation between them, he will agree to help out. Speak to the Elder again, and he will hand you over a Status Guard. Not too bad of a gift, considering what you went through to get it.
Obel Lake Monster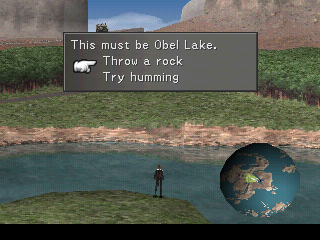 North of Timber, you will find a large lake. This is none other than Obel lake. In the middle of the eastern side of the lake, there is a peninsula to the center. Inspect the middle of the tip, and two options will appear: "Throw a rock", and "Try humming". If you try humming several times, a shadow will appear and speak to you. (Final fantasy's very own Loch Ness Monster!). If you speak to him again, he will ask you to find his lost friend, Mr. Monkey. He will give you two clues as to his whereabouts:
1-Mr. Monkey enjoys hanging out in trees
2-Mr. Monkey may have hopped a train to Dollet
This is actually very easy. West of Dollet is a very large forest. Search around the forest, until you encounter Mr. Monkey. Once you find Mr. Monkey, return to Obel Lake. Speak with "Nessy", and he will give you several strange clues to follow.

"At the beach in Balamb, something special washes ashore at times."

"You'll find something on the island east of Timber too."

"There is also something on top of a mountain, with a lake and a cavern."

"Mr. Monkey had a rock like this I think."

"Take a break at railroad bridge."

"Take some time off at Elbeak Peninsula."

"Back in the day, south of here, there used to be a small but beautiful village surrounded by forests. Everyone lived happy lives there."

The creature is telling you to go to these places, and find something of interest there. So let us travel to Balamb's shore first. Search along the shore, and you will find a rock with the markings STSLRM. This is your first item.
Next, head over to Timber. To the east of Timber, north of the bridge is a small island. Search the center of this island, and you will find another rock with the markings REAIDR.
Now head west of Timber to the bluffs. There is one bluff with a cave, and a waterfall in it. Land the Ragnarok on top of the bluff, and search above the waterfall. You will find a third rock with the markings EASNPD.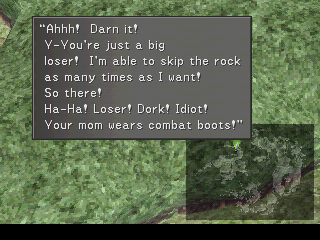 The final rock is a bit on the tricky side of things. First, return to Obel lake, and choose the option: "Throw a rock". Do this, until you get the message: "The rock skipped many, many times." This might take a bit, since it is a random message. When you get the message, return to Mr. Monkey, and throw rocks at him, until he throws one back. The markings on this rock are: URHAEO. Once you get these four rocks, return to Obel Lake. When you speak with the shadow, he will re-align the words for you. Now read the words from top right, to bottom left, and you will get the message Mordred Plains has treasure.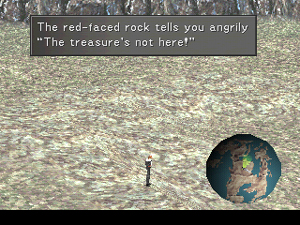 Mordred Plains is the reddish plains north of Esthar. Here you search around, until you come across four rocks with faces on them. They will all mention something about treasure, but they all say something different. This will normally be very confusing. But you only need to remember one thing...the red rock is a liar! So when you find the spot where the red rock says angrily, "The treasure is not here!" You know you hit the spot. Examine it again, and you will get the Three Stars. This gives a GF the EXPENDx3 ability.

Now that that is done, what of the other clues? Well, there are three clues left to explore. Two of them though are really nothing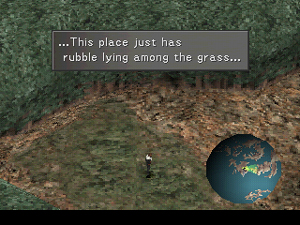 The clue about the beautiful village, is referring to a patch of ground by Edea's house. If you search the ground, Squall will mention that there is a lot of rubble lying around.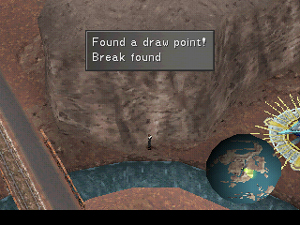 The break at the railroad bridge is referring to all the draw points found on the bridges. About half the draw points on Timber's continent can be found on the bridges.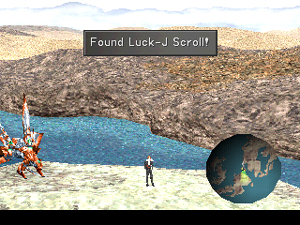 The final clue however, is something definitely worth going after. Head for Eldbeak Peninsula, found north of Balamb. Search the tip, and find another stone with the markings TRETIMEASUREATMINOFFDEISLE. That may not make sense at first, but remember the clue...TAKE TIME OFF AT ELDBEAK PENINSULA...where are you? The peninsula. What are you supposed to do? Take Time off. So take the words time and off out of the message, and you get Treasure at Minde Isle.
Minde Isle is a very small desert island, south of Esthar. If you search the ground, you will find one of three LUCK-J Scrolls in the game. Not a bad pay off, for little effort huh? This of course, wraps up the Obel Lake section. Nothing really difficult, and you walk away with some pretty useful things.