12-15-1989
10-27-1989
-
-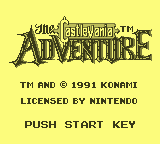 In 1576, Dracula rises from the grave, his reign of terror beginning anew. All of Romania is gripped in fear, as his unholy minions are unleashed on the lands. Luckily, the Belmonts were prepared, passing the Vampire Killer down through the generations. Trevor, together with his companions Grant, Sypha, and Alucard had destroyed the count a century ago. Trevor knew the time would come again to face the Count and his evil forces. His knowledge was passed through his descendants. It is now up to Christopher Belmont to destroy the count. And, unlike Trevor, he must do it alone...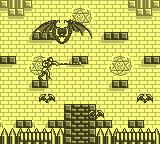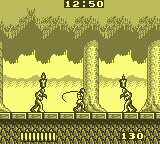 Castlevania Adventure was the first attempt in the franchise to port over to the newly developed Gameboy handheld system. Being the first, it was difficult for them to get everything in, and shrunk down. The technology was too new, and no one was certain of its success.
This of course shows. Most people will give it about two or three tries, before giving up while cursing the game. I did back when it came out 22 years ago. I played it again here about a year ago, and after finally getting the gist of the AI, I was able to get through it with no real problem.
Graphically it is not great. But one must take into consideration the devise which it was released, as well as the time it was released. For a new Gameboy game, this was pretty well done. The sprites have some depth to them, and can easily be seen. They have a great fluidity, despite the tiny system limitations. The AI is the only real weakness in this presentation, and that is actually not that bad once you get the hang of it. The backgrounds are detailed well, and add a sense of depth. This was a bonus for me, since playing most other GB games has been a little hard with the lack there of.
The gameplay however was a little sluggish. There was some great treats, as far as everything knowing the target they were after (You), but areas like jumping, climbing, and such were met with more botched attempts than not. Rather than being able to go from a run, and jump to the next platform...you found yourself having to inch your way to the edge, and gently jump over. Jumping from like rope to rope was also troublesome in the same respects. But again, once the gameplay has been experienced and understood, it got easier to do.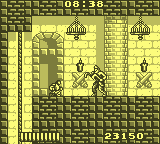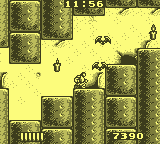 And if you are looking for the challenge so often seen in the earlier installments of the series, look no further. This is certainly one that will provide the challenge, and dish it out even more while you are still trying to get the hang of it! There is a lot of this in the sluggish movement of the framerate, as well as the AI complications. Once you can get a handle on these, the challenge drops, but not by too much. I love the immense challenge this game still gives after being around for so long. Most games now a days provide little to no challenge in comparison.
Castlevania Adventure is not the title I would choose if this is the first one you play. To some extent it would not be a choice I would make, if I was looking for something fast paced, and quick to get through. But if you are a veteran, fan, or love challenge, this is a title worth getting a hold of.