8-12-1991
8-12-1991
10-26-1992
-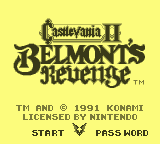 Fifteen years after Dracula's defeat by the hands of Christopher Belmont, the village is in the midst of cellebration. Soleiyu Belmont, son of Christopher is about to go through his right of passage. Christopher, proud of his sons great strength and will, is about to pass down his families legendary Vampire Hunter whip to commemorate Soleiyu gaining his inherited powers.
The next morning, Soleiyu mysteriously vanishes. With a great rumble from the land, four ominous castles appear out of no where. Dracula has returned, and Christopher knows his son is in great danger. He sets out to save his son, and destroy Dracula for good.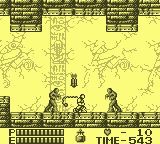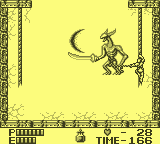 Belmont's Revenge marked the second outing for Castlevania to the Gameboy system. This time, however, they were able to make a great game, with little to no problems while playing it.
The story resumes after Adventure, where Christophers son Soleiyu is taken by Dracula, and Christopher must destroy him once again. There are four different castles to go through, and the neat thing is you get to choose which one you want to go through first. This, though it does not effect the game, was a neat little addition.
Graphically it is is an improvement over the earlier title, but it really cannot be appreciated on the older system. On the GBColor though it was definitely better. The graphics were definitely pretty well done. The sprites have some depth to them, and can easily be seen. They have a great fluidity, despite the tiny system limitations. The AI is definitely improved, and makes this outing of evil killing much more of a breeze. The backgrounds once again are detailed well, and add a sense of depth. The defferent levels were nice and very fun to play through.
The gameplay however was a little more fun this time around. The issue of jumping, missing enemies easily, etc were fixed in this title, and just made it far more easier to play. That being said, there is the usual Castlevania difficulty, but it finally is not from poor gameplay.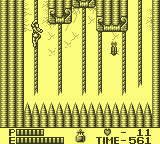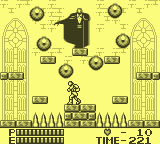 And if you are looking for the challenge so often seen in the earlier installments of the series, look no further. This is certainly one that will provide the challenge, and dish it out even more while you are still trying to get the hang of it! I love the immense challenge this game still gives after being around for so long. With the added bonus of little to no problems within the game, this has quickly become my Gameboy favorite to play.
And sound, though limited by the system, is amazing. The scoring was done to actually adhere to the limitations of the Bameboy, and just set the game mood so well. There is little time where I have enjoyed the score on the older handhelds. I would definitely say this was one of the best for the GB hands down.
Belmont's Revenge is a great title to have and play. It shows the capability of getting Castlevania on handheld systems, which has now become more of the common place for them. If you can find this title, and a working system for it, you should not hesitate to pick it up. You will not be disapointed.