Play as Maxim
Once you have completed Harmony of Dissonance with Juste, wait for the credits to roll, and start a new game. when you select your name, choose MAXIM


Now you will be able to go through the game again as Maxim. Though Maxim doesn't gain levels like Juste does, he will get stronger after the defeat of each boss. He is a much faster hitter than Juste is, and utilizes a sword rather than a whip. His drawback on this is that there is no overhead hitting. He also cannot get any items, weapons, armor, or accessories. He has one sub-weapon at his disposal which is his over-sized shuriken. This is powered by hearts, collected through the same means as money is in Juste's version.
Maxim does have better overall stats in comparrison to Juste, and with his jumping and jump roll abilities, he can go pretty much anywhere Juste did. Be warned that the damage he takes in the beginning of the game is more overall than Juste did.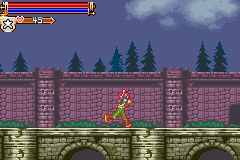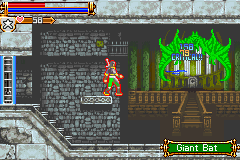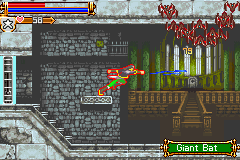 Play as Simon Belmont

Ah the return of the one that began it all, Simon Belmont. Simon can be controlled in the Boss Rush mode, once you have completed the game with Juste. In order to access him though, you need to press up, up, down, down, left, right, left, right, B, A, while the Konami logo is on the screen. If successful, you can enter the boss rush mode with Simon.
For those of us who remember the original Castlevania game, Simon's movements, attack, and jumping will be all too familiar. For those who have not played any of the old NES titles...this might get very difficult.
First off, Simon moves exactly as he did in Castlevania over 20 years ago. Very slowly, with a limited jump. He has his trusty Maxed whip, and his sub weapons. When he is hit, he will be sent flying back, and he will take quite a bit of damage/hit. He cannot turn in mid jump like the more recent titles characters do. But with each boss defeated, he will get a stronger strength stat. This is truly a challenge to get him through the entire Boss Rush mode. If you can, consider yourself a master of Harmony of Dissonance.