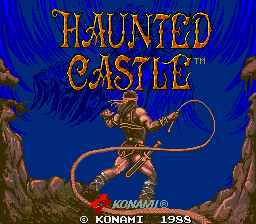 Simon and Serena are set to be married. It is a wonderful day, and all have come to rejoice and celebrate the wonderful union of their legendary hero. It is at this time that Dracula, most hated enemy of the Belmont clan, swoops in and kidnaps Serena. He wisks her away to his castle, and awaits the coming of his rival. Seemingly to repeat the history of his great ancestor Leon Belmont, Simon rushes to Castlevania to rescue his beloved and destroy Dracula once and for all. His courage and determination is all that he will have, when facing the great hordes of evil that await him inside.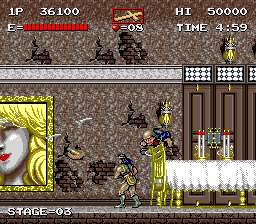 Haunted castle was released on the Arcade systems in 1988...yeah they were still huge in those days lol. And this was the first time I got to see this title.
With something to a harken back to the original Castlevania on the NES released a few years earlier, I was amazed with the graphics. They were definitely higher quality than the original NES titles...any of them! They were grand and wonderfully colored. The backgrounds were just as beautiful. It was the beauty that impressed me into sinking $0.25 into the machine. Then came the difficulty.
Oh my god was there difficulty in this game. I can see why the kids before me were so upset. It is HARD! You are in for onehelluva ride through 7 levels of utter hell. That is if you get that far to begin with. Even the difficulty of the console versions were nothing compared to this one. You will get massively pissed off really fast. Especially considering the $0.25 it costs for one life!
Most of the frustration will come from the endless cheap shots that seem to miss constantly, even when you hit the boss in the right place directly. And then the endless falling off cliffs and in water. You only get three shots before you begin again. And trust me the money added up really fast. Thank god for emulators. My wallet loved me the whole time I played it recently lol.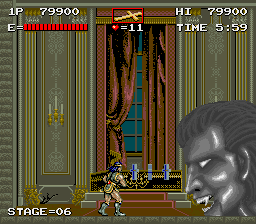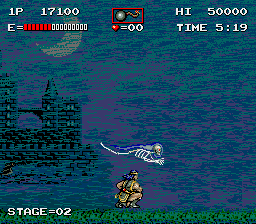 Music is fantastically done in this title. Almost the best of the 8-16 bit titles hands down. There is little to no sound effects for the game, but with a composition and scoring like this, that is easily overlooked and forgotten about. I mean really, I would not want sound effects to interupt this awesome scoring. It will have your adrenaline pumping from the first to last stage.
All in all, this is a great title. The only drawback is the over abundance of cheap shots and cliff falling. That said, this is a title that almost all the castlevania fans want to see ported to a system for play. I have not seen a arcade of Haunted castle in almost 20 years. Would love to see it on a system.