At first glance, he gives off a very unassuming appearance, having a rather frail complexion and platinum-colored hair. However, within this warrior lurks a fearsome power: the ability to transform into an anthropomorphic wolf, making him far stronger and faster than in his human guise. Though this doesn't make him any less capable as a full-blooded man, as he is capable of throwing blades of energy from his fists in either form, as well as raking his claws over enemies' bodies. Cornell is definitely the best all around as far as the 64 Castlevania characters go. He has power both in human and beast forms,a nd can hit melee and ranged quite well.

You are able to play Henry at some point in the game as well. This takes place 8 years after the main storyline. The forces of darkness are again stirring, and there have been disturbing reports of small children in villages being kidnapped. Henry, now an accomplished warrior and an Holy Knight of the Church, is given a task of finding 6 kidnapped children from Dracula's castle. However, there is a scant amount of time to do this, as it has been foreseen that the castle will crumble in seven days. This game section takes place at the same time as the quests for Reinhardt and Carrie in Castlevania 64.
---
Unlockable Characters
---

Reinhardt was a Belmont descendant who boasts a different surname. Growing up, he was teased by his schoolmates, as they didn't believe that he was truly connected to the Belmont's bloodline. These experiences polluted Reinhardt's mind with feelings of self-doubt, though they eventually manifested and strengthened his will to prove himself as a warrior. He was eventually chosen to receive the title of Vampire Hunter, and with it the weapons that accompanied the honor. He was fiercely trained by his father, who taught him the true values of a vampire hunter and a man of God.

Carrie Fernandez, a descendant of Sypha Belnades, was born in 1840 in a spanish family. Orphaned as a child, Carrie was adopted by a loving family. As Dracula's baleful influence once again permeated Europe, the people of Wallachia feared that the peculiar girl was linked to dark magic. As a riotous mob attempted to seize the girl by force, Carrie's adoptive mother selflessly protected her and was lynched for doing so. Carrie's grief at witnessing her mother's death awakened her latent magic powers, and she was able to evade capture.
Embittered by the murder of her stepmother, Carrie turned her back on God and all adults. Years later, hearing rumors of the reappearance of Castlevania, Carrie traveled to Dracula's stronghold. Resolved to use her magic powers to vanquish Dracula and his minions, Carrie began her quest vowing that "Whatever awaits, I have no regrets!"
---
Secondary Characters
---

A vampire above any other. This servant of the dark lord poses as Dracula himself, so that his evil master can roam the countryside unchecked. with him being the focus of everyone, the real Dracula has been able to gather his evil to him, and unleash it on the world.

Charlie is a vampire hunter of old. He has been living amoung the evil forces of Dracula for a very long time. He thinks it is a better way to hone in on his skills of defeating the dark forces. Though he is not of the Belmont Bloodline, he has certainly proven himself a worthy adversary to the forces of evil lurking in the realm.

Rosa is an unfortunate victem of the desire to bring Dracula back to life. She has been turned into a vampire, and now she lives in the Villa, and spends her mornings feeding her roses fresh, warm blood. It is not certain whether or not she is truly evil. Perhaps her soul can yet be saved.

One of Hell's own demonic spirits, Renon has come from the beyond selling his useful items to passers by. Though at first one would seem hesitant to purchase items from a spawn of hell, people soon come to realize they need the items he sells. Though everything about Renon is a mystery, it is almost certain he has a ulterior motive to his presence in the castle.

Actrise, the witch responsible for the return of Dracula. She sacraficed one hundred innocents so that her master might return. A vile woman, hated by all, yet no one has been able to stop her. The fernandez family is all that has tried to stop her, and for that she hates them with every ounce of being. She is constantly antagonizing Carrie to no end.

A strange boy found living near the Villa Mansion of the castle. It is uncertain as to why he is there, or when he came. From the way he is acting, it would seem he is hiding something.

Once this was a human, who stumbled into the castle. He was cursed,a nd now takes the form of a Lizard Man. He now resides in the castle enormous center, and spends his time aiding travelers to the castle. He would seem to be more than happy to have Dracula's Curse removed once and for all.

Cornell's cheerful, lively little sister has been kidnapped by the evil Count Dracula. She is to be used as a sacrifice in order for the Vampire Count to complete his recovery.

J.A. Oldrey is described by Mary as having been a wonderful husband and father before he was turned into a vampire by Gilles de Rais and Actrice. Once a vampire, Oldrey began to desire the blood of his wife and son. His wish is that they come to the absolute "paradise" that he has been given.

Mary Oldrey is the wife of J. A. Oldrey and mother of Henry. She lived at the Villa in countryside close to Dracula's Castle. Her husband was turned into a vampire by Gilles and Actrise, when they were readying the resurection of Dracula. He has tried to do the same to Mary and their son, but she has said she would rather take her life than become a vampire.

Henry is first seen in the Villa, trying to escape. He makes it into a Labyrinth, where Cornell saves him from a mad-man. Cornell is asked by Henry's mother to save her son, while she herself had decided to remain in the Villa, regardless of her fate. After having been guided through the lethal labyrinth by Cornell, Henry is able to escape into the forest.

Cornell's childhood friend, Ortega is a fellow beast-man soldier and master of the martial arts. He is Cornell's best friend, but also rival. Ortega is often frustrated because it seems that whatever he does, Cornell does better.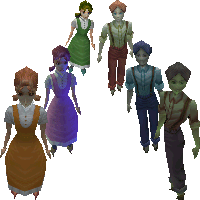 Henry is given the task of finding 6 missing children, believed to be kidnapped and taken to Dracula's castle. These six children, Anthony, Bess, Clark, Florence, Edward and Diana are hidden all over the castle. And Henry only has 7 days to find them.