9-1-1990
12-22-1989
12-10-1992
Castlevania III: Dracula's Curse was the final installment in the NES cannon for the series.
This is perhaps the best of the series on the Nintendo, and has so much more to offer than previous titles. That said, there really was no gameplay, or graphical improvement to go with the new title. Either way, it was met with great reception from the fans, and was indeed a good game to play.
The story of Trevor Belmont takes place 100 years prior to the original game with Simon. In this quest, he is summoned to conquer the threat of Dracula.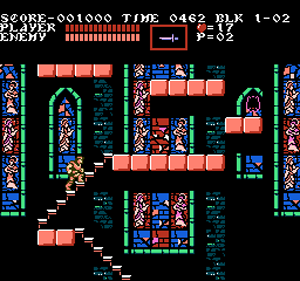 The biggest difference in this title is your ability to take on other characters. You can choose from three new allies to play. Sypha, Grant, and Alucard of Symphony of the Night legend. These characters each have unique attacks, as well as different weapons they can use. This made for a more enjoyable game, especially on repeat plays.
Though the game is liniar in the fact that you need to go from point A to point B, you are given options of how you will get there. You can travel 4 different roads to get to thefinal stages of the game. Each different levelboasts their own bosses to try to stop you. This also added to the replay appeal of the game.
The music was of Castlevania legacy, and though not at the peak of perfection, it was better than that of Simon's Quest. The eerieness of each area was enhanced greatly with the soundtrack composed for the game.
The only real problem I found with the game was the severe lack of graphical updates. With the graphics getting ever better with series like Mario, Zelda, and Final Fantasy, one would have hoped Castlevania to be right there with them. But unfortunately, though colored beautifully, the graphics were really no different than the previous titles.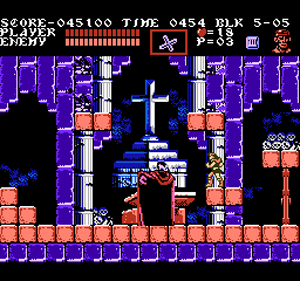 The massive difficulty found in Castlevania is not any less in Dracula's Curse. It begins slow enough, with a bit of easiness to get the player used to the gameplay, and from about the second boss on, you will go into difficulty mode. There is challenge, challenge, and more challenge. Some stages seem almost impossible to even get passed at times. This for us veterans who love challenges is pure gold.
Even with the graphical flaw, Dracula's Curse still proves a great game to play, even now. I finally beat Dracula in this game on June 21, 2008. And I had the help of the Game Genie codes. (Still died some 25-20 times)