10-21-2003
11-27-2003
2-11-2004
2-20-2004
Leon Belmont and his friend Mathias Cronqvist are legends in the lands. Leon is a great knight of the church, while Mathias is unmatched in tactics and alchemy. Together they are unstoppable in warfare. When mathias learns of his wifes death, he becomes sick and bed-ridden with grief. Leon then upholds the practice for the both of them. He and his fiance' Sara look after their ailing friend for some time.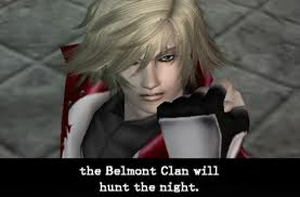 Monsters begin appearing throughout the lands, and Leon is concerned. Suddenly his Sara is taken in the night. when he asks the church to come to his aid, they refuse under the statement that they are too busy in the crusades to fight evil hordes. Leon then renounces his position and sets off to find his love. Mathias tells him he knows where she is being held...Castlevania. He enters the dark Forest of Eternity alone and unarmed to find Sara, and bring her home safely.
Lament of Innocence was the first title to hit the PS2 in 2003. And with the dissapointments of the N64 3-D releases, everyone was waiting to see how it would fare. Most assumed Castlevania was just one fo those games that could not be transpoprted to the 3-D enviroment...they were wrong.
First off, the story of Lament is so deep and engrossing, even if it was a bad game, you would not be able to stop playing. The story is about Leon Belmont, and his entering Castlevania to rescue his fiance Sara. But this has more than just the run in and rescue of the earlier titles. The plot twists and turns are abound, and as the story unfolds, you find out everything. Why the Belmonts are Dracula's arch rival, how the Vampire Killer came to be, etc. Everything you wondered about is finally brought to light. All the way up to the very end of the game, the story has you on edge, wanting more, more, more.
Graphically this was a marvel for the 3-D entry. You are set in true Castlevania gothic style. The castle, and outlying areas are lush and detailed to a great degree. Even small things like lighting just adds more beauty and appeal. Candles burn realistically and throw off light on everything and everyone, as does moonlight coming in through the windows. Such beautiful detail made the areas rich with detail. Water was well done, and just looked fantastic. My only disapointment was a little bit of recycling of some areas, as well as little to no interactiveness with objects and such in the many rooms. But those were so trite while playing, that they could hardly even be called complaints! Enemies and characters were very well done, and showed a great deal of detail. Everything moved fluidly and realistically.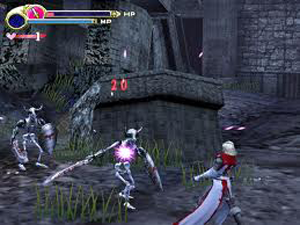 The music in this game...Fantastic. Composed by Michiru Yamane, it is certainly one of the top points in the game. There are fantastic scores with the sounds of organs, pianos, and strings. A plethora of symphony. Other times it is mixed with a techno beat, that even the worst techno hater will love. One will easily find a favorite score, if not a bunch of scores in the game. It captures the perfect atmosphere that is Castlevania.
The English voice acting excellent in this game. Each of the different voices were a great match to the character they were bringing to life. And in a video game rarity, there was actually emotions when they were called for in the vocal sounds. This was another great show that they really did take their time with Lament, and wanted to make a fantastic experience for the player. Also included is the option to switch the voice acting to the Japanese version if one wishes. Not sure why this was added, but again the vocal talents were fantastic...even if I did not understand what was spoken, there was no loss of emotion from the voices.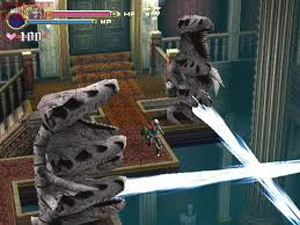 The gameplay of Lament is superb. Of the titles before this one, there is no comparison as to what the best one for gameplay is. Lament has everything from controls to the camera were top notch. Though there was no 3-D moving of the camera, this actually worked very well in this game. Most everything was handled in real-time, including the menus. So while Leon is fumbling for that Potion in the inventory, you still need to be aware of the enemies closing in on you. There was a great deal of attention placed into the gameplay, and luckily it was a job well done. Gameplay is the meat and potatoes of any game, and Lament hits it better than most other titles ever could.
This game is a definite buy, especially if you are a Castlevania fan, or simply an action fan. Lament of Innocence takes the Castlevania series into a bold new direction, and it clearly outshines the past attempts at a 3-D Castlevania and as well the competing action titles of today. And Lament of Innocence truly showed the fantastic promise of this franchise on the major consoles in the future.