---
Secret Characters
---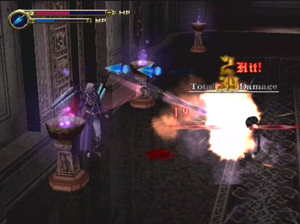 Play as Joachim
In order to play as Pumpkin Head, you need to beat the game as Leon, and then enter @JOACHIM in the name prompt
Joachim is boss turned semi-hero, if only for his own personal reasons. He's almost as quick as Leon. However, Joachim is a much better jumper in all aspects with both his regular and double-jumps. Additionally, he can gain speed and even more jumping distance by using his dash ability. Joachim is surrounded at all times by five swords, which he can arrange for two separate psychic attacks: Sword Chuck, in which he throws them one after another at a fairly long distance, and Circle Slash, a weaker but quicker attack that allows him to swipe each sword one after another. Both attacks can be charged for a higher damaging initial burst, and both arrangements have their own associated spell which uses up MP Joachim can build up his MP meter simply by dishing out damage. Joachim has no true defensive abilities other than the dash. Since he's weak to start and can't collect hearts, items, armor, relics, orbs or sub-weapons, he'll have to become stronger by collecting life and magic-ups plus his exclusive defense and attack-ups.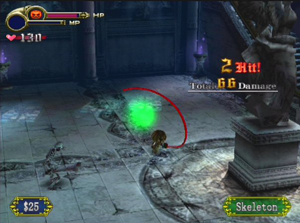 Play as Pumpkin Head
In order to play as Pumpkin Head, you need to beat the game as Joachim, and then enter @PUMPKIN in the name prompt
This little guy is basically a pumpkin-headed midget version of Leon. The strange little fellow isn't as quick as the Belmont due to its weird jittery movements, but it can jump a bit higher and has much better ledge control. Where it has Leon beat most is in the power category. Pumpkin can do max damage right from the beginning of the playthrough! additionally, it also begins with all of the whip-combo and defensive abilities. And to add the icing to the cake, Pumpkin has plenty of hearts to start out with. However, its health and magic meters are at their lowest levels and need to be increased by collecting life and magic-ups. And like Leon It will also have to collect items and armor (or buy them from Rinaldo) plus find relics. Finally, it comes with its own special sub-weapon, a bouncing pumpkin that can just as quickly eliminate enemy clusters, as any of Leons Sub-Weapons. While he can't collect the regular Belmont sub-weapons, he can use the orbs to power the pumpkin for seven different assaults.
---
Other Secrets
---
Boss Rush mode
Beat the game and save it. Go to the level selection screen with the same character you beat it with and it is available.
Crazy Mode
Beat the game on Normal with Leon. Start a new game and at the Name entry screen enter @CRAZY.
Jade Mask
Beat the game with Leon. It will then appear in Rinaldo's shop list for 999 Gold.
Mobius's brooch
Beat the game on @Crazy mode and it will appear in Rinaldo's item list for 200,000 gold
Music Box
After you beat the game, save the file. When you go to Rinaldo's cottage, you can buy the Music Box and play all the music at the main menu.