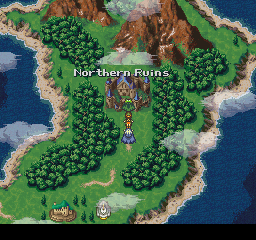 Ghost-Busting Crono Style

*NOTE* Do NOT touch a single chest inside the tomb, until you are completely done with the quest. Details below.
This quest can be accomplished right after you acquire the Epoch from Dalton. Travel to 1000 AD, and on the eastern continent you will find the Northern Ruins. This place, according to the townsfolk, is haunted by a raging ghost. If you want to, you can venture inside and confront the Ghost of Cyrus, but you will not win the fight, nor can you run. So what are you to do? Well that is simple.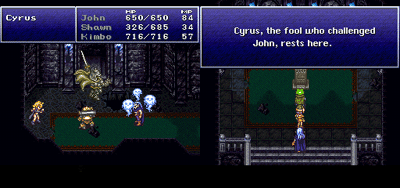 Travel back to 600 AD. In this time, the tomb is still there, but the unbeatable ghost is nowhere to be found. Head to the little village of Choras. In a bar, you will find a guy drinking his time away. He is supposed to be working on the ruins, but he has lost his tools. He will not do a thing without them. Well, there are none to be had here. So it is time to find some. Head back to 1000 AD, and find his descendant. He will allow you to use his tools, but his wife has them. Head to the southern resident and get them from her. Now return to 600 AD.
With his new set of tools, the worker will leave the bar. Follow him to his house, and he will gather his men to repair the old ruins.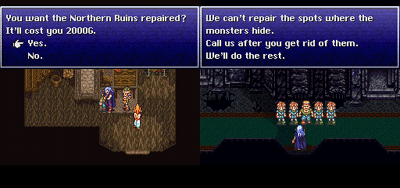 Now head to the ruins and save outside. When you enter, the worker will tell you about difficulties he is having with the ghosts inside. He can't finish while they are there. SO head in, and scour everywhere for these enemies. I suggest a party consisting of Lucca, Magus, and a healer. Most every enemy inside is weak to fire, so Magus's Fire 2 and Lucca's Napalm work wonders. Once you have cleared out the entire tomb of ghosts, return to the workers home. Give him the 2000 G he is asking for to finish the repairs on the ruins.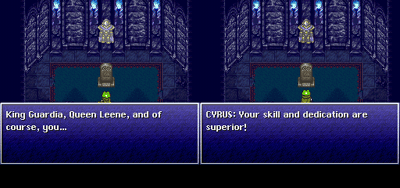 If Frog is not in your party, place him in as the leader. Head to the tomb, and you will see a little scene which Cyrus appears and he and Frog speak. From Cyrus's kind words, Frog is able to shed his regrets of not being able to save his dear friend. The writing on the tomb then changes. Once Cyrus finally goes to rest, Masa and Mune appear.



They speak a little bit on what it means to have courage and be a hero. They then refuse into a more powerful Masamune. And this is a wonderful weapon for Frog to use too! After that little scene, you might think you are done, but you are not done just yet.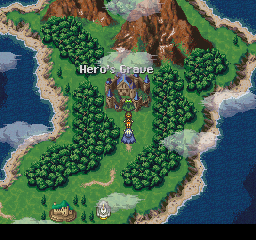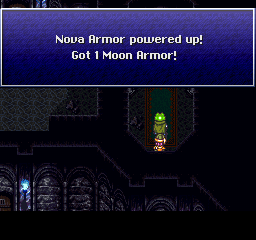 You might have noticed all the chests, especially the sealed ones in the tomb. And if you were listening at the beginning of the page, you would not have opened any of them. Now is the right time to do it, but you are in the wrong time to begin. Confusing you yet? Head to 1000 AD. As you approach you notice the name of the ruins has also been renamed. Inside the "Hero's Grave, head in and gather the chests up. So why did we not just do this in 600 AD? Well, the sealed chests are the reason. If you take the things in 600 AD, the chest will of course be empty in 1000 AD. But if you get them in 1000 AD, not only will you get better items from the sealed chests, you can then go back and claim the chests in 600 AD after you are done! Now that is raking up the profits! Especially for a quest that was not that difficult!