The Mighty Sunstone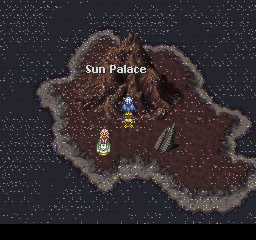 Travel to 2300 AD, and fly to the island south of the Keepers Dome. This is the Sun Shrine, home of the Sunstone. Before you ever enter this area, you will need to acquire three armors. A Red Mail, which absorbs fire-based attacks, and two Ruby Mails which reduce fire-based damage by 80%. You will not survive the Boss fight ahead without them. The Red Mail is in one of the sealed chests between 600 and 1000 AD. To get it you need to travel to Guardia Castle in 600 AD. Examine the chest in the left stairwell, but DO NOT TAKE IT! Instead return to 1000 AD and place Marle in your party. Examine the same chest to get the Red Mail.
The Ruby Armors can be purchased at Ioka Village for 10 of each item the Dr. asks for. If you do not have enough, venture to the Hunting Grounds to the north. Each trio of frogs will give you two of everything after each battle.
Once you have the needed armors, head for the Sun Palace in 2300 AD. Inside you will face this quests only boss: The Son of Sun
Boss Fight: Son of Sun
This is a very tricky fight to do, if you do not know how to fight the boss. First, the character who is wearing the Red Mail should be the attacker. The other two should be healers. My party is with Magus, Robo, and Ayla. Magus is the attacker, since he is wearing the Red mail. And my other two are my healers/attackers.
First thing to know is magical attacks are useless in this fight. Don't even bother. You might think the core is the enemy, but it is not. The target you want to attack is one of the fireballs around it. To determine which to hit, have your fighter strike them one at a time in a clockwise order, so as to not lose track of which has been hit. When there is no damage to the core, Son of Sun will retaliate with its own attack. This will damage the two not wearing the Red Mail, but their Ruby armor greatly reduces the damage. When you strike the right fireball, damage will also happen to the core. This is when you take the strongest second character and strike with normal attacks too.
Now after a few rounds, Son of Sun does a neat trick of shuffling his fireballs around. Simply follow the same steps you used to locate the last one, and keep attacking. Heal as is needed, since you do want the other two players standing to help out. Otherwise your main attacker will heal with every fire-based attack, and only be damaged by the enemy's laser beam. This battle will be over in just a few rounds with quite a bit of EXP coming to you.


Once the Son of Sun has had its fire put out, follow it deeper into the room. Here you will find the Sunstone. But someone will point out that it has lost its power, and it will take 65,000,000 years to regain the power back. (Yeah that is a big clue there) Well, let us travel back to that time. In 65,000,000 BC head to the upper right portion of the map. Here you will find the Sun Shrine. This is a cave, where the sun never sets. Place the now Moonstone there and leave. Head to 2300 AD, and enter the Sun Shrine.


You will find that the Sunstone has been taken somewhere along the stream of time. Your party will determine that it has been gone for 1300 years or so. (Yep their hints are just too easy) So travel back to 1000 AD. Now this is a pretty big map, and bet you are wondering where to even begin right? Well, travel to Porre, and you will see that the mayors house is just sparkling away. Might want to check that out.
Will the mayor hand it over? Not a chance. He even goes so far as to deny even having the stone. But asking his kids and wife about him paints a picture of a rather greedy man. How can you get it back?? Well, let us take a step back and see. In 600 AD, you will find that the family is actually very poor and on the verge of starvation. The lady will ask for some "Jerky". Only one place sells that, and it is back in 1000 AD. Travel to the Snail Shop in Porre and buy his Jerky for 9.-,900 G. Now head back to 600 AD.


Give the lady the Jerky for free, and her gratitude will have to be enough. She will explain that she will teach her children about the meaning of sharing. So lets see if it worked. Head back to 1000 AD, and talk to a more generous mayor. He will hand the Moonstone back over without a second thought.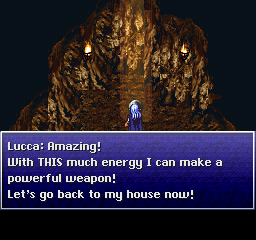 Return the partially charged stone to the Sun Shrine in 1000 AD. Now travel to 2300 AD, and place Lucca inh your party. She will determine that she can use the pore of the Sunstone to make some great weapons. You will be automatically transported back to her home in 1000 AD. Here she will tinker and toy with the machine, and produce a Wondershot weapon for herself. Afterwards her father will enter the room and hand over the Sun Shades he made with the Sunstone.
There is more things that can be accomplished with the power of the stone, once you complete the rainbow Shell side quest.