Dragon Age II Characters
In Dragon Age II you will come across 5 playable companions to aid you in your journey. (6 with the Exiled Prince DLC) Each character has their own equipment and weapons to begin with. As the story progresses, they will also offer up quests and conversations of their own. When not in your party, they will be residing at their home base. Below is the lowdown on each character.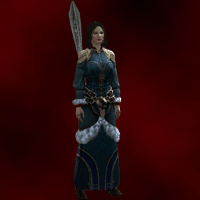 Bethany/Carver


Depending on the class you choose, Bethany or Carver will travel with you to Kirkwal. Bethany is a powerful Apostate trying to keep in hiding from the Templars, and Carver is a skilled warrior seeking glory. Both are great in battles, and serve the party well. But each has circumstances around them that may remove them from the party temporarily, or permanently.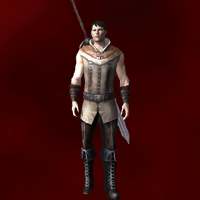 Name
Act
Location
Heirloom Amell Protective Sigils
I
Found in final room during Birthright quest.
Name
Act
Location
Fereldan Girded Plating
I
Found in final room during Birthright quest.
Quests


Act I


Birthright (Bethany & Carver)


Portrait of the past (Bethany)


Family History (Carver)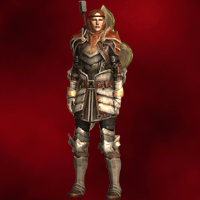 Aveline


Aveline is first encountered fleeing from the Darkspawn with her husband Sir Wesley. She will be forced to kill her husband due to his corruption from the Darkspawn. She then joins the Hawke family in their journey to Kirkwall. She joins the guard, and soon takes her place as Captain. From this position she tries to do what is right for the people, while also assisting Hawke when he is needed.
Aveline is a great front line fighter. She uses the Sword and Shield, thus reducing damage while doing fairly good blows to her enemies. She has some great equipment throughout the game, as well as some awesome abilities. Aveline is usually one of the last to fall, while fighting some of the tougher fights.
Name
Act
Location
Underpadding Guardsman Pattern
I
Armor Merchant Shop-Lowtown
Flex-Chain Guardsman Pattern
II
Found on Fell Orden during Raiders on the Cliffs quest
Impact Plating Guardsman Pattern
II
Armor Merchant shop-Lowtown
Deflecting Joints Guardsman Pattern
III
Found on Jeven during Favor and Fault quest BUGGED- Won't drop (All systems)
Aveline's Quests


Act I


The Way it Should Be

Act II


The Long Road


Questioning Beliefs


Doubts That Linger (After Night Terrors quest)


The Captain's Condolences


Shield of the Knight Herself (Gift Quest)

Act III


Champions and Captains


Favor and Fault


Questioning Beliefs


Varric


Varric is a man of many talents. He writes and tells stories, and has appeal with most everyone in Kirkwall. When he talks money flows, and when he doesn't money flows. His contacts through every channel in the city get information Hawke needs for just about anything.
In battle he and his bowgun Bianca are simply one of the best to deal distant damage. His attacks are powerful and he does great even when the enemies are numerous. He is almost a must have in the party throughout most of the game.
Name
Act
Location
Inscribed Leather Harness
I
Apparel shop (Lowtown)
Coat Lining with Concealed Pockets
II
Shady Merchandise shop (Docks)
Silverite-Reinforced Buckles
II
Found in Bartrand's Estate during "Family Matter"
Drakeskin Leg Straps
III
Found during Finding "Nathaniel"
Quests


Act I


Questions and Answers

Act II


Update


Family Matter


A Story Being Told/Rumor Making the Rounds


Varric's Apology


Friendly Concern


The Tethras Signet Ring (Gift Quest)

Act III


Haunted


An Anniversary


Closure


The Storm and What Came Before It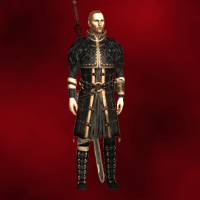 Anders


Anders was once a Grey Warden stationed in Vigil's Keep. He chose to try and help his companion Justice by joining with him. After being made to give up his cat Sir Pounce A lot, he decided to flee to Kirkwall and remain with the refugees as a healer. His anger and hate has turned Justice into Vengeance, and sometimes it takes control of him. He has turned violent towards anyone apposing his beliefs, and at some point it could go too far for it to ever be forgiven.
Anders is a great mage to have, as he also does a lot of healing spells. If area spells are opened as well, he becomes a awesome fighting and healing force. Set him up with Lyrium Potions, and he can outlast any battle.
Name
Act
Location
Lyrium Weave
II
Mage Goods shop (Gallows)
Armor Struts
II
Lirene's Fereldan Imports shop (Lowtown)
Spirit Essence
II
Found in Gallows Dungeon during "Dissent"
Sigil of the Mage Underground
III
Found during Best Served Cold quest
Renegade's coat
III
Obtained when you complete "Justice" (Automatic, not an upgrade)
Quests


Act I


Talk to Anders

Act II


Visit Anders


Dissent


Questioning Beliefs


Anders in the Fade (After Night Terrors)


Tevinter Chantry Amulet (Gift Quest)

Act III


Justice


Questioning Beliefs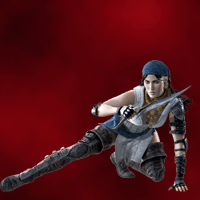 Isabela


Isabela has been around...ALOT. Not only beautiful but dangerous as well. A captain of a ship, that wrecked during a violent storm, she is in search of a relic that was stolen to save her from her boss. She decides to accompany Hawke and his companions while searching for her stolen item. Time will tell what will happen with her, as well as the impact this relic will have on the fortunes of all.
Isabela is like having a female version of a Hawke Rogue, and darn good at it too. If you are playing as a warrior or mage, she provides excellent Rogue tactics. Definitely one that should be in the party if it calls for it. If you are a rogue as well...two is sometimes better than one!
Name
Act
Location
Lambswool Insoles
II
Found in Lost-End Foundry during "To Catch a Thief"
Rigid Boning
II
Apparel shop (Lowtown)
Supportive Corselet
II
Robes by Jean Luc shop (Hightown)
Boiled Leather Plates
III
Found during "A Murder of Crows"
Quests


Act I


Isabela's Contact

Act II


Isabela's Ongoing Search


Questioning Beliefs


Isabela's Apology


Ship in a Bottle (Gift Quest)

Act III


No Rest for the Wicked


Questioning Beliefs


A Rivaini Talisman (Gift Quest)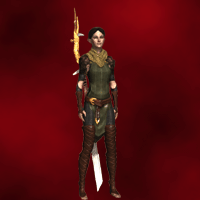 Merrill


Very bouncy and charming, willing to do just about anything to preserve her clans heritage...even at a great cost. Merrill is Keeper Marathari's first. She would be Keeper after her, but her eagerness to see a relic of the ancient past restored has put her in disfavor with her clan. Marathari has asked Hawke to take her with him/her, in the hopes that she will forget the artifact, and come to her senses.
Merrill is a mage, and a pretty good one at that. She has a great set of spells to begin with, and can be shapped any way you wish her to be. Though not as strong in the field as Anders or Bethany, she can hold to her own well enough.
Name
Act
Location
Carved Ironwood Buttons
II
Ilen's Crafts shop (Sundermount)
Raiments of the Dalish Pariah
II
Romanced only (Not an actual upgrade)
Samite Lining
II
Robes by Jean Luc shop (Hightown)
Silver-Threaded Dalish Embroidery
II
Sundermount
Halla Horn Buckles
III
Found on Pride Demon during "A New Path"
Quests


Act I


Welcome Home


Nice Crime to Have You Around

Act II


An Opology (After Night Terrors)


Wooden Halla (Gift Quest)

Act III


A TAlking To


A New Path


Questioning Beliefs


A Memento of the Dalish (Gift Quest)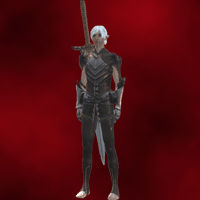 Fenris


An escaped slave from the Tevinter Emperium, Fenris had set a trap to capture his former master, but catches Hawke instead. He choses to come along with Hawke, while waiting for his master to come for him. He was branded with mass volumes of Lyrium by the Mage master he once served, thus he bares a hatred of all mages.
Fenris is a powerful tank to have on the team. Not only can he stand punishment, his 2-handed swordsmanship allows him to return it in abundance. He should be the main target for any battle, and have better weapons equipped on him as soon as they become available. He is definitely a great, almost better, alternative for Avaline.
Name
Act
Location
Lyrium Scales
II
Shady Merchandise shop (Docks)
Reinforced Straps
II
Found in Abandoned Slaver Den during "A Bitter Pill"
Tevinter Spirit Symbol
II
Robes by Jean Luc shop (Hightown)
Enchanted Resin
III
Found on Dragon during "Mine Massacre"
Quests


Act I


Fenris Recruited

Act II


Questioning Beliefs


A Bitter Pill


Fenris Night Terrors (After Night Terrors)


The Book of Shartan (Gift Quest)

Act III


Alone


Questioning Beliefs


Blade of Mercy (Gift Quest)