Dragon Age Kingdom


-----------DLC Origins-----------

------------DLC DA II------------


Enthrall
Type:
Activated
Range:
Short
Activation:
0
Cooldown:
1 Sec
Requires:
-
The targeted darkspawn becomes your thrall, serving until death. Up to three thralls can fight at your command simultaneously. If a thrall disappoints you, use this ability on it again to execute the underperformer.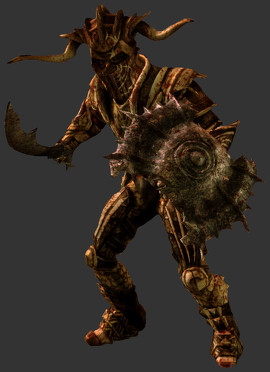 Enthrall is a unique ability found only in the Darkspawn Chronicles DLC. With this ability, you are able to recruit up to three other Darkspawn into your party.
To use Enthrall, simply select it, and select the Darkspawn you want to enthrall with the targeting icon. If done correctly, you will gain the Darkspawn as part of your party. If you want to replace them, simply use the ,and the chosen Darkspawn will be killed. You can then Enthrall another Darkspawn into your party.
This is also key to gaining the Enthralling trophy for Darkspawn Chronicles. You will need to enthrall six different types of Darkspawn, and boost their disposition to 100. This is done either through the gifts you find, or through combat while the Darkspawn is in the party. The following tables shows the Darkspawn you can enthrall, as well as their stat boosts when you raise their disposition. Though there are 8 to choose from, you only need to get these 6 Darkspawns disposition to 100.






Below is the list of the six Enthralls, and the bonuses they gain by winning their approval. This is, of course vital in the "Enthralling" trophy.
The remaining Darkspawn Enthralls can still be part of the party, but they do not count towards the Achievement.







Ogre

Genlock

| | | |
| --- | --- | --- |
| Skill Name | Benefit | Requirement |
| Major Str | +3 to Str | 25% approval |
| Massive Str | +4 to Str | 50% approval |
| Massive Dex | +4 to Dex | 75% approval |
| Massive Con | +4 to Con | 90% approval |

| | | |
| --- | --- | --- |
| Skill Name | Benefit | Requirement |
| Minor Str | +1 to Str | 25% approval |
| Moderate Str | +2 to Str | 50% approval |
| Major Str | +3 to Str | 75% approval |
| Massive Con | +4 to Con | 90% approval |

Hurlock

Hurlock Emmisary

| | | |
| --- | --- | --- |
| Skill Name | Benefit | Requirement |
| Minor Str | +1 to Str | 25% approval |
| Moderate Str | +2 to Str | 50% approval |
| Major Str | +3 to Str | 75% approval |
| Massive Con | +4 to Con | 90% approval |

| | | |
| --- | --- | --- |
| Skill Name | Benefit | Requirement |
| Major Mag | +3 to Cunning* | 25% approval |
| Massive Mag | +4 to Cunning* | 50% approval |
| Massive Will | +4 to Willpower | 75% approval |
| Massive Con | +4 to Con | 90% approval |

Blight Wolf

Shriek

| | | |
| --- | --- | --- |
| Skill Name | Benefit | Requirement |
| Major Dex | +3 to Dex | 25% approval |
| Massive Dex | +4 to Dex | 50% approval |
| Massive Str | +4 to Str | 75% approval |
| Massive Con | +4 to Con | 90% approval |

| | | |
| --- | --- | --- |
| Skill Name | Benefit | Requirement |
| Minor Dex | +1 to Dex | 25% approval |
| Moderate Dex | +2 to Dex | 50% approval |
| Major Dex | +3 to Dex | 75% approval |
| Massive Con | +4 to Con | 90% approval |