Exiled Prince
3-8-2011
-
PC
3-11-2011
-
Sworn to the priesthood as a boy, the noble archer Sebastian Vael is thrust back into the viper's nest of princely politics when his family is brutally murdered, leaving him as the sole surviving heir. Choose to either avenge Sebastian's murdered family and reclaim his title or direct his holy vengeance on your enemies in Kirkwall. (Official Description)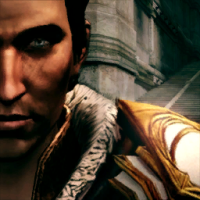 The story of the Exiled Prince is the story of Sebastian, through the decade of Hawkes stay in Kirkwall. You first encounter him in Act I, when you pass by the Chantry. He is setting a flyer on the board, asking for the assassination of his families murderers. Grand Cleric Ethina takes it down, but Sebastian shoots an arrow pinning it back up. You are then free to accept the mission.
This really is nothing major added to the Dragon Age II story, other than a new companion, with new personal quests in each Act. Even Sebastian as a character is kind of redundant, considering you have a decent Rogue in the form of Isabela. (Though Sebastian will not leave the party if things do not go just right in the story) If you are a rogue as well, the chances of you actually using Sebastian almost becomes non existent.
But on the positive side, the voicing of Sebastian is magnificent. Voiced by Alec Newman, who also stared as the exiled prince Paul Atreides in "Children of Dune". His persona is very well done, and very sincere. A rarity in the video game world.
As a character, Sebastian is actually one of the best archers you can find. If not for Varric and Bianca, I would have certainly made him my range attacker. He has full use of bows, and will become a power archer if this area is commanded.
Exiled Prince also comes with 5 new achievements to gain through his personal quests. Nothing complicated, and not easily missed either. Overall, this is a similar DLC to Stone Prisoner. A neat little addition, with a new companion to play with...but nothing at all that tells any major part of the story itself. If you get it, it is fun to get the achievements, and kind of nice to have a wider choice of characters...other than that, it can easily be done without.