Leliana's Song
7-6-2010
7-6-2010
PC
7-6-2010
7-6-2010
Some time ago, Leliana was under the mentor-ship of her friend Marjolaine. She was a Bard of Orleas, both cunning and beautiful. Work has brought her and her crew to Fereldan and the capital city of Denerim. Little does she know of the work she is doing will inadvertently change her life. These games pitting the elite politicians against one another eventually will become costly. she will become the hunted rather than the hunter. She will have hard choices ahead of her, and her destiny is at hand. Driven by friendship and revenge, she will seek to end her ties with the people who have put her in harms way.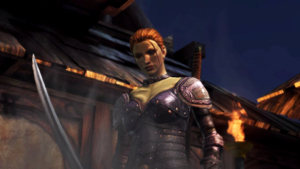 Leliana's Song is the story in detail of what actually happened between her and Marjolaine. In this DLC you will learn what transpired to force Leliana into the chantry in Lothering. It is or isn't the true account of the whole thing, that is left up to you to decide on your own.
As far as DLC goes, this is more of a character driven plot. Separate from the main title, this is more of a look into one of the characters lives before joining the Grey Warden on his/her journey. This, for the fans of story driven games was a must have piece of the Dragon Age Saga.
The story is about Leliana, a bard from Orles, who has come to the Chantry in Lothering. You might have found her personal quest in the main game, introducing you to her rather shady past. Now is the time for everything to come out in a neat little flashback game.
Game play wise is the same as Origins and Awakening, so there is no new anything to get the hang of. This is something of a blessing and a curse. While we enjoy the fact that we can delve right in, it would be kind of nice to see something new once in a while. The other drawback is you are in control of only three, rather than four party members. It makes battles seem a little less fun to do. Being Dragon Age is instinctively loved for its combat, this is a pretty big downer. You have little in the means of new areas, and you fight hordes of soldiers, mages, mabari, and repeat. With the lacking new areas and the lacking enemy types, this seems a little less imaginative.
Where it shines brightly is the story. And the story is fantastically told through Leliana. By the time you are finished with this DLC, you can easily understand and relate to Leliana and why her choices were as they were. Truly one of the best DLC for story. It lends right into the main title at the end effortlessly, and thus makes for a great beginning to a new run through of Origins.
If you are for tough action based DLC, then I would strongly suggest Golems of Amgarrak. But for the fun romp through a great story, with decent action and great characters, this certainly is the one to get.
Quests


The Game


Stealing the Market


Kill the Loose Tongue


Defeat Ban Perrin's Guards


Marjolaine's Vendeta


Find the Mages Cache


Orlesian Battledress


Honoring Tug

Origin and Awakening Items


Battledress of the Provocator