Stone Prisoner
10-8-2009
10-8-2009
PC
10-8-2009
10-8-2009
Out in the wilderness you come across a dwarven merchant. He is selling some of the usual merchant wares. But before you get to really perusing his goods, he strikes up a conversation. Not about what is going on, the Blight, or anything that most people would be talking about. He gives you the story of a item he purchased...a Control Rod to a Golem. This golem is said to be down in a village south of Redcliffe, but he just has not had the time to investigate it. He wishes to pass the rod on to you, hoping you might be able to see if it truly goes to one of these mammoth creatures. Should you waste the time and money to find out? Certainly it would be a great boon to the party to have a Golem...seems almost too good to pass up.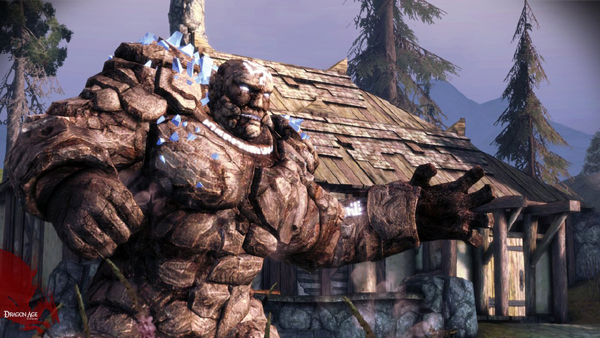 For those who got the game brand new, The Stone Prisoner was free. For those of us who did not...well we had to pay for it. And the biggest question was should we fork the money out for it? As far as DLC, it is rather short, and nothing absolutely amazing is gotten from it as far as equipment. But if that is all you are looking for, you are missing out on the meat of this DLC.
Shale, as a playable character is what makes this worth the effort. She not only can prove a vital member of any party, she can easily go from tank to fighter to range with ease. She comes complete with her own unique weapons, armor, and gifts. Not only this, but she is well integrated into the game itself. Some of her personal quest skirts the main storyline, thus enabling her to be intricately involved in the plot. She also shares dialogue and bantar with the rest of the party. And with her sarcastic, smart tone, it certainly brings a bit of humor into a game that is somewhat lacking in the comedy relief.
Shale herself is the reason for getting this content. If you are not about one more character to play with, then maybe you should not get The Stone Prisoner. But if you are all about the entire story and game, this is certainly for you.
Quests


The Golem in Honnleath


A Golem's Memories

Origin and Awakening Items


Blood Gorged Amulet


Cadash Stompers


Cord of Shattered Dreams


Dead Thaig Shanker


Harvest Festival Ring


Helm of Honnleath


Olaf's Cheese Knife


Wilhem's Magus Staff