Witch Hunt
9-7-2010
9-7-2010
PC
9-7-2010
9-7-2010
It has been more than two years since the Grey Warden defeated the Blight and saved Fereldon, and peace now reigns throughout the land. The kingdom rejoices over the defeat of the ancient evil, and yet there are those who wonder about what happened to Morrigan? She set out with the Wardens after Ostagar to defeat the blight, and for her own personal purposes. Rumors claimed she had crossed the mountains beyond the borders of Orlais never to be heard from again...until now. Morrigan has returned to Fereldon, and has been sighted in the southern wilderness. The Warden ventures out, to tie up loose ends, for one last confrontation with the Witch of the Wilds.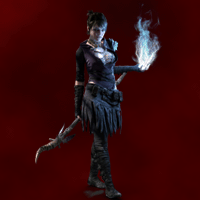 Witch Hunt was the final DLC to be released for the Dragon Age Origins game. In this title, you are venturing out to seek the Witch Morrigan. She has been spotted in Fereldon, and you are wanting some answers as to her true purpose.
Across this game, you will find different locations seen in Origins. From a rebuilt Circle Tower, to the Elven Ruins, Cadash Thaig. Each area shows the time of two years, and what ahs happened to them. It is interesting to see the sick elves in the ruins you fight, because it lends more reason as to why Merrill is urged not to complete the Eluvian by Keeper Marathari, and why they left for the north in Dragon Age II. Other dialogue points in Witch Hunt also lend more purpose to things in Dragon Age II. Such as if you defeat Flemmeth in Origins, and say as such, Morrigan will tell you she is not truly dead, nor will she truly die. She is neither demon, spirit or abomination. She is the true threat, not Morrigan. This lends to Flemmeth helping the Hero of Kirkwall, and her Dialogue later in Sundermount, when she speaks of both her destiny and that of the Hero.
Game play itself is the same as in Origins/Awakening. You are able to either create a new character, or import an existing character from one of your saves. It is solid game play, and the combat is nothing really new. Party banter remains as well, and achievements not reached in Origins or Awakening can be still unlocked in Witch Hunt.
The only lacking thing in Witch Hunt, as is true with most the DLC, is the story. Though good, and lending a lot to things to come in the future (DAII), it is not as strong and engrossing as Origins or Awakening. This one kind of seems a little more rushed than the others as well. Considering the work on DAII had already been in full swing, and other things such as Dragon Age Legends for Facebook was being produced, it seemed there was little time for this final installment.
with that said, Witch Hunt was still a great extension of Origins, and a fine way for the game to leave. It tells a little of what the fans themselves had been wondering about Morrigan, as well as showing the possible future into DAII and possibly beyond. Should pick this one up, if you have not already.
Quests


In Search of Morrigan


History of Cad'halash

Origin and Awakening Items


Dragonbone Cleaver: Defeat the Varterral on Hard or Nightmare.


The Sorrows of Arlathan: Complete the Scrying Ritual.


Vestments of the Seer: Complete Witch Hunt.


Cinch of Skillful Maneuvering: Find all the notes in the History of Cad'halash