9-29-2009
5-30-2009
10-9-2009
10-9-2009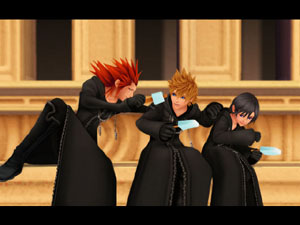 When Sora took the Keyblade, and unlocked Kairi's heart, something happened. As Sora became a Shadow Heartless...Somewhere another took shape. His Nobody. Wandering through Twilight Town, this Nobody comes into contact with one Xemnas. Here he is given a name and a purpose...Roxas. Unlike other members of the organization, Roxas has no memory of his past as a whole. And he can summon a keyblade to fight with.
He is about to embark on a year long journey. One of discovery about the organization he has become a part of, as well as himself. The mysterious new member Xion, His feelings for his friends which he should not have, and coming to grips with it all. In one year...358 Days.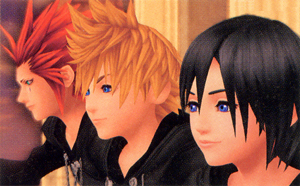 358/2 Days was the first of this trio of releases in America. Released in 2009, it tells the story of Roxas, as he spends his time while Sora slumbers. It brings into play so many different things from before, and lends some insight to that kid we played in the beginning of Kingdom Hearts II. And this turned into an important portion of the saga, as well as being just a really fun game to play.
When the game starts up, we find ourselves in the role of Roxas. It really begins right from his very birth itself. We enter the story from the eyes of a new person, with all the wonder and unknown that comes with "Growing Up". Upon his birth, Roxas finds himself inducted into the Organization XIII, a very high form of humanized "Nobodies". Every day Roxas goes on missions to explore new worlds, battle fierce enemies, and investigate the enigma that is the human heart. In several missions you will be accompanied by another member of the Organization. The story revolves around Roxas's growth from a blank slate barely able to make a sentence, into one of the most complex characters in the series. What sets him apart from the rest is his frienddships with two other members. Axel, who is probably his closest friend, and the newest member Xion another Keyblade wielder. This is a huge character-driven story more emotionally hard-hitting than almost all of the others combined. You find yourself struggling to figure out what is really going on within the organization with Roxas, his love of his friends, laughter and sadness. I did not expect such a complex and emotional story in a hand held game, but I was certainly taken aback by this one.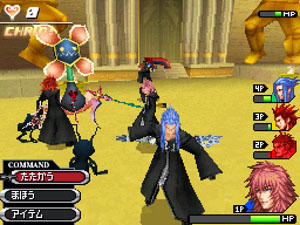 The gameplay found in 358/2 Days is just awesome. This game takes every triumph of KH2 and cranks it all up a few more notches, with quite a few unique innovations of its own. The difficulty has been raised quite a bit here as well. It is easily the hardest title in the series. The platforming and exploration is taken to simply staggering heights. Enough to give the best FF game a run for its money, with every level having loads of puzzles, gimmicks, and hidden treasures. There is no half stepping of the first title, or the kind of bland aproach to the second. Instead, we have a positively death-defying level of depth and adventure. The combat is deep, detailed, and unbelievably varied. There are nineteen total characters, most with over twenty weapons and each with over a dozen unique combos, not to mention countless spells, abilities, and other little goodies here and there. The level of customization is nothing short of immense. And the sheer amount of content is purely prodigious, too. With over 170 separate missions, plus time trials, two-, three-, and four-player modes, a virtual New Game+, and so much more. It is quite difficult to run out of things to do or get bored with it. The introduction of the Panel system, added a wonderful twist on developing your character with ggreat weapons, spells, and abilities. It also provided means of leveling them, and creating a very unique power house or magic user based Roxas.
With the Mission Modes, Challenge Modes, and multi-player facets, the game just never ever ends. And with up to 19 different characters to choose for these modes, it promises to bring literally months of play and replay value to this game.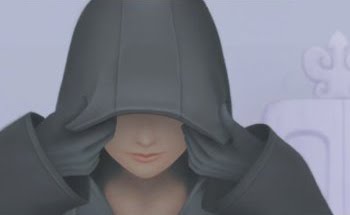 Simply put, the graphics in this game are awesome for a handheld device. The game is fully three-dimensional with textures, environments, and sheer creative design that pushes the system to its very limits. The levels are lush, the characters are beautifully detailed, and the animations and frame-rates are constant and smooth. All in all, you just could not ask for more. It is a marvel to see the work done on this title. But this was not the Big Winner for the graphics department.
The cinematic scenes..The cinematic scenes...just WOW WOW WOW. It almost seemed like I was playing KH2 on a console rather than a hand held device. The game has over forty minutes of fully voice-acted, richly animated, knock-your-socks-off cinematic experience that can make you laugh, smile, and sometimes pull a tear jerker on you. I remember hearing the questions swirling around the CG scenes when I was first putting up Kingdom Hearts Kingdom. Can they be real? Were the demo's enhanced in some way or antoher. There is just no way they look THIS GOOD. Can the handheld DS provide this kind of detail and richness? YES IT CAN!, They are there, and they are simply some of the most stunning CG in the entire series hands down.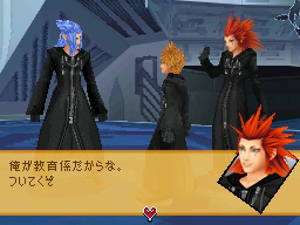 The scoring of the game might be the only draw back in it. The sound quality is great. Don't get me wrong there. It's really very well done. But other than the sounds, it is not that exciting. (And compared to the CG scenes it is hard to be good enough). The Kingdom Hearts series always had an amazing soundtrack, courtesy of Miss Yoko Shimomura, and it is no different with this game. But the vast majority of the score is nothing more than the score from other titles in the game. Agrabah is exactly the same as the last time you heard it for example. So good sounds yes, but something that has been heard a couple times already. If you wanted a lot of new music, you will be dissapointed to say the least. Now that being said, there's a handful of new songs, too, but they're kind of a mixed bag. The "ice cream" theme is fitting but monotonous. Xion's character and battle themes are masterpieces of the scoring. In one shot you get simultaneously heart-breaking, heart-warming, and unduly creepy in one single score. And it really makes the whole of her character that much more real.
Overall, of the triple handheld releases in the US of Kingdom Hearts, this has to be at the top. If you are a fan of the series, get it. If you are new to the series, the plot might be a little confusing, but get it anyways. It is a superb game, with everything that makes a game great.