12-7-2004
10-11-2004
5-6-2005
5-6-2005
The follow up to the ever popular Kingdom hearts was released in 2004. Chain of memories picks up the story right where Kingdom Hearts leaves off. Sora, Donald, and Goofy are going down a single path, when a mysterious figure appears. After talking to him, the divided path becomes one, and they find themselves inside the halls of castle Oblivion. This is the stronghold of the Organization XIII.
The gameplay of Chain of Memories is completely different from the first. The battle system now revolves solely around cards. These cards are made from Sora's memories of the things that have happened. Cards are the only way Sora can attack, open doors, and get to new worlds. This new system might seem a bit odd, but it is easy to get the hang of, and is actually quite a nice break from normal battle systems.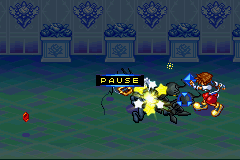 The graphics found in Chain of Memories are great for the GBA. There are even a few cutscenes in the beginning and the end of the game, that will rival just about any other title on the system. The sprites are easy to see, and the backgrounds are well done.
The storyline in Chain of Memories is good, though not as solid as the first title. Still it is a solid story, that is important to the entire plot of Kingdom Hearts, and Kingdom Hearts II. In Chain of Memories, you will learn about a group called Organization XIII. They for an unknown reason have brought Sora and his friends to their stronghold to try and get him to join them. The new characters in Chain of memories are given the same depth as Sora and company did in the first. In Chain of Memories, you will be introduced to 6 of the Organization members, as well as a little girl named Namine.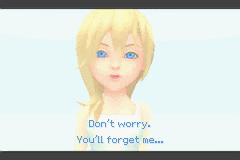 In Reverse/Rebirth, you will be introduced to a man name Diz. These characters become very important in Kingdom Hearts II. But they are still given great detail, despite their limited time within the game.
The returning cast of Disney and Square characters are handled greatly as well.
The music found in Chain of Memories is of Square quality. There is a lot of scores borrowed from the first title, but that seems to work in making it feel as though you are actually returning to the worlds you visited in Kingdom Hearts. And this is in fact what you are doing in the story. So despite having little in the way of new music, it is still great scoring.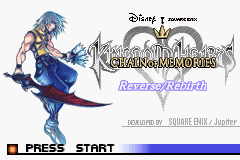 Also, in a bit of a first for Square-Enix, once you complete the game you can unlock Reverse/Rebirth Mode. This mode allows you to play as Riku, as he makes his way through Castle Oblivion. But it is not the same game as Sora. In this version, Riku is going through at the same time as Sora, thus Rikus story runs parallel to Sora. You will face bosses at different times, and find different scenerios from that of Sora. This was like getting two games in one. It also allows you to see what happens to Riku between Kingdom Hearts, and his resurfacing in Kingdom Hearts II.
All in all, this was a great title to play. It also answered a lot of questions for me, because I played Kingdom Hearts II first. It may not have the splendor of the major platform titles, it should not be tossed aside. It is truly a great title to play.