12-7-2004
10-11-2004
5-6-2005
5-6-2005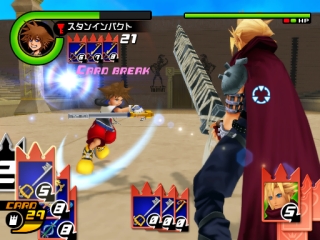 In 2008, Americans got to finally see the new version of Chain of Memories found in Kingdom Hearts II "Final Mix". Re: Chain of Memories was ported over to the PS2, with a plethora of updates and additions to the original GBA title. Here are the most noticeble changes in the game:
3D cutscenes
voice-acting added to the cutscenes
Updated music, including new scores and songs
Theater Mode is unlockable, which allows you to view all cutscences in the game. (Replaced Link mode)
In the North American release the enemy cards can be unlocked with a North American version of Kingdom Hearts II, and clearing Sora's Story in the game.
Riku is more powerful than in the original game.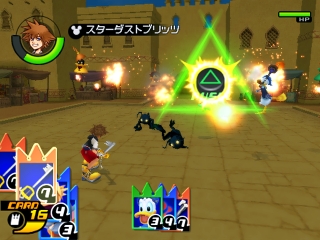 Kingdom Hearts Re: Chain of Memories got a higher esrb rating than the original.
The addition of Reaction Commands found in Kingdom Hearts II
There are also several changes within how the storyline is, but it actually seems to be more of improvements in the story, similar to some changes found within say Final fantasy VI Advance VS the original. It makes more sense, when playing Re: Chain of Memories, than it did playing the GBA title. If you are in the mood for a great title, again this one is the one. Better on the PS2, and for about the same amount it was on the GBA.