1-11-2011
10-7-2010
1-14-2011
1-14-2011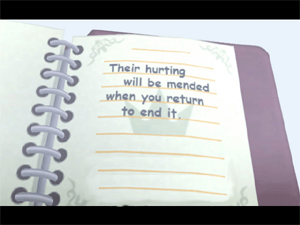 Their journey is complete, and Sora, Donald, Goofy, and everyone else has returned to their homes. Jiminy Cricket is looking over the journal he used to document his adventures with Sora when he discovers a mysterious message. "Thank Namine" He didn't write it, and going further into the journal, he discovers another message.
"Their hurting will be mended when you return to end it".
After seeing this, Jiminy tries to recall why it was written, but he cannot seem to remember ever writing it down. This message alarms him, and he seeks King Mickey. King Mickey is determined to find out how these messages came about, so he and his friends decide to digitize the journal and delve into its deepest secrets. Inside this "datascape" Within the world traced from the contents of Jiminy's Journal, a boy awoke on Destiny Island. It was the beginning of a new quest for a virtual Sora.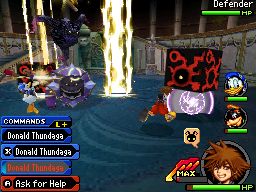 Kingdom Hearts Re:Coded is a remake of the Coded game released on cellphones in Japan. This title focuses on a digital theme. Donald, Goofy, Mickey and Jiminy will try to decode the contents of Jiminy's journal, and uncover what created the mysterious entries Jiminy did not write. With the help of Chip and Dale, they will use a computer to digitize teh computer. And who better to explore this space than a Data replica of Sora. You play as Data Sora as you try to fix the bugs of the corrupted journal. The storyline itself seems a little small in comparrison to the DS counterpart 358/2 Days, by a long shot. But it is more fun and fun to play. It is more emphisized on enjoyable play rather than a deep angrossing story. But it is something important none the less to the overall story of the series. Several points in the ending ties it with a lot of the other titles and points it in the direction of Dream Drop Distance.
The gameplay in Re:Coded is its biggest, and strongest point. Most people will tell you the gameplay here is fantastic. I have to agree. It is just a fun fun game to play.
The battle system is fantastic. It's a very easy contender for the best one of all. It's deep on so many levels, highly customizable, with a huge and epic scale that actually almost works a miracle and begins to recapture the series' classic feelings of edge-of-your-seat excitement.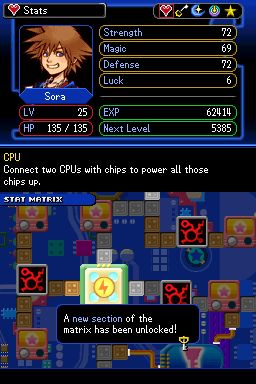 The game's difficulty is completely up to you. It offers four levels of difficulty: Beginner, Normal, Proud, and Critical. But your level, stats, almsot everything can be modified any way you want. If you're a series pro, and Critical is still too easy, drop a few levels. Take it all the way down to level one, if that is what you want to do. Take on the worlds with only the barest, barest basics. You're the player, and the game allows you to control almost every aspect. Taking a page from The World Ends With You (Funny how that game is featured in 3D), keeping your level low can earn you increased item drop rates from your enemies.
Your weapons have always been customizable, but this time around they took the bar to a whole new level of customizable. Here each one actually has several abilities, that range so drastically, called clock abilities. They unlock as you fight. With the more hits you land, and the more enemies you defeat, the more clock abilities activate themselves. They usually revolve around increasing certain stats or tweaking things a little more in your favor. They can also create different drops. One Keyblade for a ability makes Munny drop in a higher amount during the time that ability is on. Same for items. It was a great addition to Weapon upgrading and use I have seen in the series.
One of the biggest innovations, though, comes in the form of the Stat Matrix. It's basically a computer motherboard, and by plugging certain chips into it, you can increase your level, gain new abilities, modify your stats, and everything else you could want. It's basically a revamp of 358/2 Days' panel system fused with some inspiration from Final Fantasy X's Sphere Grid. Not only is it easy to get the hang of, it is rather fun, and creates a great way of building up a powerful hitter, or magic user. A lot better than 358/2 Days system, and more fun too. The cheats, mentioned earlier, are the icing on the cake for this system.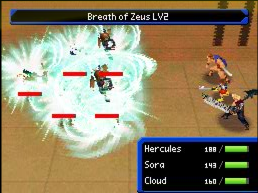 And there is a lot of change up in the game, rather than just running through it. You have side scrolling, turn based fighting reminiscent of the Final Fantasy's of old, puzzle solving, and a host of other things that just gave some change here and there to the fun. I would say the turn based Coliseum used it a little too much for my liking, but it was still fun. And for me it was a nice reminder of the more challenging games of the younger times.
Graphically 358/2 Days translated the Kingdom Hearts experience from the PS2 to the DS nearly flawlessly. Re:coded takes up the mantle right where it left off. Your characters are more detailed and less sprited than they were in the elder title, and the people and the worlds are much more colorful. Both of which are helped along by the fact that Re:coded's entire cast isn't outfitted in nothing but black overcoats and hoods. With the wider range of character, outfits and colors, they really took this one to an even higher level of graphic quality. The Cg is brilliant, though it was kind of sadening to not see as much of it as I would have wanted to. But beautiful none the less, and some of the best out there.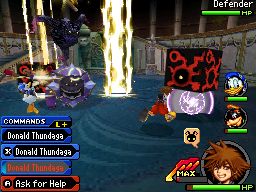 Score wise, there is really nothing new and exciting. This is perhaps the lowest point. You are in fact re-visiting the journal from Kingdom Hearts, so it stands to show the music will be revisited too. Sadly a lot fo these themes are the same ones we have ehard over and over again. The few new tracks from the data worlds are catchy and will stick in your head some, but otherwise there is nothing epic or masterpiece when talking about the score here.
Overall this was a just down right fun game to play. It does have some story line need for playing, but otherwise can be missed entirely without losing too much in the overall arc of the story. But for sure it is something that can be fun over a few days off, or while kicking back. I did not purchase the game for near a year, but I am glad I did. I had a lot of fun playing it, and you most likely will too.