Dive into the Heart
In the beginning of the game, you will be following a set of platforms. These beautiful depictions of Disney princesses are locations of getting the basics of gameplay down. There are, however, two that will affect the game. This first set of choices, a voice will ask that you choose a weapon, and sacrifice another. You must choose between a sword, shield, and staff. what choice you make will determine Sora's beginning stats, and when he will learn abilities. Below is the stats he will begin with, depending on what he chooses to keep and sacrafice.

*Note*If you are looking to gain a lot of items, very quickly, you should take the shield as your weapon. If you do, Sora will gain the Lucky Strike at level 15, and Jackpot at level 24. Also if you choose the shield, and dismiss the staff, you will get perhaps the best balanced stats of any choice.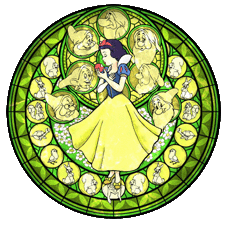 | | | | | | | | |
| --- | --- | --- | --- | --- | --- | --- | --- |
| Choose | Sacrifice | HP | STR | DEF | MP | AP | Weapon |
| | | 18 | 5 | 1 | 3 | 3 | |
| | | 18 | 3 | 3 | 3 | 3 | |
| | | 18 | 5 | 4 | 2 | 1 | |
| | | 18 | 4 | 4 | 2 | 3 | |
| | | 18 | 6 | 2 | 2 | 1 | |
| | | 18 | 6 | 1 | 2 | 3 | |
The second choice occurs after you experiment with the barrels and boxes. A semi-invisible door appears. Before you can enter this door, you will be taken to Destiny Islands.
Here you will run into your friends Tidus, wakka, and Selphie. When you speak to them, they will ask a question, and give you three options to answer. The answer you choose affects the gameplay, in how fast you level up. Below are the questions.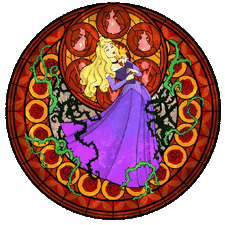 Selphie: "What's most important to you?"

A. Being number one.
B. Friendship.
C. My prize possessions.

Wakka: "What do you want outta life?"

A. To see rare sights.
B. To broaden my horizons.
C. To be strong.

Tidus: "What are you afraid of?"

A. Getting old.
B. Being different.
C. Being indecisive.

If you wish to level up quickly, choose the first answers.
If you wish for a more balanced leveling, select the second answers.
If you feel you are an expert, and wish to level slowly for challenge, the third answers are for you.
Postcards
There are 10 postcards hidden in Traverse Town. Each of these cards should be taken to the mail box in the First District, and sent off. Each time you do, you will get a reward. You can get 6 of these Postcards in the very first visit, but the rest will have to wait, since objectives in other worlds need to be done first. Below is the locations of the Postacrds, and rewards for each card mailed off.
| | |
| --- | --- |
| # | Location |
| #1 | Blue Trinity Mark in front of the cafe, First District |
| #2 | Blue safe near the door to the 2nd District |
| #3 | Chest on the awning above the "Boots & Shoes" shop, 2nd District |
| #4 | Hit the fan in the Item Shop |
| #5 | Roof of the Accessory Shop. |
| #6 | Third District, on the balcony |
| #7-8 | Gizmo Shop. Must use thunder on exposed wires in the Third District, then in the Gizmo Shop, press all 3 switches. Check the clock in the center of the room. |
| #9 | Synthesis Shop. Examine the paper on the wall. |
| #10 | Pot in the corner of Gepetto's House. (Must complete Monstro) |
Rewards

1
Cottage
2
Mythril Shard
3
Mega-Potion
4
Mega-Ether
5
Mythril
6
Elixir
7
Megalixir
8
Orichalcum
9
Defense Up
10
Power Up
Secret Movie Featurette
Before you go off to defeat Ansem once and for all, you might want to make sure you have completed a few tasks. Doing so will open up a secret movie at the end of the credits. The tasks you must complete are:
win the Hades Cup.
Find all 99 Dalmations.
Seal all of the keyholes, including 100 Acre Wood.

Once these have been done, go defeat Ansem, and watch the credits. Or you can simply watch it right here without making the effort. It is your call.
Once you complete the game in Expert Mode, your overall game statistics will be displayed. Also you will see different artwork displayed with The End. A final background image is displayed when you gain access to the secret movie.
Deep Jungle Games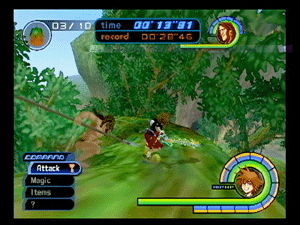 Once Sora seals the keyhole to Deep Jungle, there are two minigames that become available to play. These games do not have any enemies in them, thus can be done at anytime after. There are some small prizes you can get for doing them, but they are not anything grand. These games are mostly just for the fun of it. The first game, you actually did, if you followed Tarzan when you first arrived in the jungle. It is called Jungle Slider. The second is called Vine Swinging.
Jungle Slider
In this mini-game, you need to steer towards the fruit that is found on the sliding path. There are 10 fruits per path, and you have to get them all to go to the next level. In the next level, you will have to grab 20, then 30, and so forth until all five levels are opened. If you miss a fruit or take a wrong path, you will drop to the jungle below, and have to restart again. If you want to avoid starting over, and climbing back up, press the start button. This will give you a restart option. Once you win all the prizes, you can try it for a time trial. Your top score will be logged into Jiminy's Journal. The courses and their rewards are below.
Course #1: AP Up
Course #2: Orichalcum
Course #3: Megalixir
Course #4: Defense Up
Course #5: Power Up
Vine Swinger
Fom the Hippo's Lagoon area, climb the tree closest to teh exit to teh camp. You will find yourself in the treetops with a save point, and a yellow flower. Examine the flower, to initiate the Vine Swinging mini-game. The courses of this mini-game are listed according to difficulty. In each course, the objective is to jump from vine to vine through both vine areas. The finish line is the tree branch near the entrance to the Climbing Trees area. The timer will end when you reach this spot, and your score will be recorded in Jiminy's Journal.
There are four courses in the Vine Swining game. They are:
Jump Course
Trap Course
Acrobat Course
Expert Course
The Jump Course is basically the same as just swinging through the trees normally. Whereas the Trap Course adds a new element to the game. This is in the form of very slippery snakes. When you see a "Danger!" appear near the "Jump Next", a snake is coming. If you do not jump off the snake in two seconds, you will fall to the lagoon below. This will end the time trial, and you will have to start over again.
The Acrobat and expert Courses have a lot more snakes, so take some time in the first course for some practice.
*Trick*Once you gat the Superglide ability (Defeat Chernabog), you can return to dramatically improve your times. These abilities allow you to skip a few vines at a time, thus getting you further faster. Hey, it never said anything about actually having to touch the vines now did it?