-
10-19-2008
Mobile Phones
-
-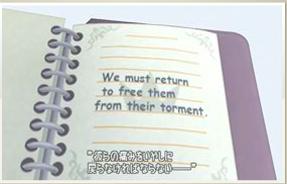 Kingdom Hearts Coded is a game set on the Mobile Phone. It is seemingly a puzzle game, set in 3-D. The story starts after the events of "Kingdom Hearts II", in which Jiminy Cricket returned to Disney Castle to organize his journal. While he arranges the pages, he finds a page with a mysterious message:
"We must return to free them from their torment".
After seeing this, Jiminy tries to recall why it was written, but he cannot seem to remember ever writing it down. So Mickey digitizes the contents of the journal and starts an investigation. Within the world traced from the contents of Jiminy's Journal, a boy awoke on Destiny Island. It was the beginning of a new quest for a virtual Sora.
Though it has been a forgone conclusion that mobile phone games are rarely if ever released in America, there might be some hope in this one. The screen above showing the journal entry is in english, thus making people believe this will be the first title releasedon our phones since Final fantasy was a few years ago. Kingdom Hearts Wiki, as well as Wikipedia both state Square has plans to release the title in other territories.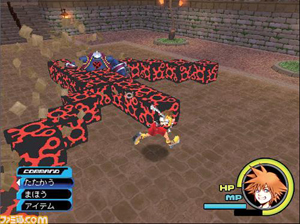 The gameplay is shown to use red and black boxes floating around the rooms. You use these boxes to solve puzzles, and progress higher up. You also have to remove blocks to reach enemies through a debugging mode. Little else is known about this title at this time.
Sora seemingly is the main character of the game, though any scans I have seen show only him, and not Donald and Goofy. King Mickey also seems to be a prominent figure as well. There are a lot of returning worlds from the previous titles, and thus it can be assumed that the Disney/Square characters of those worlds will return too. The enemies seem to be the typical Heartless found in Kingdom Hearts. There has been no indication yet of any new type of enemies.
Graphically it looks like a well updated version of Chain of Memories. The characters, enemies, and enviroments show pixilation, but not bad by any means.
It is not known yet what the music, if any, sounds like, or what the quality would eb on a mobile device. With the advancements of the mobile phones, this might just be a title with great quality in sound.
Without anymore information than this, I cannot really give full reviews. I will open the site, similar to Before Crisis: Final fantasy VII, in the hopes that one day it will make its way to the USA.