Avatar Menu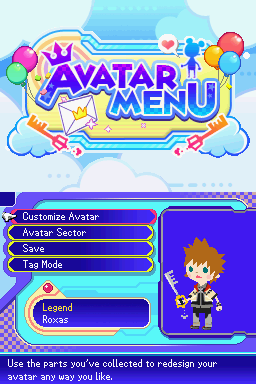 The Avatar Menu is a multiplayer game mode in Kingdom Hearts Re:coded. This is largely a port over of Kingdom Hearts Mobile, with the new addition of the "Avatar Sector". The Avatar Menu is subdivided into 5 categories:

"Customize Avatar"

Here is where you can customize your own Avatar from literally hundreds and hundreds of different things. Everything from eyes and hats to shoes and mitts.

"Avatar Sector"

This is a special 100 level System Sector that was added to Re-Coded. Play through to the end for a exclusive boss fight.

"Tag Mode"

This section allows the player to send and receive Balloon Letters. This section also houses the "Scratch Card" and "Happiness" sections of Avatar.

From the menu above, you can go into any one of these sections, and read up on them in detail. You can head over to the Custom Avatar Section, and see the many many different things you can get for your Avatar's unique looks. Any way you do, Avatar is a fun little diversion from the main story.