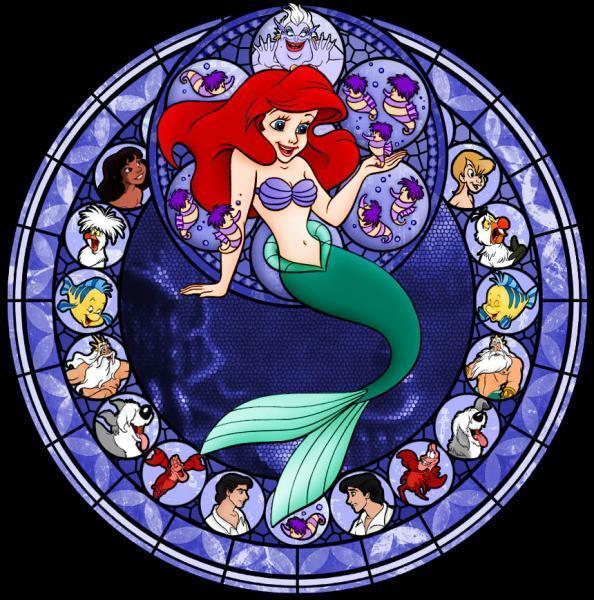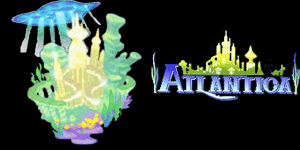 Welcome to Atlantica. This however, is not your typical world of exploration. There is something new and exciting to partake in with Ariel and ehr friends. Once you open up the world, you can begin exploring and reuniting with Sora's friends. But yyou can only accomplish certain portions, until you unlock more progression in the game itself. But let us begin with the story shall we?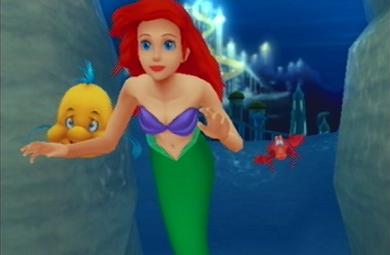 When you enter Atlantica for the first time, it is noticed that the Heartless have yet to stake claim. But that does not mean there is nothing but roses and happiness here. Ariel has rescued a human from drowning, and has fallen in love. The King thinks that if she is involved with Sebastian's musical group, she would be able to cheer up and forget her problems. But Ariel has fallen for Prince Eric, and it will be near impossible for her to ever forget him. Sora and company notice her sadness, and decide to try and help out.
When you first enter Atlantica, you will have to try and remember how to swim. After all it has been a year since your last visit, and Sora is struggling a bit. So Ariel decides to assist him. A tutorial follows, which will teach you the art of swimming under the sea.
This is actually very easy. To move horizontally, use the left analog stick.
To move vertically, move the right analog stick
Press

to swim faster and get to a specific person/item more accurately
Press

to perform a Dolphin Kick
Press

to lock onto an object
Shortly after Sora gets the hang of swimming, Sebastian will ask if you would be able to help in his musical extravaganza. And a second tutorial will begin.


This will allow you to get the hang of singing and dancing with the gang. These musicals you are participating in service the fact that they will advance the story, and thus you will need to return after completing certain tasks. Sometimes it will be an object, ittem, or upgrade that is required. There are a total of 4 of these singing Mini-Games, one being something of a boss fight with Ursula the Sea Witch.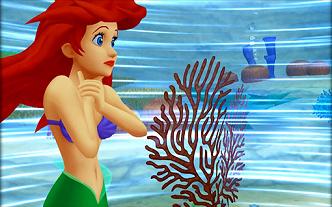 In this first, introductory musical though, the goal is to get Gold Notes, by performing "Excellent" on the scores. Every time you get an excellent, you get a gold note. If you get a "Bad" rating, you will lose a Gold Note. So it is best to at least achieve a "Good" rating most of the time, and maintain at least 1 Gold Note.
The musical mini-games in Atlantica are pretty easy. Simply follow and press the correct buttons to the beat of the songs when you are prompted on the screen with easy to recognize visual aids. At the specific times in the songs, a round gauge (or two) will appear on screen. When it hits the yellow spots at the end of the gauge, press the correct button to stop it. Stopping it in the Darker yellow square results in "Good" rating, while stopping it on the lighter yellow, results in a "Excellent" rating. If you miss thse spots entirely, you will be given a "Bad" rating. Anytime after you complete one of the musical number Mini-Games, you can always try again to top your highest score. Just examine the large musical orb, choose which you wish to do, and go for it! Below will explain the 4 different musical Mini-Games in greater detail.
Swim This Way
Objective

Play through Swim This Way
Jiminy Objective
Play through Swim This Way again
Enter Atlantica and finish the swimming and Musical practice with Flounder and Sebastian.
The song focuses on the rehearsal for Atlantica's Annual Musical. You must get four "Excellents" in a row to fill up your Music Bar with enough notes to pass the mission.
Part of Your World
Requirement

Get 5 Excellents in a row!
Jiminy Objective
Play through Part of Your World again
With the Magnet Element in your posession, go back to Atlantica and speak with Flounder to move the statue. This triggers the start of the second chapter in Sebastian's musical called "Part of Your World" (an old classic!)
Get 5 or more "Excellent" ratings to be able to move on from this game. To make things more interesting, the button you must press switches from to so stay alert!
After clearing the requirements, Sebastian goes to King Triton to give hima low-down on the musical's progress. He then returns with something even more challenging. You need to have your Drive Gauge at 5 before you can attempt this part. Come back later!
Under The Sea
Requirement

Reach a Drive Guage level of 5. After completing Space Paranoids.
Jiminy Objective
Play through Under The Sea again
The game has again shifted to a different mode. The circle gauge has either a picture of Ariel or Sebastian on it. If the picture is of Ariel, the gauge near the end, press the button. If the picture is of Sebastian, DON'T PRESS IT! The idea is to Cheer her up, not throw her into a deep depression. Just keep a close eye on the pictures and hit the right pictures at the right time.
After the gang finishes torturing us with "Under the Sea" and clears the song requirements, it's time to take on the next challenge! Accompany Ariel to the surface just in time to see Prince Eric strut about on the beach. He drops a locket! This is where your magnetic magic comes in handy for the stalker Ariel, you pull the locket that gets trapped on rocks too close together to reach. You hand it over to her to continue on to the next challenge.
Ursula's Revenge



Requirement

Get the Magnera from Grim Reaper (Halloween Town)
Jiminy Objective
Play through Ursula's Revenge again
Talk to Ariel and agree to go with her to obtain the necklace.
King Triton finds out about Ariel's over sized Eric statue and destroys it in a rage sending poor Ariel unwittingly into the slimmy arms of Ursula, the sea witch. Unknown to Ariel, Ursula has a scheme to obtain the Triten from the King, using his daughter!
This is a very unusual boss event in terms of defeating Ursula. This time purple circles appear with the Gauges around the (X) button. The more presses you get in, the more damage you will cause to Ursula.
After your awesome song victory, everything is somewhat back to normal but the king expects Sebastian's musical to be the best there is!
A New Day Is Dawning
Requirement

Get the Thundaga Spell
Jiminy Objective
Play through A New Day is Dawning again
Simply speak to Sebastian to trigger the last concert.
The title of the Musical is "A new Day is Dawning". To celebrate, Sebastian has put ALL the gauges you encountered in these mini-games, hope you've been paying attention!
To get out of Hell, I mean complete the concert and clear the world, you must attain 30,000 points. It's not too bad considering you get 15,000 for Excellents!