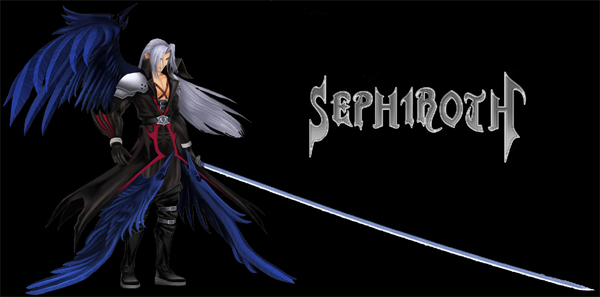 In the original Kingdom Hearts, you simply battled Sephiroth as part of the Coliseum tournaments. In the Final Mix of Kingdom Hearts, Cloud shows up to settle the score with Sephiroth as seen here. Now in Kingdom Hearts II, the story is taken deeper than before. And the battle continues...

When you journey to Hollow Bastion on your second visit, you will find Cloud in the shopping square. He tells you he is looking for a man with silver hair, carrying a long sword. Of course we all know who that is, but you have not seen him as of yet have you? Be patient, the time is coming.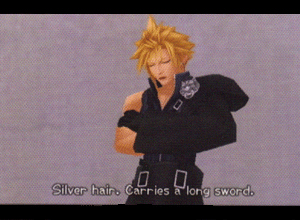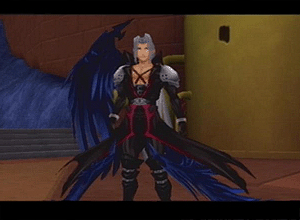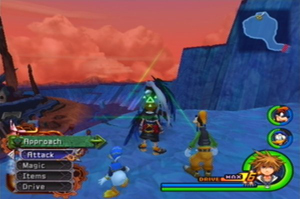 After you visit Space Paranoids, and rush off to defend Hollow Bastion, you will be stopped in the Posterns by none other than Sephiroth. He tells Sora he is seeking Cloud, and have you let him know that Sephiroth is seeking a confrontation with him. (Since when did we become Kingdom Hearts Messaging Service??) And he will walk off.

Once you are returned to the Gumi Ship, from the Dark Depths, you can return there to find Sephiroth waiting. But he will not initiate combat just yet. No reason, but you should be thankful, as you are probably not even remotely ready at this time. Continue on your quest, and revisit the rest of the worlds.
When you defeat the MCP in Space Paranoids, Sephiroth will become available to battle. You can run and tell Cloud about him before hand, but he will not even mention it. Before you go rushing off to face this foe, make sure that you are actually ready to fight him. There are several things you need, abilities, items, etc. So below is how I had it set up to beat him. But believe it or not, it was not a requirement. The first time I beat him, though I had this setting in mind, I had forgotten to remove other functions such as Lucky Lucky, Jackpot, and other enhancements. I did not set up for Combo Boosting, Second Chance, or Once More. Because of this, I find Sephiroth far easier to defeat in Kingdom Hearts II, than I do in the original. (Still haven't beaten him in that one, without codes.)
For your abilities, you will want all of your "combo" enhancing abilities. These are important things to have, since it allows for more hitting. And that is something you want to do...hit, hit, hit!

Abilities
Combo + x2
Air Combo + x2
Glide Lv 2-3
Trinity Limit
Berserk Charge
Upper Slash
Retaliating Slash
Aerial Sweep
Aerial Spiral
Aerial Final
Explosion
Upper Slash
Horizontal Slash
Finishing Leap
MP Haste
MP Rage
Second Chance
Combo Boost
Air Combo Boost

Shortcuts
Curaga
Reflega
Elixir
Hi-Potion

Weapons/Armor
Oblivion
Ribbon
Petit Ribbon
Cosmic Belt
Cosmic Arts
Star Charm x2

There seems to be a lot of things in this listing, and some of it is really not needed. But it is greatly beneficial to you to have it. Trinity Limit is the big one here, as it does the most damage. Retaliating Slash is also big, because if he does get a hit in, you can bounce back and hit him as well. The remaining attack abilities are mostly just to add or enhance your fighting. Outside of healing yourself, the only other spell needed would be Reflega, as it can repel the darkness orbs Sephiroth summons. Though Elixirs are in your shortcuts, try to keep them as a reserve. Use the Hi-Potions to regain missing health. Save the Elixirs for regaining MP for Trinity Limit. Also Oblivion can be substituted for any Keyblade. Ultima Weapon works the best, but I never have it when I go after Sephiroth.
The suggested level for this battle is level 80+. This does make the battle easier to manage, but it can be beaten at as low as level 60, without too much problem. I go for level 70. It is a good balance, and hey you need a bit of a boost. Just because he is far easier than the first fight in Kingdom Hearts, does not mean he is a pushover.
when you feel you are properly set, head over to the Dark Depths in Radiant Gardens. Be sure to save in the Crystal Fissure, before you go. Speak to Sephiroth to initiate combat.
B
O
S
S F
I
G
H
T


Sephiroth
The first thing, Sephiroth is going to hit you with a non-blockable attack. This is a devastating attack, but luckily there is a reaction command to deflect it. If successful, this will leave Sephiroth open for your first string of hits. Do a couple of combos, and then get back a bit. If he manages to get in a hit, retaliate with . Be sure to make aware of his sword at all times. Though you have a far wider area than you did in the Coliseum, Sephiroth can reach about half way across the platform. And he is super fast. When he goes after you, try to get away. He has his own combo that will leave you severely hurt, or done for. The retaliation can break the combo, but not always is it successful. If he gets you whittled down, run off, and heal fast.
The best attack over all others is of course the Trinity Limit. This can easily wipe out several HP bars before it is done. I usually go for this attack, right after the reaction command deflect. Having Berserk Charge is key to several more fall back hits with this, but he will eventually be able to deflect the attack.
The one thing you must remember about Trinity is it will not have a reaction command. You will have to manually execute it. (I know...oh my God! I have to input a command?!?! But that is so old school!!!) Yes you do, so switch the command menu over to where your limits appear at the bottom. You can actually stay within this menu, since forms cannot be used, or are useless.
Sephiroth has several attacks in his arsenal, that are repeats of the original attacks. His Hellfire attack will try to suck Sora into the blaze. Simply glide or run away from the attack. If you get caught in it, hit him as much as possible, and keep healed. He does not attack while Hellfire is going, so take the opportunity to get a hit or three in.
He also has a dark orb attack as well. He will summon several darkness balls, which surround and close in on Sora. Reflega will take care of these, as will hitting them with the Keyblade. He also has a Meteor Shower, which drops an endless amount of meteors on the field. Either glide or run around the arena, trying to dodge them.
The most devastating attack Sephiroth has is of course his Fallen Angel. If it connects, Sora will be reduced to 1 HP/MP. This is where Elixir/Megalixirs play heavily into the fight. But like before, you can stop this attack, if you can strike him before he executes it. When you see his hand rise into the air, go in for the strike. It is the perfect time to set of a Trinity Limit if you can. He does not attack while in stance, so once again kick his butt! Keep up with your assault, and using Trinity, and Sephiroth will fall in short order. Once you succeed, you will get a Drive Boost.
*Note* Sephiroth cannot be defeated by regular means. The last pinch of life that Sephiroth has will only go via a Finishing move. You can still hold the Berserk ability to finish him, by doing a Horizontal Slash or an Upper Slash to "replace" the Finishing move. Also Trinity has seemingly defeated him, if you use one of these moves right after as well.
Once Sephiroth is defeated, he will admit you are very skilled. But, as you kind of figured, you cannot destroy him. Only one person can do that, and Sephiroth thinks he is not able to. Time to go back to Cloud. Speak to Cloud, and he will leave. Return to Sephiroth, and watch the events unfold. Afterwards, Tifa will hand over the Fenrir Keyblade. This is the best bladde in the game for attacks and magic. But it does reduce combos by 1. Below is the entire sequence, including the fight itself. You might just find some pointers there as well for what to do. Either way, congrats on beating Sephiroth!