Castle Oblivion

Card Rooms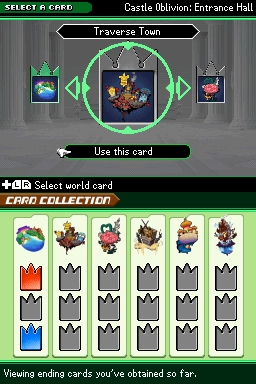 Your final world can be the most frustrating, if you do not know exactly what it is you are supposed to do. Once you beat Hollow Bastion II, a new world will appear...Castle Oblivion. Here, the hooded figure will give you a set of cards, and explain "How the world works" so to speak. When you walk up to the door, you can select a card of the worlds you have visited. Each of these worlds have scenarios to figure out and complete. But, like the hooded figure tells you, there is absolutely no wrong way to accomplish the scenarios. You can be as nice or as mean as you wish. No one will remember once the world is completed...even you will not remember. So he is actually wanting you to try things out and not just do the "Sora good guy" thing.
This is definitely the one time you want to listen to him. As you can see on the left, there are 3 different slots under each world. That is because there are three different ways in which you can accomplish the worlds. Here is what they are:



Normal Card: This outcome is basically the right way to accomplish the world, as Sora would do it in real life. You most likely will get this one in the first try with a lot of the worlds.



Alternate Card: This is basically the Bad Boy card. You kind of have to muck things up in order to get this card. Like basically being too mean to people, or not accomplishing their tasks. (Remember in Wonderland the Queen wants you to fail, so this is opposite)



Extra Card: This card is the exception card so to speak. It is the ability to accomplish the goal, but with a different means from the Normal Card. This is a difficult one to get, as it is not doing things BAD, just different. So keep in mind there is two right ways to do something. (Cept for Wonderland of course lol)

So why do you want to get all of the cards? Well, if you can manage to acquire them all, Leon and Yuffie will appear after the Hooded Figure congratulates you. They will thank you for protecting the worlds, and speak of hopefully helping you in the future (Possible hint to something coming????) And as a reward for completing all possible outcomes, they will hand over a Debug Device-Y, and a Heat Sink Belt. Both are really nice, and very hard to come by. This will, or should, also complete the Character Profile section of the De-Bug Report. Whether you go for all the cards, or just want to get through it...that is strictly up to you. Below is all of the ways to get the different cards for each world.





You will see Selphie standing in front of you in the room. You have to speak with her, in order for anything to happen here. Afterwards the choice is up to you on what to do.
| | |
| --- | --- |
| | Speak to Selphie. Find Wakka and tell him you'll find Tidus. Find Tidus and fight him. |
| | Tell Selphie & Wakka you are too busy to help them. When Tidus gets trapped, free him from the Blox. |
| | Agree to help Selphie & collect the green stars that appear. (2 appear one after the other) |





One in this area:
+4


Seems Huey, Dewey, and Louie have run off again on one of their explorations. Cid cannot seem to find them, and has become extremely worried about them with the blox appearing. He asks you to help him find them, and send them back.
| | |
| --- | --- |
| | Send Huey (right), Dewey (left), & Louie (center) back to Cid. Beat the Heartless & speak to Cid. |
| | Send Huey (right), Louie (center), & Dewey (left) back to Cid. Beat the Heartless & speak to Cid. |
| | Send Louie (center) back first. Then do the other two in any order. Beat the heartless & speak to Cid. |





One in this area:
+4


As was the case before, Wonderland is still having memory issues. The objective here is to speak to everyone. Each person has a choice for you to make. There is a "right" choice in each selection, as well as one or more "wrong" choices. Answer or do what you wish. Do not miss the Cheshire Cat under the red blox on the left side of the room. Below is each question and the answers

What is Alice's name?
(Right) Alice
(Wrong) Queen of Hearts
Pick the box from Cheshire
A
B
C
(Right) D
E
(Wrong) Give Up
What to do about the rabbits watch?
(Right) Speak with the White Rabbit about his watch
(Wrong) Pick up the Watch
Card Soldier Delivery
(Right) Deliver it to the Ace of Spades
(Wrong) Deliver it to the Hearts instead
Once you have completed each person in which ever way you choose, the Queen will bring you to her, and the ending scenario will play out then. Whatever you do will determine your fate...actually no matter what you do it is OFF WITH YOUR HEAD!!!!!
| | |
| --- | --- |
| | Do one thing right and one thing wrong in the choices. |
| | Do everything right in the choices. |
| | Do everything wrong in the choices. |





Hades is up to no good again, and Sora wants to help out. Hercules and Cloud both decide to test Sora's abilities with a series of fights for him to go through. It is time to determine whether or not Sora has what it takes to be a hero.
Hercules wants to see how many Heartless Sora can beat in a set time.
Cloud wants to see if Sora can beat all the Heartless in a set time.
Cloud will then see if Sora can kill the only Shadow that is trying to attack him. (One immediately in front of Sora to the left)
Once the trials are completed, Sora will then be able to take on Hades and his Heartless.
| | |
| --- | --- |
| | Defeat 21-29 Heartless for Hercules. For Cloud, defeat all the Heartless in time & then defeat the right Shadow. |
| | Do not defeat anything in Hercules or Cloud's trials. Not even the choice of which Shadow. |
| | defeat 30+ Heartless for Herc, pass Cloud's trials, & beat Hades enemies in less than a minute. |





Two in this area:
+3
+4
Note: Must break all the blox to find the Rare Prize Blox
Jafar has placed a spell on the entire area, hiding everyone inside of Prize Blox. You must find and catch Iago before the timer runs out. If it is getting low, break some boxes. If you find Aladdin, Jasmine, or the Genie, they will give you 30 seconds more time. Most other boxes hold Shadows that will give time when defeated. But be warned there are boxes with Shadow Jafars in them. If he runs into you, he will steal time from you.
| | |
| --- | --- |
| | Catch Iago with timer between 30 seconds and 1 minute. |
| | Catch Iago with less than 30 seconds left. |
| | Catch Iago in more than 1 minute left. |





Two in this area:
Magnega
Shock Fall
Note: Must use the flower switches in the race to the finish room
Maleficent and her lacky Pete are at it again. You must make it through a series of rooms, using flower switches to get to Pete. Hit one switch, and you have to reach the other in a set amount of time, or it will reset. Once you get to Pete, you need to defeat him to go further. Afterwards, it is a race to reach Maleficent before she can carry out her evil plans. Using the Flower Switches again, make your way to her and Pete quickly.
Beat Pete in more than 30 Sec., & reach Maleficent in less than 1 minute. OR
Beat Pete in less than 30 sec., & reach Maleficent in more than 1 minute.
Beat Pete in 1 or more minutes, & reach maleficent in more than 2 minutes.
Beat Pete in less than 30 seconds, & reach maleficent in less than a minute.