7-31-2012
3-29-2012
7-20-2012
7-26-2012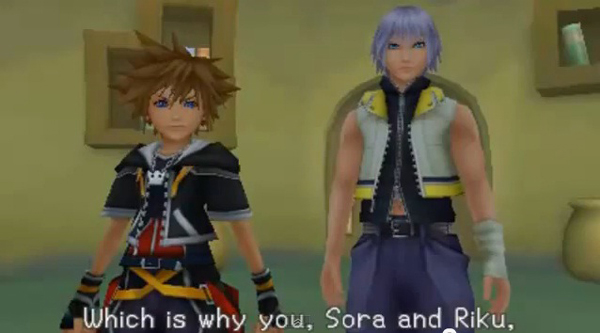 It is time. Time to take actions against the newest threat to the many worlds. And to find the ones who are suffering. Sora, the chosen Keyblade wielder, and Riku go before Master yen Sid, with their friends by their side. The purpose...? To undergo the Mark of Mastery. Something not done since the time of Terra, Vantus and Aqua many years prior.
With the new threat, it is not certain as to how new it truly is. People from times long ago, and from places unseen are about to collide. And it is up to Riku and Sora to find a way out of the darkness once again.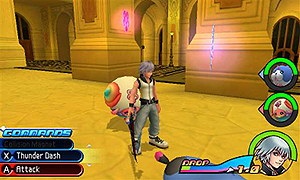 For someone who hasn't played any other games in the series, the story for Dream Drop Distance (3D for short) will make very little sense at all.
For those that missed a few games, or need a refresher, the game has a synopsis for all of the past games, but especially during the ending scenes some might be a little confused. This of course is nothing new for Kingdom Hearts right? Kingdom Hearts 3D is actually a sequal to both Kingdom Hearts II and Kingodm Hearts Re:Coded, and is a one heck of a giant step in story. The game gets going right off the bat, and tells you what's going on mostly in flashbacks.
Sora and Riku have to take the Mark of Mastery exam, which if they pass they will become true Keyblade masters. Most would think at least Sora would deserve this already, being the Keyblades chosen one, but this task has to be done.
To pass the test, both Sora and Riku have to awaken 7 sleeping worlds. These are worlds found that did not awaken when Sora defeated Ansem a few years back. There is something holding them in slumber, and it is the task of the two to wake the worlds back up. Two of the worlds are from previous games. But finally...FINALLY we get five new Disney worlds to explore. Dunno about you, but Agrabah, and Wonderland were getting down right tiring to have to go through again and again. These worlds are based off of movies like Tron: Legacy, The Hunchback of Notre Dame, and Fantasia.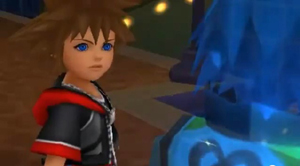 When a few of these were first mentioned, such as a world based on a direct-to-video movie, I had my reservations. But after playing them it felt like they belonged right there in the Kingdom hearts series.
Gameplay consists of running through worlds, defeating enemies, then a boss, obtaining a new weapon, and moving on to the next world. Battles are fairly simple, yet really fun. You can jump and attack, roll away, or block, but you also have deck commands. These let you use items or special attacks that can be devistating to your enemies. You can get new commands from chests or by buying them.
Something new that was added is called Flowmotion. It allows you jump super high and fly through the air, until you hit the ground. You can also do some very devistating attacks using Flowmotion. using Flowmotion is fun and can really help in major battles.



Instead of having Donald and Goofy going with you through the game, you get what are known as Spirits. These are monsters based on different animals. And they are cute...a little too cute, but they can get away with it. They will level up just like you. You can use items dropped from enemies to make new and different spirits, and you can "link" with them to perform powerful attacks. All abilities you gain are from these Spirits. Using a spirit will earn you Link Points, which you can use to unlock more abilities from a board for each Spirit. (Similar to the panel board found in XII) This is the only way to earn new abilities. Deck Commands cannot be fused together such as wa the case in BBS.
To finish the game completely, you need to play as both Sora and Riku. Rather than playing one character and then another such as BBS, a system called "Dropping" was created. A bar next to your health goes down over time. When it is completely empty, you switch characters. Both characters can be in different worlds, so wherever one is, when you drop you fly back to wherever the last one was before it dropped. Similar to BBS, both characters have different stories in the world, as well as different bosses to face. It can get a little confusing about what is happening in the two stories, but in the end both stories come together fantastically. It is so well done, you are left hungering for what is coming next.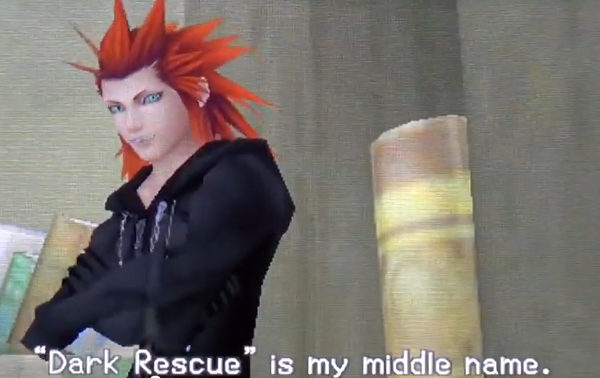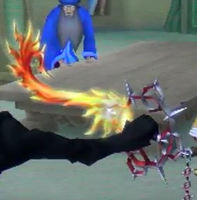 There is plenty of twists and turns, and plot points to keep you intensely playing for a good few days solid. And it is all drawing right into the next title in the series. And if you have the history of Kingdom Hearts I & II< Chain of Memories, 358/2 Days, Re:Coded, and Birth By Sleep, you know it is boiling into something gargantuous. Hopefully meaning the next title will finally find its way back to a console, rather than a handheld. Either way, this was one fantastic Kingdom hearts ride, which rivals the last few installments. It is down right fun, and has already gotten quite a reputation as one of the greatest releases of the 3DS thus far. Without the back story of the other games, it can be very confusing, and people might get put off. But for those who follow the story from the beginning, this is once chapter you do not want to miss.