Item Synthesis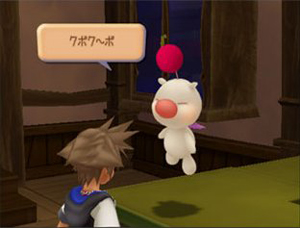 Once you obtain the

from sealing Agrabah's keyhole, return to the Accessory Shop in Traverse Town. Here you can use the Trinity to access the Item Synthesis Shop.
This shop run by the moogles is a great place to get very rare and valuable items made from the materials enemies have been dropping. At first, the list of items is very small. However the more you synthesize, the more items become available. In order to complete the entire Synthesis list, you will need to synthesize one of each item. The grand prize, so to speak, is Sora's Ultima Weapon. Synthesizing the weapon is the only way to get it.
Below is the entire Synthesis list, broken into the separate lists. To the right of this list is the materials, and what enemies will drop them. Remember that any item can be made multiple times, with the exception of the Ultima Weapon.

Item
Ingredients

List I

Cottage
Bright Shard x2
Blaze Shard x3
Elixir
Blaze Shard x2
Frost Shard x2
Thunder Shard x2
Mythril Shard x4
Energy Bangle
Power Shard x2
Frost Shard x1
Power Chain
Spirit Shard x2
Power Shard x2
Guard Earring
Spirit Shard x2
Thunder Shard x1
Dark Ring
Lucid Shard x2
Bright Shard x1
Mythril Shard x2

List II

Mega-Potion
Blaze Gem x1
Frost Gem x1
Thunder Gem x1
Mythril Shard x2
AP Up
Spirit Shard x3
Spirit Gem x2
Mythril x3
Angel Bangle
Spirit Shard x3
Power Shard x3
Bright Gem x3
Magic Armlet
Blaze Shard x3
Frost Shard x3
Thunder Shard x3
Mythril x2
Golem Chain
Power Shard x3
Power Gem x1
Lucid Gem x1
Master Earring
Lucid Shard x3
Lucid Gem x2
Spirit Gem x2

List III

Mega-Ether
Blaze Gem x3
Frost Gem x3
Thunder Gem x3
Bright Shard x5
Bright Crystal x1
Defense Up
Lucid Shard x5
Lucid Gem x3
Lucid Crystal X1
Mystery Goo x1
Gaia Bangle
Power Shard x5
Power Gem x3
Bright Crystal x1
Rune Armlet
Blaze Gem x2
Frost Gem x2
Thunder Gem x2
Mythril x3
Heartguard
Spirit Shard x3
Power Shard x3
Power Crystal x1
Three Stars
Blaze Shard x3
Frost Shard x3
Thunder Shard x3
Orichalcum x1
Shiny Crystal x1

List IV

Megalixir
Bright Shard x5
Bright Gem x3
Bright Crystal x1
Shiny Crystal x1
Gale x2
Power Up
Power Shard x5
Power Gem x3
Power Crystal x1
Mystery Goo x1
Orichalcum x2
Titan Chain
Spirit Shard x5
Spirit Gem x3
Lucid Crystal x1
Atlas Armlet
Shiny Crystal x2
Mystery Goo x1
Orichalcum x3
Gale x1
Crystal Crown
Lucid Crystal x3
Power Crystal x3
Shiny Crystal x3
Bright Crystal x3
Ribbon
Blaze Gem x5
Frost Gem x5
Thunder Gem x5
Bright Gem x5
Gale x3

Final List

Ultima Weapon
Lucid Gem x5
Power Gem x5
Thunder Gem x5
Mystery Goo x3
Gale x3

Item
Dropped by
Mythril Shard
Barrel Spider
Behemoth
Pot Spider
Mythril
Angel Star
Behemoth
Blaze Shard
Red Nocturne
White Mushroom
Blaze Gem
Bandit
Fat Bandit
White Mushroom
Frost Shard
Blue Rhapsody
White Mushroom
Frost Gem
Sea Neon
Sheltering Zone
White Mushroom
Thunder Shard
White Mushroom
Yellow Opera
Thunder Gem
Aquatank
Screwdriver
White Mushroom
Lucid Shard
Shadow
White Mushroom
Lucid Gem
Gargoyle
White Mushroom
Wight Knight
Lucid Crystal
Darkball
Spirit Shard
Large Body
Soldier
White Mushroom
Spirit Gem
Air Soldier
White Mushroom
Power Shard
Bouncywild
Powerwild
White Mushroom
Power Gem
Air Pirate
Battleship
Pirate
White Mushroom
Power Crystal
Wyvern
Shiny Crystal
Wizard
Bright Shard
Green Requiem
White Mushroom
Bright Gem
Search Ghost
White Mushroom
Bright Crystal
Defender
Gale
Angel Star
Invisible
Mystery Goo
Black Fungus
Rare Truffle
White Mushroom
Orichalcum
Behemoth
Invisible

If you truly want to go for all the items in the list, there should be a few things done first.
1-When choosing your weapon in the Dive to the Heart, you want to choose the Shield. This will give you the Lucky Strike ability at level 15, rather than 39 with the staff, and 69 with the sword.
2-Do not battle with Maleficent in Hollow Bastion, until you get 13 Bright Shards, and 23 Power Shards. Once you pass this point, the enemies change in all of the worlds, and these two items become insanely difficult, if not impossible to find.

Listed below are the first encounters with about 90% of the items you need to get. with the Lucky Strike at such a early level, you should have little to no problem breezing through the Synthesis list.
Power Shards x23, Bouncywilds
Spirit Gem x7, Air Soldier
Frost Shard x9, Blue Rhapsody
Spirit Shard x18, Large Body
Blaze Shard x11, Red Nocturne
Bright Shards x13, Green Requium
Blaze Gem x11, Fat Bandit,Bandit
Mythril Shard x8, Pot Spider
Complete 13 Bright Shards Here
Thunder Gem x16, Screwdriver, Aqua Tank
Frost Gem x11, Sea Neon
Lucid Gem x11, Gargoyle
Bright Gem x11, Search Ghost
Power Gem x12, Air Pirate, Battleship, Pirate
Lucid Crystal x5, Dark Ball
Bright Crystal x6, Defender
Shiny Crystal x7, Wizard
Power Crystal x5, Wyvern
Gale x6, Angel Star
While going after these sets of items, not only will you be able to complete the Synthesis list much faster, but you will gain a major boost in levels from doing so. As stated before, the items should be aquired before you battle maleficent in Hollow Bastion. Once you fight her, and save Kairi, this listing will no longer be valid.
Also remember you will need 6 Mystery Goo, and 6 Orichalcum. The Mystery Goo is dropped by various Mushrooms (See the Mushrooms section for more details.) The Orichalcum can be found by completing the side quests such as: 99 Dalmations, Postcards, and Trinity marks. Complete these three side quests, and those Orichalcums are yours.