11-6-2006
10-12-2006
3-16-2007
3-16-2007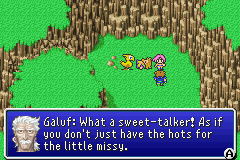 Final Fantasy V Advance Review

In 2006 Final Fantasy V followed the suite of the other old school games, and was released to the GBA. It features a better translated story line, with some hard attempts at poking fun of pop-culture. My personal favorite, is when you are captured by Exdeath, and your projection is being shot into the sky. Lenna says look up in the sky! Bartz comes back with:" Is it a bird...a plane, no wait it is our reflection." An obvious Superman nod.
The battle system was kept the same was the original release, utilizing the ATB mode of play. This was fine, since it was what the original release used. The severe lag in the loading/saving has become a thing of the past. Like the SNES release, you can have up to four different saves, that are loaded and saved instantly. Guess there will be no more little sprites running back and forth accross the screen!
The job system stayed in tact, with a few name changes to jobs and abilities. Also there are four additional jobs in the forms of an Oracle, Cannoneer, Gladiator, and Necromancer. Each job has new abilities, and spells to learn, and utilize. The only sad part about this, is three are gotten near the very end of the game, and the final one is gotten only after you complete the game, as well as the optional area.
As with all GBA Final Fantasy releases, V has also got a new area to explore, with new bosses to fight. And it is nothing short of extremely challenging! This is perhaps the most difficult of all of the Advance bonus dungeons, and assures hours and hours of extra play time.
V Advance also features a Music Player, and a complete bestiary. There is a quick save feature, as well as the standard mode of saving the game.
For those with a hand held, this is definately a good choice of RPG's available to the GBA. And as far as Final Fantasy V, this is the best release of the game.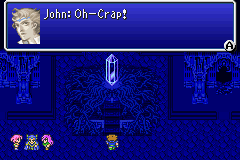 When I think of Final Fantasy V, I liken it to The Rescuers Down Under. It is between two masterpieces, and though not as good as the two, it certainly does hold its own in the cannon. But what is it that makes Final Fantasy V so darn popular, despite not being quite the level of IV, VI, or beyond? One word...FUN!
Perhaps the weakest point in the game is the story and character development. Honestly the story goes along pretty ok in the first 1/3 of the game, but after that, it begins to fall apart. It is a story of the crystals shattering, taking the elements of the earth away. Typical old school Final Fantasy. But by the final act of the game, there is nothing but a string of go here, and do that. No continuation of what was a good beginning to a potentially great story. Unique in the fact that it is the people, you, who are to blame for draining the natural elements from the earth causing it to begin to shut down. And it is because of you, that Exdeath is able to come back. This is as close to real life story of human nature as there is in Final Fantsy. It should have been a masterpiece in storytelling. But it does fall completely short. That being said, there is more than ample bits of comedy throughout the game that gets more than a chuckle or two from the player. This of course made what story you do get enjoyably fun.
Character development was also some of the weakest in the series. They are just flat, boring, and utterly forgettable. And with a name like Exdeath, you would expect there to be so much....more. But for some reason this portion of the game just did not live up to my expectations.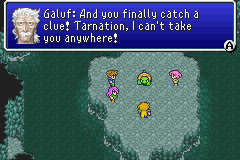 Now that the complaint is out of the way, let's get to what really makes this game awesome.
The gameplay is just flat out fun. There is nothing in the gameplay that is hard to get, or out of place. Obviously, the reason for this is the job system. I cannot even begin to tell you how awesome the job system is in V. As you progress through the game, you can acquire new job classes. Each job has different attributes and special skills that you can master with the ABP gained after battles. When you master these abilities, they are yours to use with other jobs. Basically you can have a Knight who can heal with White Magic, or a Black Mage that can throw weapons in battle. There are plenty of jobs with plenty of different skills to learn. Also, if you master a job, you automatically gain all of their innate skills whenever you donít have a job. So if you master a Thief, you will automatically get their high speed. Combining the skills you gain is the most fun of the game, and adds great depth and strategy to the gameplay. Level design was good, although only a few were truly impressive. Boss battles were varied and exciting with the job skills being used. I found all 30 hours of this game just completely enjoyable.
Final Fantasy V also introduced the Blue Magic (Enemy Skills) found in the later titles of the series. This magic is gained from the enemy hitting you with a particular spell. Tis is still a massively popular spell type, and created one of the greatest spell types in the game. There is powerful healing, protective magic, and offensive magic of wide varieties. This almost eclipsed Summons as the most powerful magic in the game.
Sound was also great. With the incredible variety of excellent themes from itís successor that Iíve fallen in love with, it is hard to judge. Final fantasy V does the sound area quite well. Spell effects, summons, and such were done well. Sword slashing, and all of that was nothing that would bother you in any way.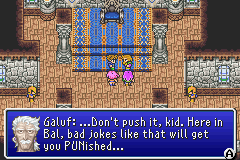 Musically, it was a mixture of good and not so good, but more on the good side. There may not be the epic scoring of say VI and VII, but Gilgameshís theme was excellent, along with a few others. The Void is the only one I took a real dislike to. It just seemed to upbeat and out of place for the area, and was actually kind of annoying. This is certainly not Square's best music, but it does hold well with the series.
And if you are looking for the old school challenge, this is definitely one of the most challenging Iíve played. Your leveling will require more time than other titles, and gaining abilities is out and out hard until the final area. Monsters never seem to give you enough gp, exp, and ability points. Some enemies are mighty difficult to get the upper hand with, and the first half of the game finds you broke as all get. Exdeath is darn hard, as are many of the other bosses. Frustration may very well run rampant, and I wish you all luck playing this challenging yet playable game. But for folks like me who live for challenge, this one certainly takes a top rank.
Is Final Fantasy V the epic masterpiece of IV and VI? I have to say yes. Not for the same reasons of course, but it is certainly one of the most enjoyably fun games ever created. And the fun does not ever go away. You can literally play it over and over, and it is just as fun the 200th time as it was the first. A prefect game to me would be mixing VI with the job system found in V. That would be epicness right there.
Definitely get your hands on Final Fantasy V. You will be glad you did.