Final Fantasy IX Optional Bosses
Boss fight: Quale
HP: 65,535
Weakness: Thunder
You might have been wondering what the deal is with catching the frogs for Quina. Well, ouside of improving the Frog Drop Enemy Skill, Quale will give you gifts after collecting so many. When you reach 99, he will challenge you to a battle. despite it being a optional bosss, it really is quite easy in comparison to the rest of them. Still, let's get some preparations in before catching the final frog.

Preparations

ok, Quina will be in your party, no questions asked. I mean you were catching frogs before the fight duh. She/he should have the following Enemy Skills:

White Wind
Magic Hammer
Angel Snack
And of course Frog Drop.
Have Antibody, Bright Eyes, Clear Headed and Loudmouth on all characters. This will negate just about every status attack but mini. (Thus the reason for Angel Snack). Make sure to have the characters current best weapons and armor. Anything that will absorb water. Quale casts Water a lot. And this will aid in keeping lower leveled parties alive. If you are in higher levels, with great armor and weapons, this will not matter in the slightest. If you have Vivi or Amarant in the party, be sure to not equip the Return Magic Ability. This will saend the Water spell to Quale, thus healing him.
For me, I took Zidane, Vivi, Dagger, and Quina. Have Zidane steal all four of the items, before the end of the fight. Have Quina cast Mighty Guard, then begin hitting him with Frog Drop. Vivi should begin casting Thundaga repeatedly. This is Quale's weakness, and he can knock points down fast. If Dagger is not healing, have her pop off Ramuh.
You can hit Quale with Magic Hammer to drain his MP, but he will then begin using a rather damaging roller attack on the team. With Mighty Guard, you can greatly lessen the damage received. So this is really your call. If you are in lower levels, White Wind will certainly help the healing, and Angel Snack will help with status effects you cannot block yet.
Once this rather easy boss is no more, Quale will hand over Quina's ultimate weapon the Gastro Fork. And that is really all there is to it. Not hard at all to beat. and there is of course no more frogs you have to catch ever again...until you begin a new game that is.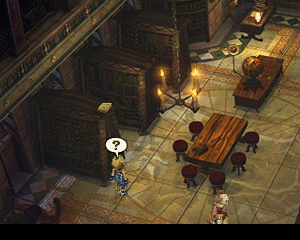 Tantarian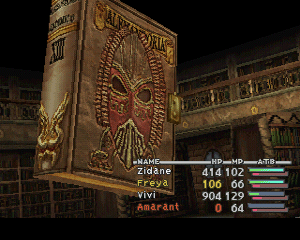 During the rescue of Dagger in Alexandria, you have the option of fighting Tantarian. In general stand points, this is not a hard boss to fight. But it is a little difficult this early in the game. You might want to wait until Disk 3, when Alexandria falls under attack. Whenever you decide, you will find him in the west Library, at the last bookshelf. Simply talk to him, until the fight begins.
Preperations
Make sure to equip everyone who can have it with Devil Killer, and Antibody. If you have Auto-Regen, equip that as well. You will have no White Magic in either place, so it is a good thing to keep your HP up.
Make sure Freya can use Reis's Wind for an additional boost in HP recovery. If you have Amarant, try to get his Spare Change ability. And have Zidane with his Thievery Skill. That is, if you have been stealing enough.
When you feel you are ready, initiate the fight.

Boss fight: Tantarian
HP: 21,997
Weakness: Holy
At first, Tantarian shows only as a closed book. You have to deal at least 180 Pt's damage, before it reveals its true form. This can be easily done with Zidane's Thievery, if you have been stealing enough. If not, try using Spare change, or simply attack, until the book opens to your foe. Once this does, stop all physical attacks. This will cause the book to close again. Hit is hard with any skills you have. Spare Change, and Thievery work wonders, as well as Freya's Cherry Blossom. If you do not have these, simply have Vivi cast his strongest magic, and everyone else support him. Eventually the book will close again, and you will have to go through the process again.
The two major attacks in Tantarian's arsenal are Paper Storm, and Edge. Both of which are devastating, even on Disk 3. There is no real defense against these attacks, so be prepared to get a Hi-Potion or Elixir ready. While open, it will try to cast Venom on you. This is of course rendered useless by the Antibody ability. His other attack is Doom, which will give a 10 second count to death if it connects.
When he opens up, have Vivi cast his strongest spell, and Amarant and Zidane use their skills. If Freya has no skills to use, simply have her jump. Striking Tantarian will cause it to close again, but the damage is worth it.
Just keep plowing away, and he will fall pretty quickly.
For defeating him, you get a pair of Running Shoes.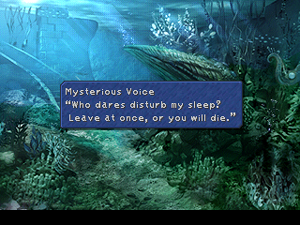 Hades
In Memoria, after a save, you will come to a room, where Quina will swim after the fish. Once she is finished, search behind the ledge, and you will get a message asking you to leave at once, or die. Speak again, and you will be taken into a fight with the lord of the underworld himself. This is a pretty challenging fight in lower levels. So let's take a moment to get ourselves prepared.

Preperations

First off, you need to equip anything that defends against shadow magic. Hades has the devastating Doomsday spell, and he likes to use it. Make sure abilities such as Auto-Regen Body Temp, Clear Headed and Antibody equipped on all the characters. If you plan on using magic, have Vivi equip Reflect x2, and give the target character Auto-Reflect. If you want to have Zidane and Steiner turn into powerhouses, equip their High Tide, and Auto-Haste. Make sure Dagger has her Boost, and make dead sure both casters have 1/2 MP.
Give Steiner his Ragnarok, and give Zidane his Ultima Weapon.
With everything ready, it is time to get in there and let him have it!
Boss fight: Hades
HP: 55,535
Weakness: Holy

You would think Hades would be more of a threat, given he IS the lord of the underworld. But in fact, the fight I did was at level 35 or less, and I still came out a winner. But it was not so easy as it would be at a higher level. First he will cast Reflect on himself. This makes it extremely difficult to get any magic attacks in. If you wish to use magic, cast Reflect on a party member. Then you can bounce Flare off to Hades.
Also his Judgement Sword should be something to watch out for. It will knock a character down to single digets real fast. Have the next person able heal them to a fighting chance, until Dagger can properly restore HP.
When he begins a countdown, he will be powering up for either his Curse attack, or Doomsday spell. Both can be very devastating to you, if you did not prepare accordingly. It will also heal the boss, since it is shadow magic.

His Cleave attack is similar to the Iron Giants attack, in it leaves a character with a single HP. Be sure to restore their HP as soon as you can do so. Hades usually goes after them in the nxt turn. If you do not attend to them fast enough, you may lose another turn bringing them back to life. His other attacks include mustard Bomb, and Freeze, but these are easily dodged with the Body Temp ability.
The best attack is Steiner's Shock, which deals out 9999 damage each time. If Zidane Trances, his Grand Lethal will do the same.
Flare will cause about 5-6000 damage, but you will have to sacrafice healing someone to reflect it off them. I used Vivi as a medic to revive members, and give Steiner and Dagger Ethers as needed. If you find yourself in great standings, have Dagger summon a boosted Bahamut for an additional 5000+ damage.
Also, if you get the chance to, steal from him. He is carrying a good deal of things, including a Robe of Lords and Reflect Ring. Once you get him out of the way, you will get a Wing Edge or Elixir. But that is just the half of it.
Once the mighty Hades has been defeated, he will ask you to bring him two Pumice Pieces, and he will synthesis them for you. You actually do not need to do that, just speak to him again, and his shop is open for business. He can get you the most powerful items in the game, so take full advantage of his skills.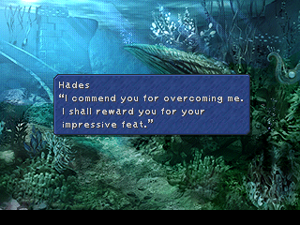 | | | |
| --- | --- | --- |
| Item | Gil | Items needed |
| Robe of Lords | 30000 | White Robe, Black Robe |
| Tin Armor | 50000 | Hammer, Ore |
| Protect Ring | 40000 | Dark Matter, Rebirth Ring |
| Pumice | 50000 | Pumice Piece, Pumice Piece |
| Garnet | 350 | Ore, Remedy |
| Amethyst | 200 | Ore, Annoyntment |
| Peridot | 100 | Ore, Soft |
| Sapphire | 200 | Ore, Antidote |
| Opal | 100 | Ore, Potion |
| Topaz | 100 | Ore, Eye Drops |
| Lapis Lazuli | 400 | Ore, Dead Pepper |
| Pumice Piece | 25000 | Hammer, Pumice |
| Save the Queen | 50000 | Javelin, Silver Gloves |
| Phoenix Pinion | 300 | Phoenix Down, Gysahl Greens |
| Ether | 500 | Echo Screen, Vaccine |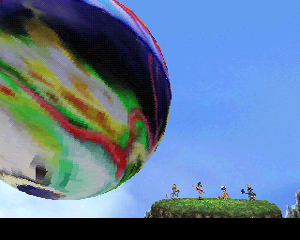 Ozma
Ozma is the game's super-hard optional boss, and it still vexes so many players to this day, due to a crap ton of quick-hitting attacks and spells. I have gotten more emails about how to defeat this boss (458 since opening IX in 2007) than any other two optional bosses in the series combined. He is tough, mean, and unrelenting on his singular frame of mind, which is to kill you.
Finding Ozma in and of itself can be as time consuming as the preparations for the actual battle. Ozma is located in Chocobo's Air Garden, which is the final dig site in the Chocobo Hot & Cold minigame. Because of its location, I can assure you that he cannot be fought until Disk 3 at the earliest point. otherwise, you can take him on any time after getting to the Air Garden.
If you try to just take him on the first time you get to him, you will die very very fast. He cannot be hit by any physical attack, due to his range from everyone. Doomsday, which he uses A LOT, will heal him every single time. You will be done in about 2 - 3 turns. But hey, don't have to believe everything I say, so give him a shot....I will wait....
Wow, kicked your but already huh? Ok, now that you are embarrassed cause you died so fast your head spin, would you like to knwo what to do? Well then let us being.
Preparing to battle the boss of all Bosses
Zidane's level should be in the 70s and the others in the mid to high 60s. Zidane needs to steal all of the items from Ozma before defeating him. Trust me you want to do this.
No character in the fight should have a level multiple of 4 or 5, in order to avoid Lv4 Holy and Lv5 Death. These are some of Ozma's favorite spells (Especially Lv 5 Death).
Equip each character with the best equipment you have as far as weapons and armor...BUT...be sure that each character has something that will absorb Shadow Damage. This is kind of a must for this to be more successful. Also make sure that Auto-Haste, Auto-Regen, Auto-Potion, Clear Headed, and Antibody are equipped on everyone. Your magic casters should have Loudmouth above some others, to allow for spell casting.
Ok, with everyone set, there is another mini-game that should be done before hand. This is the Friendly Creature Sidequest. If you can complete it, not only does Ozma come into range of physical attacks, he will also become weak to shadow based magic. And this works perfectly in your favor. You can defeat him without completing the quest. (It will actually give you different dialogue with the last friendly monster if you do) But it is strongly recommended.
When you are ready, you should head back to the Air Garden. SAVE YOUR GAME FIRST!!!! I took Freya, Quina, Vivi, and Zidane on my mission to kick this guy's butt. Examine the hole, and you will get several chances to back out, as you can see below. Once you have made yourself ready, head into battle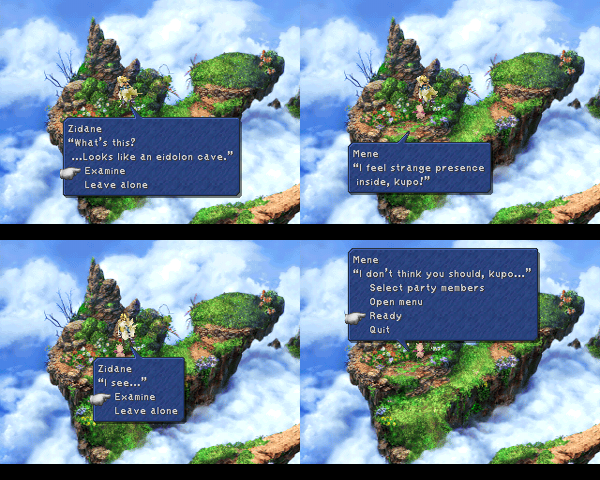 Boss fight: Ozma
HP: 55,535
Weakness: Wind, Shadow
(Shadow if Friendly Monsters are complete)

Ozma will show up after the little more than lengthy opening. He almost always started the fight with Lv 5 death. If your party is not in the multiple of 5 levels, you will be fine. Have Zidane begin stealing right off the bat. With his Mug, he will do some good damage while getting the items. Quina should immediately cast Mighty Guard. Freya should hit everyone with reis's Wind, and Vivi....Vivi needs to begin casting Doomsday. With everyone absorbing Doomsday, they will be healed, while it is damaging Ozma. And with Ozma casting it too...just brings him down even faster. But this is not all the attacks Ozma has.

So what are Ozma's attacks outside of Lv 4 Holy, Lv 5 Death, and Doomsday? Well how's about adding Absorb MP, Berserk, Curaga, Curse, Death, Esuna, Flare, Flare Star, Holy, Meteor, and Mini. And he is so fast, that he is literally taking turns every two times you are. See the reason for such huge preparations? It is almost impossible to get him under, without Doomsday causing damage to him and healing you. And the nasty attacks such as Curse and Mini can cripple a team to the point of being beaten. Mini is the reason I do not use Steiner for his shock. Shock is a physical attack, and if he gets popped with Mini before attacking, it will do 1 pt damage. With Freya, the Dragon's Crest does the damage intended regardless of whether she has been hit with Mini or not.
Once the first round is clear, have Quina begin casting White Wind, or Angel Snack if somone gets hit with a status effect. When Zidane is done stealing everything, have him become a back-up healer. Keep going with Vivi on Doomsday and Freya on Dragon's Crest. If damage is getting too severe to handle, Have Freya use items to get everyone back up. Do not horde Elixirs in this fight. Use them as you need them. (And trusat me you will need them) Vivi should do Doomsday each and every round, to ensure you are healed no matter what.
Even with great preparation, and you seeming like you are getting the upper hand, things can go wrong very quickly. Mostly with Ozma's ability to use Curaga. And he can even use it several times in succession. (Used it tow times in a row on me.) You might be tempted to use magic Hammer on him, but don't. If he runs out of his 9999 MP, he will just steal from your party.
Be patient with Ozma, and do not try and rush the battle. This will certainly spell your doom. Think carefully, and plan ahead. You will most likely lose several times, before you can defeat this guy. But when you do, Mene will hand you over the Ozma Card, and Strategy Guide key item, which explains how to get Rank S in treasure hunting. Congratulations, you have beaten what Final Fantasy Kingdom believes is the hardest optional boss I have ever fought in the series.