Final Fantasy XII World Maps
This is the map of Ivalice. To see it in full scale, click on the image.
While playing Final Fantasy Tactics, I was looking at that map compared to this one. It is my opinion that the world of FF Tactics takes place in the area between Nabudis, Nalbina Fortress, Tchita Uplands, and Archades. It is just my opinion though.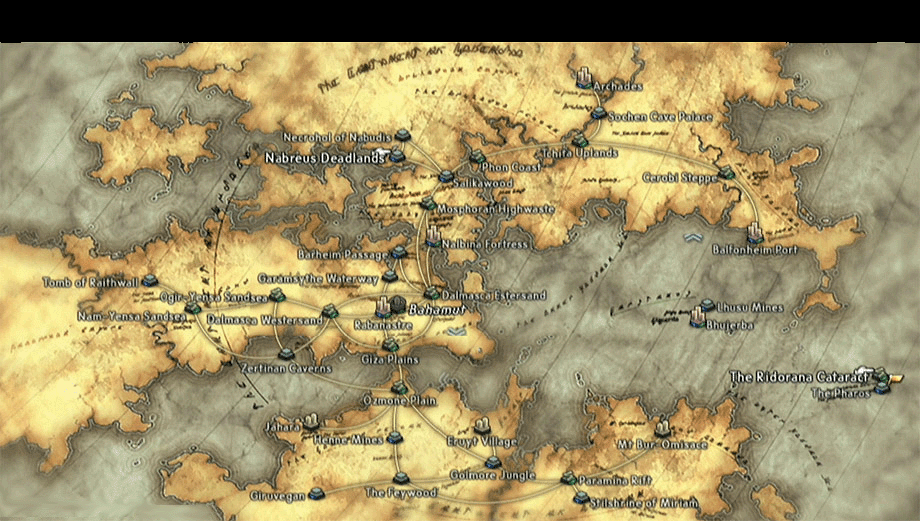 Final Fantasy XII Area Maps

There are many different areas in Final Fantasy XII. And it can be very confusing at times. As you go through a new area, the map will gradually fill up. This is shown by the light paths you see when you bring up the map screen.
To aid you in your mapping, in most areas there is a Map Urn (Left) that will provide you with the entirety of the area you are in. What you have been to is shown in a light color, while the places you have not yet been are dark colored. Despite these maps being complete, they do not all show hidden paths, and things of the like. Maps Such as Henne Mines and Nechorol of Nabudis do not provide any hidden areas. You have to discover those for yourself.
Below is a map of each of the areas in XII, as shown in the game. To view the full image, simply click on the image, and it will pop up in a new window.
| | | | |
| --- | --- | --- | --- |
| Rabanastre | Dalmasca Eastersand | Lowtown | Giza Plains (Dry) |
| | | | |
| Garamsythe Waterways | Royal Palace | Nalbina | Barheim Passage |
| | | | |
| Bhujerba | Lhusu Mines | Ogir-Yensa Sandsea | Nam-Yensa Sandsea |
| | | | |
| Tomb of Raithwall | Giza Plains (Wet) | Ozmone Plain | Jahara |
| | | | |
| Golmore Jungle | Eruyt Village | Henne Mines | Paramina Rift |
| | | | |
| Mt Bur-Omisace | Stilshrine of Miriam | Mosphoran Highwaste | Salikawood |
| | | | |
| Phon Coast | Tchita Uplands | Sochen Cave | Old Archades |
| | | | |
| Archades | Draklor Lab | Balfonheim Port | Feywood |
| | | | |
| Giruvegan | Ridorana Cataract | Pharos 1st | Pharos 2nd |
| | | | |
| Pharos 3rd | Nabreus Deadlands | Nechrohol of Nabudis | Zertinan Caverns |
| | | | |
| Westersands | | | |
| | | | |