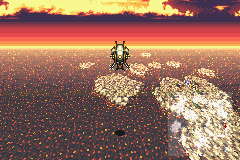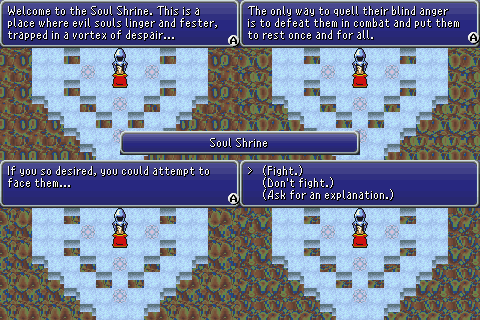 The Soul Shrine is the other new location for Final fantasy VI Advance. You can access it, after you defeat the game, and defeat the Kaiser Dragon. The completion of this area will award you the key item Master's Crown. And what does this do you might ask? Not a single thing! It is similar to the Omega Badge won in Final Fantasy V. It is simply to say you did it. But there is still reasons to do it. You can gain the rare items from one time fights, complete your bestiary, and just see if you can actually do it.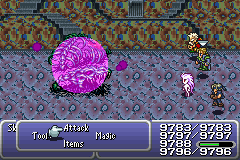 You will be placed into a series of 10 battle sets, consisting of varying amounts of fights. After each set is complete, you are given a break. At this time you can use healing items and such, to restore your party. If you leave before completing all 10 sets, you will have to start over again when you return. So make sure you are well prepared. The four characters you choose are of no matter. I will say I chose Terra above all others cause of the Dragon's Den Skull Dragon. when tranced, she will do over 1000 HP damage with each cast. With her Celestriad, she will pop 2000+ on each turn. Otherwise I went with this setting, and this is what they wore.
Terra...LV=99
Apocalypse
Genji Helmet
Genji Armor
Paladin Shield
Soul of Thamasa
Ribbon

Strago...LV=99
Gladius
Oath Veil
Behemoth Suit
Force Shield
Soul of Thamasa
Ribbon

Edgar...LV=99
Lightbringer
Genji Helmet
Genji Armor
Force Shield
Ribbon
Master's Scroll

Locke...LV=99
Ultima Weapon
Ultima Weapon
Genji Helmet
Force Armor
Genji Glove
Master's Scroll
To Keep yourself going in between battles, you will need some items. I would Suggest getting 99 of each of the following items:
Hi-Potion
Phoenix Down
Ether
You will also need up to 5 of each of the items the Glutturns will ask for. Just a heads up if you want to get through those battles unscathed.
With everything you see here, you should be ready to face the trials of the Soul Shrine.
As for magic, make sure everyone knows Curaga, Reraise, Arise, Rasp and Ultima. Rasp is needed for each and every character (as is the rest of the spells) for the Skull Dragon in the Dragon's Den set. If you used my suggestions from the Dragon's Den, everyone should already have all the spells.



If not, it is easy enough to get them. Just visit the desert south of Meranda. And if you do not have, or want to get 4 Ultima weapons, just substitute them for the best weapons you have. You should still have one however. Be sure to equip that on the strongest fighter. This should be Edgar, but you might have beefed another up while leveling them up.
Once you are ready, head for a island west of Mobliz. (this is where you found Terra and the children. It will be like the dragons den, in you will not land, just appear there. But unlike the Dragon's Den, you will need to create your party before hand. When you land, go inside. There you will be in a room similar to Cyan's dream world. Go up, and talk to the spirit there. He will give you the rules of the Soul Shrine. When he is done, you may begin by speeking to him again. This is also how you start each new set of fights.



Be warned now, there is no space between the individual fights. You will go from one right into the other, until the set is complete.
Inside the Soul Shrine also lies the final four new enemies. They are known as Glutturns. For some reason, they are nowhere in the Bestiary of the game. They look like Magic Urns, but the sprite pallet has been changed. Each of these enemies ask for a certain item, if you do not give them the item, give them the wrong item, or do not run away you will have to fight. They are no pushovers, and they will take your party out if you let them. Still, even if you give them the right item, you can have Locke try to steal from them. Each of them carry a rare item. Here is the Glutturns, what they ask for, and what Locke can steal.
| | | | | |
| --- | --- | --- | --- | --- |
| Glutturn | | | | |
| Item Needed | Elixir | X-Ether | Hi-Ether | Ether |
| Item Stolen | Soul of Thamasa | Master's Scroll | Celestriad | Force Shield |
| Final Attack | Heartless Angel | Disaster | Blaster | 10 Hit |

Here is a list of the enemies you fight, as well as the location of these enemies. The Glutturns appear randomly, one per set of enemies until you begin fighting bosses. Guess they thought that would be too difficult. Also it should be noted, that all fights with all enemies in the Soul Shrine are the same as when you encounter them in the game itself. So you can use the same strategies as those battles. Also with Locke with the two Ultima Weapons, and the Genji Glove/Master Scroll combo...most all enemies in the Soul Shrine will die in one turn. (This includes most bosses).
Fight #
Location
Enemies Fought
1
Prologue
Imperial Soldier, Magitek Armor
2
Mount Kolts
Spritzer, Trillium, Zaghrem
3
Lethe River
Exocite, Lesser Lopros, Nautiloid
4
Seige of Doma
Satellite
5
Phantom Train
Living Dead, Oversoul
6
Baren Falls
Opinicus Fish, Rhizopas
7
Phantom Train
Angel Whisper, Cloud, Living Dead
8
Narshe
Hell's Rider
9
South Figaro
Corporal, Heavy Armor
10
West Continent
Iron Fist, Paraladia, Vulture
11
Zozo
Gobbledygook, Veil Dancer
12
Zozo 2
Harvester, Hill Gigas
13
Magitek Factory
General, Onion Knight
14
Magitek Research
Chaser, Trapper
15
Veldt Cave
Death Warden
16
Zone Eater
Baalzephon, Murussu
17
Bomb Forest
Bomb
18
Cyan's Dream
Io
19
Empire
Bug, Fossil Dragon
20
Sealed Cave
Outcast, Zombie Dragon

BREAK

21
Burning House
Balloon
22
Esper Caves
Adamankary, Bonnacon
23
Magitek Research
Mega Armor, Proto Armor
24
Floating Continent
Gigantos
25
Floating Continent
Apocrypha, Brainpan, Misfit
26
Floating Continent
Behemoth, Misfit
27
Floating Continent
Ninja x 2, Platinum Dragon
28
Bomb Forest
Grenade
29
Solitary Island
Land Ray, Peeper
30
Solitary Island
Black Dragon
31
Kefka's Tower
Ahriman, Daedalus
32
Triangle Island
Intangir
33
Kefka's Tower
Vector Chimera
34
Magitek Research
Destroyer, Lenergia
35
Cactuar Desert
Cactuar
36
Dragon's Den
Landworm
37
S. Figaro Cave
Cruller, Humpty, Neck Hunter
38
S. Figaro Cave
Dante
39
Figaro Castle
Dropper
40
East Continent
Borghese, Cloudwraith
41
Umaro's Cave
Tonberries

BREAK

42
Darill's Tomb
Skeletal Horror
43
Darill's Tomb
Exoray, Malboro
44
Doma Continent
Knotty
45
Darill's Tomb
Devil Fist, Punisher
46
Darill's Tomb
Devil Fist, Glasya Labolas, Mugbear
47
Veldt Cave
Gorgimera
48
Kefka's Tower
Great Malboro, Primeval Dragon
49
Narshe
Test Rider
50
Magitek Escape
Magna Roader Large, Magna Roader Small
51
Narshe Mines
Magna Roader Large, Magna Roader Small
52
Owzer's Mansion
Blade Dancer, Crusher
53
Owzer's Mansion
Rafflesia
54
Ebot's Rock
Mahadeva
55
Ebot's Rock
Creature, Sorath, Warlock
56
Ancient Castle
Armored Weapon
57
Veldt Cave
Devil, Enuo, Figaro Lizard
58
Cyan's Dream
Pluto Armor, Schmidt
59
Cyan's Dream
Parasite, Weredragon
60
Cyan's Dream
Alluring Rider, Pandora
61
Zone Eater
Coco, Samurai, Suriander

BREAK

62
Dinosaur Forest
Tyrannosaur
63
Maranda Continent
Greater Mantis, Sprinter, Lycaon
64
Maranda Continent 2
Basilisk, Leap Frog
65
Kefka's Tower
Great Behemoth, Great Malboro, Vector Lythos
66
Thamasa Island
Gloomwind, Purusa
67
Phoenix Cave
Face, Necromancer, Zeveak
68
Phoenix Cave
Clymenus, Necromancer
69
Phoenix Cave
Chaos Dragon, Ouroboros, Seaflower
70
Gogo's Cave
Amduscias, Covert
71
Gogo's Cave 2
Baalzephon, Shambling Corpse
72
Gogo's Cave 3
Kamui, Wartpuck
73
Cultist's Tower
Level 10 Magic, Level 20 Magic
74
Cultist's Tower
Level 30 Magic
75
Cultist's Tower
Level 10 Magic, Level 30 Magic, Level 60 Magic
76
Cultist's Tower
Level 40 Magic, Level 50 Magic, Level 70 Magic
77
Cultist's Tower
Level 80 Magic, Level 90 Magic
78
Cultist's Tower
Magic Urn

BREAK

79
Darill's Tomb
Angler Whelk
80
Zozo
Dadluma
81
Vector
Crane
82
Magitek Research
Number 024
83
Magitek Research
Number 128, Left Blade, Right Blade
84
Glutturn
Elixir Glutturn
85
Airship
Air Force, Laser Gun, Missile Bay
86
Ancient Castle
Master Tonberry
87
Dinosaur Forest
Brachiosaur

BREAK

88
Kefka's Tower
Gamma
89
Kefka's Tower
InnoSent
90
Kefka's Tower
Junk
91
Kefka's Tower
Demon Knight, Yojimbo
92
Kefka's Tower
Muud Suud
93
Kefka's Tower
Fortis, Prometheus
94
Kefka's Tower
Death Machine, Duel Armor, Fortis
95
Kefka's Tower
Cherry, Dark Force, Outsider
96
Kefka's Tower
Mover
97
Kefka's Tower
Fiend Dragon

BREAK

98
Dragons
Ice Dragon
99
Dragons
Storm Dragon
100
Dragons
Earth Dragon
101
Dragons
Gold Dragon
102
Dragons
Skull Dragon
103
Dragons
Holy Dragon
104
Dragons
Blue Dragon
105
Dragons
Red Dragon

BREAK

106
Figaro Castle
Tentacle
107
Darill's Tomb
Dullahan
108
Mobliz
Humbaba
109
Dragon's Den
Malboro Menace
110
Cyan's Dream
Curlax, Laragorn, Moebius
111
Ancient Castle
Samurai Soul
112
Cultist's Tower
Magic Master
113
Ebot's Rock
Erebus, Hidon
114
Airship
Deathgaze

BREAK

115
Kefka's Tower
Inferno, Ketu, Rahu
116
Kefka's Tower
Guardian
117
Kefka's Tower
Demon
118
Kefka's Tower
Goddess
119
Kefka's Tower
Fiend

BREAK

120
Dragon's Den
Ice Dragon
121
Dragon's Den
Storm Dragon
122
Dragon's Den
Earth Dragon
123
Dragon's Den
Gold Dragon
124
Dragon's Den
Skull Dragon
125
Dragon's Den
Holy Dragon
126
Dragon's Den
Blue Dragon
127
Dragon's Den
Red Dragon
128
Dragon's Den
Kaiser Dragon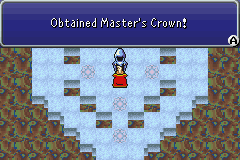 Once you have completed the Soul Shrine, defeated Kaiser Dragon, and gotten the Master's Crown, you are done. There is nothing more to do here, or in Final fantasy VI Advance. You can go through the Soul Shrine again, or defeat Kefka one more time. If you have not gone after Ultima Weapon yet, now is the perfect time to do so.